The Tom Malone Prize is turning twenty this week, serendipitously as glass is celebrated globally under the United Nations International Year of Glass in 2022.
The prize opens today (3 June – 31 July) at the Art Gallery of Western Australia (AGWA), overlapping with another highly prestigous prize celebrating glass in Australia, the biennial Fuse Prize.
In its fourth edition, Fuse is presented by the JamFactory in Adelaide (13 May – 3 July) and will tour to Canberra Glassworks (24 August – 25 September) and Australian Design Centre (7 October – 16 November).
Last night, Tim Edwards (SA) was awarded the $15,000 acquisitive Tom Malone Prize 2022, while last week, Matthew Curtis (ACT) was awarded the $20,000 non-acquisitive, 2022 Fuse Prize. Both artists have slogged away long and hard at creating an individual voice within their work, as well as technical excellence.
Collectively, these prizes capture the state of now within Australian glass. But do they?
The state of glass, or not?
Matthew Curtis was the only finalist that overlapped across the two prizes this year. But it is widely felt that it is a familiar pool of names that reoccur on the finalist list of both prizes with each edition.
It is hard to make sense of that, given that the opportunities for glass artists in Australia are very limited, and the number of glass artists working nationally is far greater than the sum of these two prizes' history as mapped through their finalists. It may, in part, be an aesthetic collecting decision, but also a reflection of the technical standards across the sector.
In an earlier interview with AGWA Curator Robert Cook, he told ArtsHub: 'Honestly, I think the most exciting thing in glass today has been slowly, but surely, happening for the last ten years maybe; it's the shift of early career artists into major mid-career artists.'
But are enough new artists bubbling up? Of note, glass studio education has been increasingly pulled back over recent years within the University landscape, an impact that perhaps will be felt further moving forward.
Cook continued: 'Over this twenty-year period, the [Tom Malone] Prize has allowed us the privilege to represent major high points of their practice into our permanent Collection; the learning we have undertaken through it has also allowed us to acquire outside the award in a daring and informed way.'
While the Fuse Prize has the advantage of touring, the Tom Malone Prize collects the winning work to become part of what is one of the strongest collections of contemporary glass in Australia, alongside the National Gallery of Victoria, the Powerhouse Collection, and the Wagga Wagga Art Gallery in regional NSW, which is home to the National Glass Collection.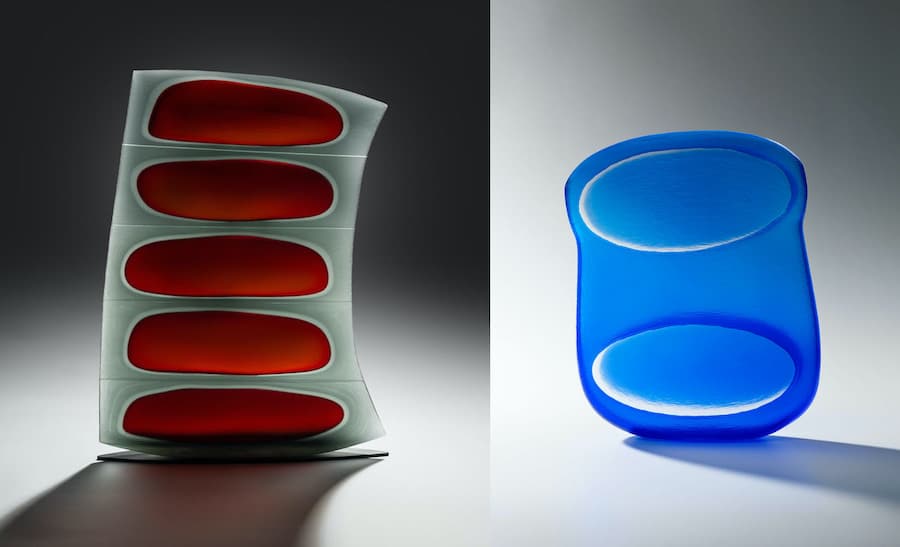 More opportunity for diverse glass practices
Cook commented on the huge diversity in the glass sector: 'These artists [prize finalists] just happen to make work in glass, a medium that brings together incredibly disparate visionaries, who are all virtuosos in their different ways.'
Of note, the three past winners of the Fuse Prize – Clare Belfrage (2016), Jessica Loughlin (2018) and Cobi Cockburn (2018) – have each also been awarded the Tom Malone Prize. Curtis and Janice Vitkovsky are the only exception to not overlap as a winner. To view this year's Fuse finalists.
However, he is the first male to win the major Fuse Prize in its history. Alex Valero was awarded the inaugural emerging category prize in 2016.
Edwards' win also illustrates that long tail of overlap. He was a finalist in the inaugural 2016 Fuse Prize – won by his partner that year – and has been a former finalist in the Malone four times (2014, 2011, 2007 and 2003) as well as other prizes, such as the now finished Ranamok Glass Prize.
Cook added: 'Artists like Jason Sims, Mel Douglas, Cobi Cockburn, Jessica Loughlin and those just a bit more senior, like Clare Belfrage and co., are getting better and better, more subtle, more ambitious in their own ways, evidencing real progression in this field of making. This should be the most exciting thing … that one can commit to a practice and be creatively rewarded, ongoingly.'
Read: Understanding the year of glass in 2022
That sense of an ongoing practice of glass in Australia is captured in an exhibition of each winning work across the 19 years of the Tom Malone Prize, alongside the 2022 finalists, now showing at AGWA. It also demonstrates that there is pretty good gender representation across its winners and finalists, with seven female and nine male glass artists awarded (including Edwards' win this today).
The gallery said the exhibition demonstrates 'how Australia's glass artists continue to invent and reinvent, challenge themselves technically and artistically, and find new frameworks to distil human experience in accessible and enlivening ways.'
First Nations glass artists missing
Interestingly, not a single artist across the 2022 finalists, or past and present winners (of both prizes) is Indigenous, despite a number of First Nations artists working across the medium today.
Most notable are internationally celebrated Yhonnie Scarce and third time finalist Jenni Kemarre Martiniello (Tom Malone Prizes 2021, 2019, 2017), as well as Indigenous artists who have repeated turned to glass in recent years, such as Maree Clarke, Megan Cope, Tony Albert, Ninuku Arts (working with glass since 2018), Barkindji artist Summer Matthews, among others.
This trend of inclusion is something we have witnessed in recent years across other prizes, perhaps best illustrated with the Wynne and Archibald Prize at the Art Gallery of NSW, where a recorded shift has been charted over the past five years in the number of Indigenous finalists and entries.
Read: First Koori to paint a Koori and win the Archibald Prize
The quick answer to why we are not seeing this, is that glass firstly is a newer take-up by First Nations artists and they may not yet be applying, and secondly, that these prizes are awarded not only on the conceptual and aesthetic success of the work, but also the technical prowess in making.
Largely, First Nations artists have worked collaboratively with glass blowers to realise their artworks. One would hope this will continue to be nurtured, expanded and exhibited with time.
One answer of skewed representation might be found in the career of Yhonnie Scarce, as example, a multi-prize winning artist whose work is collected and shown nationally and internationally. With the lack of opportunities within glass circles, she has looked beyond, and placed her making within a broader conceptual framework within the visual arts sector.
This bleed is becoming more two-way and porous, and in a good way. Perhaps, the bleed of glass as a medium into other art prizes [the Wynne and Sulman Prizes offer a great opportunity] would help to push beyond the silos of medium and perception.
One only need to look at the healthy immersion of textile arts and ceramics into what is more conventionally considered the visual arts sector as affirmation.
Cook concluded: 'Viewing the 2022 winner [of the Tom Malone Prize] and looking across the 19 years of winners prior, what becomes evident is a consistent commitment to a kind of sculptural form that carries rich and deep emotional content to forge poetic and considered relations to the world around us.'
The end note is that glass can be incredibly current and considered, so artists should be supported and encouraged to look outside their familiar pathways, and where the opportunities are perhaps a little more frequent. Anyone viewing these exhibitions today – the Tom Malone Prize retrospective at AGWA and the touring exhibition of the Fuse Prize – would only agree that it is a medium that connects with audiences.