Regent Seven Seas Explorer recently made its maiden voyage to Sydney. For many, it was just another cruise ship as a fixture on the Harbour. But with a $7 million art collection onboard, it is hardly your everyday ship.
Described as the most luxurious ship in the world, Explorer makes an interesting bridge between onboard and onshore activities, taking an 'out of the box' approach to cultural tourism and sponsorship initiatives.
Today, arts organisations are looking at fostering deeper matches in partner relations, especially in the face of global trends around accountability with sponsorship. Rather than just a dollar thrown on the table, these connections need to be genuine.
'You have to make it work, and you have to make it real. And so you have to have a passion and an interest,' says Steve Odell, former Senior VP for Regent Seven Seas Cruises. 'You also have to be deeply involved, and that's what makes it work so successfully.'
ArtsHub spoke with Odell before stepping onboard Explorer to see what that looks like in practice, and to discover exactly what a cruise line collects.
The passion behind taking art to the seas
In the Australian art world, the name Frank Del Rio probably doesn't register. In the cruising world, he is a giant. He is Chairman of Norwegian Cruise Line Holdings (NCLH), which is the parent company of Norwegian Cruise Line, Oceania Cruises, and Regent Seven Seas Cruises.
The Cuban-born art collector started out by default, saying he didn't want to hire an art consultant. 'They charge a lot of money and I was never impressed by the art collection of ships. It was very institutionalised. So I said, "how hard can it be?", he told Porthole.
Del Rio started by buying art for Oceania's ships Riviera and Marina, with the help of his wife Marcia, then moved on to Splendour for Regent Seven Seas, followed by Explorer. His most recent endeavour has been the Grandeur, which will be launched in November, complete with a commissioned Fabergé egg.
Del Rio spent over two years amassing the art collection for Explorer. And when we say 'art collection', we're not just talking about editions of prints in rooms and hallways or a maritime take on the funked-up art hotel, popular in recent years; we're talking about a world-class, curated art collection.
'In designing these ships, Frank took personal charge of creating the art collection on each of the recent ships; he even gets involved in actually hanging the pieces to make sure that they choose the right spots,' Odell tells ArtsHub.
Comprising around 2,000 pieces, the collection is very eclectic, Odell explains. 'Frank's Cuban, and so he has a great appreciation of Latino and Cuban artists, and especially abstraction… but then he's put some classics in as well – there are, actually, quite a few original Picassos and there's a Chagall on Explorer. But he doesn't always choose art that he likes; he chooses art that might inspire people.
'Frank's philosophy is that when you build a new ship, while you're building a hotel, you're also building a home in a way, and you want to create something that feels like home.'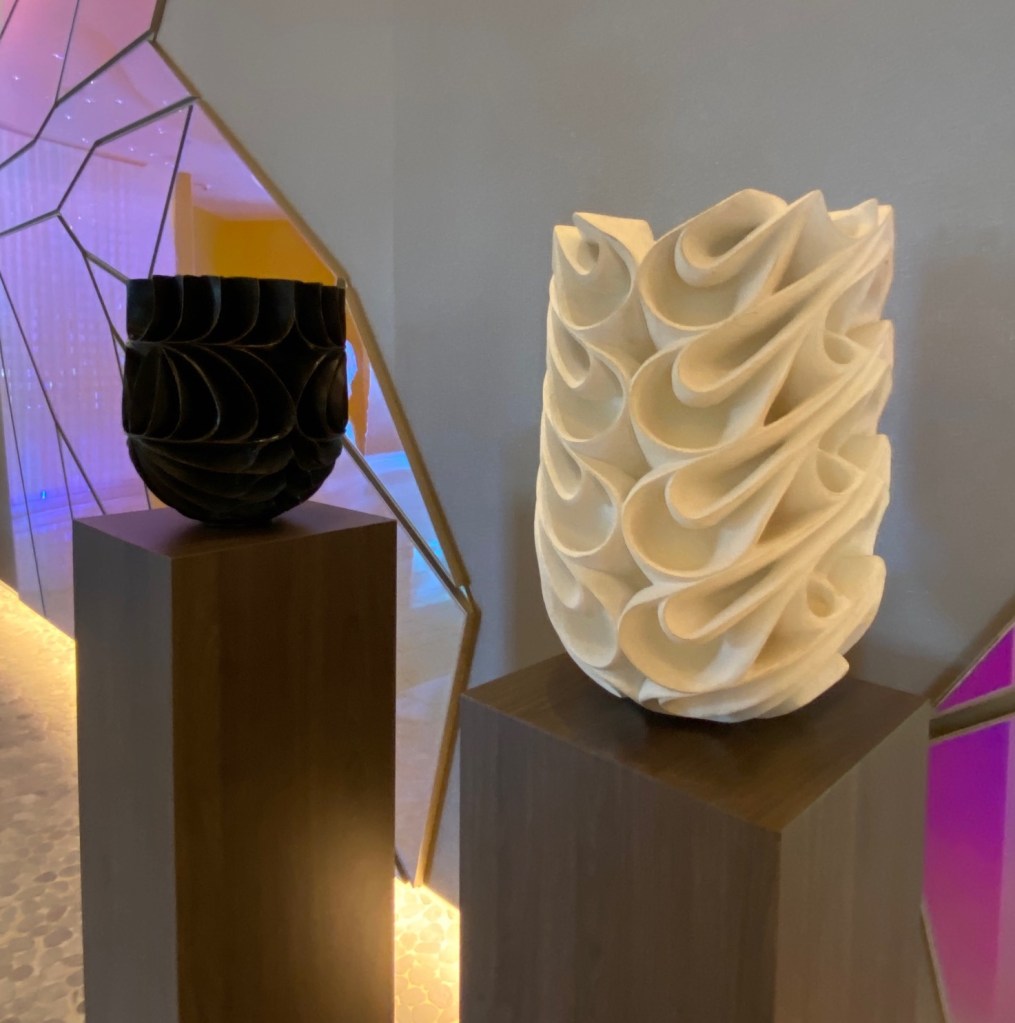 What does an onboard collection include?
ArtsHub's tour of Explorer started at the Regent Suite – a $12,000 per person, per night lodging. Its entrance is flanked by a pair of Picassos. Walking into the suite, one sees a collection of some of the best glass artists in the world – works by US artists David Patchen, Ben Cobb, Nancy Callan, Stam Stang, Rick Eggert and Duncan McClellan sit alongside the legendary Lalique. Surprisingly, glass is central to this collection (not what you may expect for rolling seas).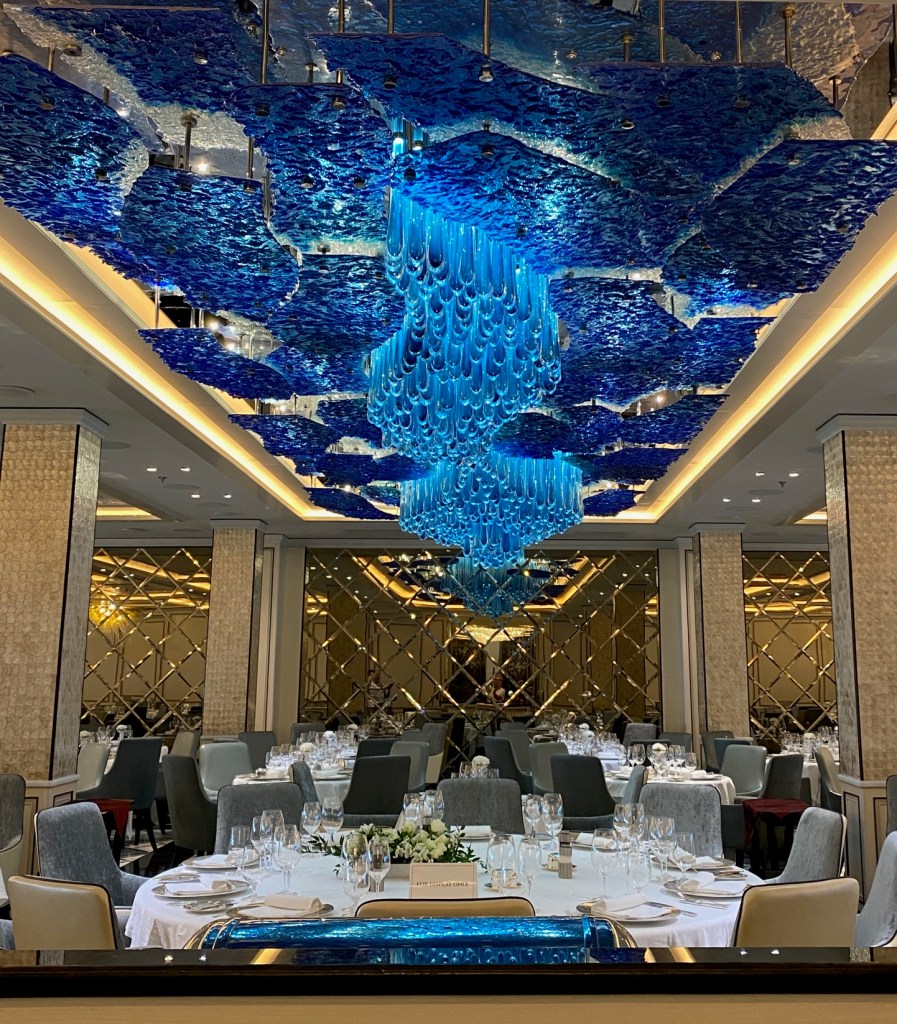 As passengers embark they are greeted by abstract paintings by the celebrated Spanish artist Eduardo Arranz-Bravo, then they move into the central atrium with another two extensive glass collection displays. A feature of the Compass Rose restaurant is an impressively-scaled, hand-blown Murano glass ceiling. Glass is surprisingly apt, its translucence sparkle matching the qualities of water. But clearly this is also not a boat with screaming children running amok.
An original Marc Chagall hangs in a nook in the bar at the Prime 7 steakhouse, not making a statement but remaining understated, while the restaurant is peppered with Picasso lithographs playing off a Spanish theme. Other artists onboard include Joan Miró in the Master Suites, ­the celebrated Norwegian artist Jakob Weidemann, ceramic works by Pakistan-born UK-based artist Halima Cassell, and an incredible sculpture in the pool area by Turkish artist Gülay Semercioglu.
Guests constantly walk down wide passages where painting next to large-scale painting totally alters the perception of what cruise ships are all about, presented more like strolling a gallery.
Things get really big, however, at the entrance to the Pacific Rim restaurant on Explorer with a monumental, kinetic and interactive sculpture – a bronze Tibetan Prayer Wheel designed by Peter Gorman of Gorman Studio.
The restaurant's designer, Greg Walton of CallisonRTKL, told Seatrade the piece cost US $500,000.
'It was actually designed by Queensland artists and was made in Brisbane. They also designed the sculpture at the entrance to the Asian restaurant on the Splendour, which is a dragon that people can walk through,' adds Odell, hinting of another commissioned piece on Grandeur.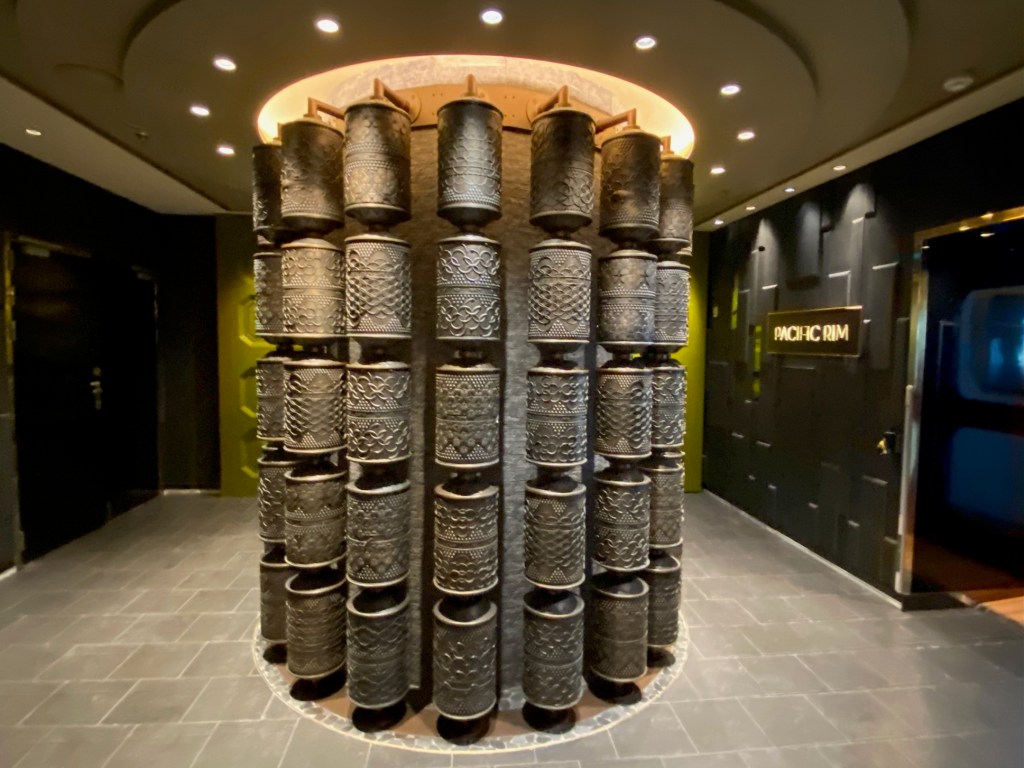 There is not an outpouring of Australian artists on board – well none, other than Gorman and his team – but this collection does demonstrate an opportunity in an ever-competitive cruise market looking for unique experiences.
The precious object as a drawcard is not an entirely new thing; one only need remember the 2004 film After the Sunset with its onboard jewellery heist. So why head down the path of commissioning a Fabergé egg?
'It's about the relationship,' said Odell. 'While the object will be the centrepiece, that linkeage is what is were interested in. We're looking for these kinds of like-minded partnerships where we share similar clientele, or potential clientele. It started with something more broadly and then became very specific with the Fabergé egg.'
By the time Grandeur is launched, the hand-crafted egg, Journey in Jewels, will have taken 48 months to complete – a one-off object by Head of Design Liisa Tallgren, and inspired by the Fabergé Winter Egg from 1913.
Clearly this is a long game.
Cultural tourism and cruising sponsorship
Regent Seven Seas Cruises may not have a huge representation of Australian artists on board, but the company is nonetheless a great supporter of Australian art, being a primary sponsor of The Australian Ballet and the Art Gallery of NSW.
Odell tells ArtsHub: 'First and foremost, it's about supporting the arts.'
'We're bringing 750 people into Sydney, and all of those people will have the chance to go to the Art Gallery for an exclusive access visit. Similarly, The Australian Ballet is going to do a London tour next summer. So we'll want to get actively involved in that with our UK counterparts.'
Read: So you want my arts job: Cruise Entertainer
Odell says the partnerships are about offering unrivalled cultural experiences across the arts, both onboard and off. He explains that in the cruising environment post-COVID, people are looking for those more intimate experiences.
'I think the luxury sector has really benefited in the post-pandemic period, because people don't necessarily want to be with crowds.' The tours take a maximum of 20 people only. 'So we're treating people more as individuals.'
He adds that they also do a lot of work around opening nights and events for mutual clients. 'We find that we've got very like-minded consumers. The Ballet see this the same way as us, in trying to expand awareness of what they do, and what we do, so we do a lot of co-marketing, which includes talking to each other's databases, as well as offering opportunities to go to ballet performances.
'Fabergé's Curatorial Director Dr Géza von Habsburg will be on board Seven Seas Splendour in June 2023, and Sarah Fabergé, great-granddaughter of Peter Carl Fabergé will host a sailing onboard [the] Seven Seas Grandeur tour in 2024.'
Odell concludes: 'Art plays a very central role in what we do when we design the new ships, and then bring them to life.'
Regent Seven Seas Grandeur will dock in Sydney in November of 2023. It will be the sixth ship in the Regent Seven Seas fleet, following Splendour (2020) and Explorer (2016).