Located in Bowral (halfway between Sydney and Canberra), Ngununggula has opened with the lifting of lockdown restrictions in NSW this week.
In a race to claim the tag of 'Australia's newest regional gallery', and following in the wake of the opening of the new Mudgee Arts Precinct (NSW) which opened as that state locked down in June, it comes after a spurt in building projects nationally.
New galleries in Shepparton (VIC), Orange (NSW), Rockhampton (QLD), and the Shoalhaven with Bundanon Trust (NSW), are all on the cards to open before the year's end.
Like any regional gallery, Ngununggula's is a story that centres around a community, and its 30-year push to have a creative hub that reflects its nuances and ambitions.
To a small gathering of mask-clad media, Founder of the gallery artist Ben Quilty said: 'There is such a community here working together – there's SHAC (Southern Highlands Artisans Collective in Robertson), BDAS (Bowral & District Art Society), Sturt turned 80 last week – there are so many interesting groups that are all community driven, and this is the first one we have asked the council to step up and fund, like every other shire in NSW and the country.'
Quilty, who moved to the region over 15-years ago and first dreamt of a gallery, added of the $7.6 million project: 'This is as good a regional gallery in Victoria, or Sydney galleries.'
Ngununggula inaugural director Megan Monte, who is in her early 30s, added: 'It's been an unusual time to open a new gallery space but we're so proud of what's been achieved … The Southern Highlands already has such a vibrant creative community and through Ngununggula we aim to add to this and create a centre of arts and culture in the region available to everyone.'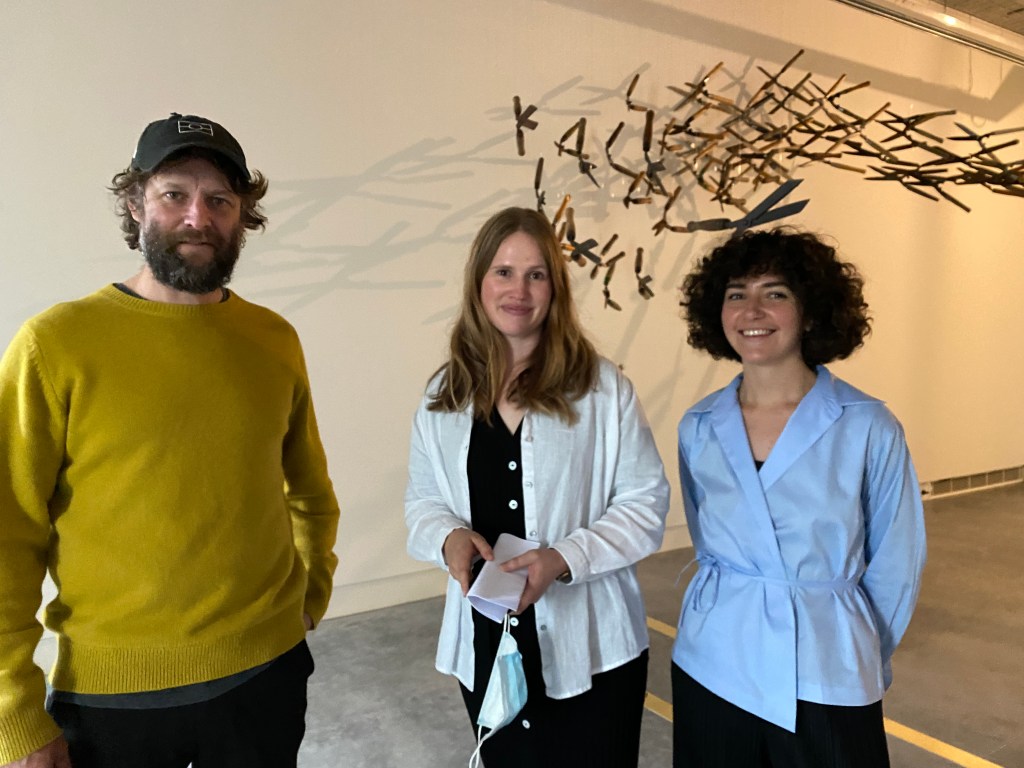 THE BUILD
Meaning belonging in the traditional language of the Gundungurra First Nation People, the gallery has a peppercorn 25-year lease agreement with the National Trust (NSW), which has made available the old dairy at Retford Park – the former property of arts patron, James Fairfax, and before that the Horden family.
But unlike the new builds of many of the new galleries rolled out this year, it has necessitated a heritage-sensitive redesign, which has been undertaken by Tonkin Zulaikha Greer and constructed by Richard Crookes Constructions.
One has to remember this was a structure that was used to being hosed down after milking. A great embrace of the building's history and DNA is in the brass floor 'markers' that sit throughout the gallery space, identifying former cattle stalls, and the rail track for the dairy feed carts. The architects have also beautifully left the original timber ceilings exposed.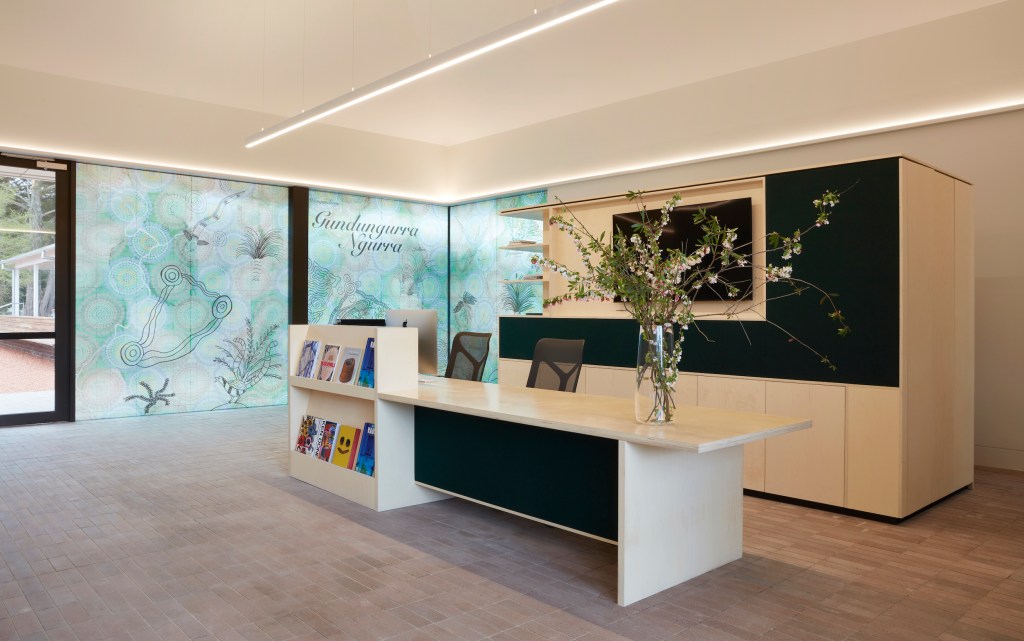 In terms of navigation, visitors are welcomed via a new atrium, which reorientates the original building and allows space for those modern gallery necessities – a gallery shop, a convening area for school groups, a workshop area and – in a clever use of space – a 6-month rotating commission on its glass windows.
The first has been created by Aboriginal artist Megan Cope in consultation with the local Aboriginal community, in particular Gundungurra elder Aunty Velma 'Val' Mulcahy OAM.
Read: New galleries forefront First Nations artists for opening commissions
The gallery spaces are well scaled. They are not overwhelming, 'hall-like', nor do they comply to the gallery ethos of the 'white cube'. In some ways they capture that country hall feel, but with the latest gallery fit-out technology in lighting and climate control.
The building spans a 712m2 footprint, which is not overly large, but it's a really comfortable scale to allow for a dynamic program, and yet remain manageable for typically smaller resourced regional galleries in terms of staffing.
One of the key drivers for the gallery has been to better facilitate the 42 schools in its region.
Quilty explained: 'We have a bike rack in front of the gallery, and the bike paths from East Bowral are linked to this – for me that is it – that kids can just ride up. That is the aim for most galleries which are always looking for that youth audience.'
Ngununggula Chair, Julie Gillick continued: 'Ngunungulla promises to enrich the arts education of every student of the Southern Highlands, at their doorstep… and we can only imagine the positive impact overall for our region, culturally and economically.'
The gallery has just two full-time staff and a team of six part-time gallery assistants, with the next step to employ a professional to drive education and access programs.
Community is at the centre of Monte's management style, having spent a decade as curator at Campbelltown Arts Centre which has a reputation for solid outreach programming with a contemporary art lens.
'I see this – the gallery – as the last piece in the puzzle of the Southern Highlands to give all those community organisations that have struggled and strived, and succeeded for so long, to give them that lynch pin,' added Quilty.
He noted the support of NSW Minister for the Arts Don Harwin, who had 'been a phenomenonal force for good and it would not have happened without his leadership with the Regional Cultural Fund, which we pulled $2.49 million from and a further $500,000 as the project advanced.'
Harwin described: 'From the beginning, Ngununggula set out to be a game-changer for the Southern Highlands, and I am proud that the NSW Government, through the Regional Cultural Fund, has played its part in bringing this visionary project to life.'
Read: New Australian Galleries and Museums opening in 2021
INAUGURAL EXHIBITIONS MAKE STATEMENT
Monte described Ngununggula's exhibition program as 'about storytelling, sharing experiences and understanding perspectives with a sense of scale and ambition.'
That is superbly played out in the inaugural exhibition High Jinks in the Hydrangeas by Tamara Dean, which is on display until 12 December 2021. It is an ambitious new body of work that pushes her main medium of photography into sculpture and video. She has even worked with perfumer Ainsley Walker, to create a full sensory experience.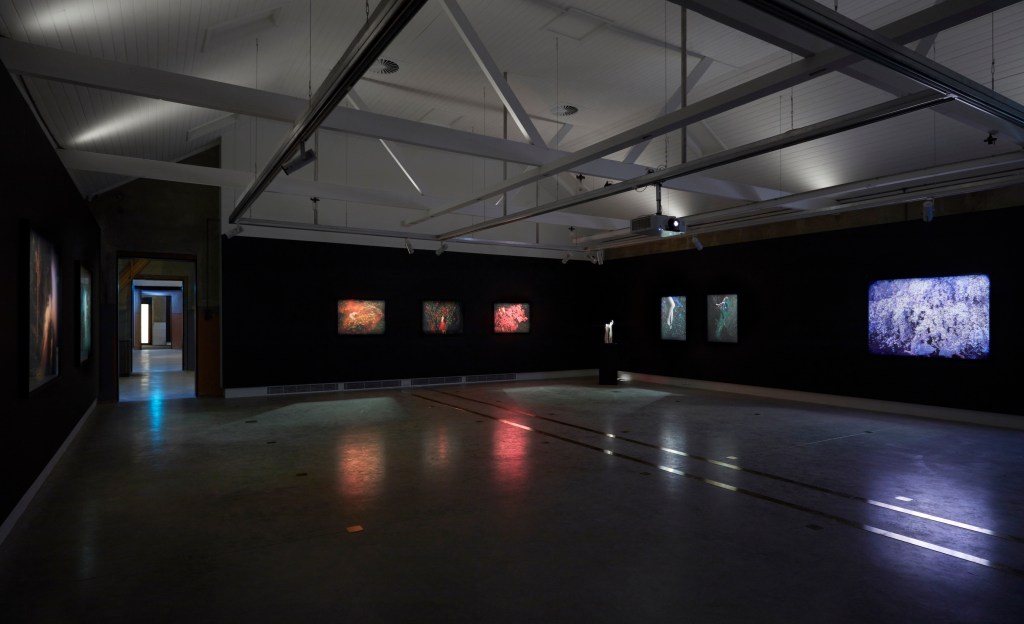 Throughout 2022, five exhibitions will be presented at the Gallery. Following Dean will be the group exhibition The Dingo Project, opening in January and curated by locally-based, Aboriginal curator and writer Djon Mundine.
It will take inspiration from the Southern Highlands town of Mittagong, which was home to many dingoes at one time, and investigates the spiritual mythology and the historical narratives of ancestral dingoes.
Also in 2022, another local icon John Olsen's latest survey exhibition, Goya's Dog will be shown in partnership with the National Art School, which will be followed by an exhibition by brothers Abdul-Rahman Abdullah and Abdul Abdullah with their newly commissioned work.
Quilty concluded: 'The world needs more artists, more thinkers, more activists and a gallery is the place to foster all of it.'
Ngununggula is located at 1 Art Gallery Lane, Bowral, NSW on the lands of the Retford Park estate.
The gallery operates in partnership with Wingecarribee Shire Council, the National Trust, the state government of NSW.