As Senior Exhibition Designer for the National Gallery of Australia (NGA), Jing-Ling Chua has contributed to over 30 exhibitions for the NGA, including major exhibitions as diverse as Fred Williams: Infinite Horizons, Roy Lichtenstein: Pop Remix, Myth+Magic: Art of the Sepik River and Cartier: The Exhibition.
In 2019 Chua was part of the Venice Biennale Professional Development Program as an Emerging Arts Professionals. She also fosters her passion for architecture and graphic design through personal projects, including co-founding Hester art magazine, an online platform for artists, writers and curators to publish original art writing.
She is currently working on the Know My Name: Australian Women Artists 1900 to Now which will span 4300 square metres of National Gallery floor space.
How would you describe what you do?
Exhibition Designers plan the visitor flow, key sightlines, and transitions between gallery spaces to subtly craft a dialogue between the art and the visitor. We understand the spatial environment of a gallery, its architectural opportunities – and limitations – while carefully considering how a visitor interacts with the works of art within this context.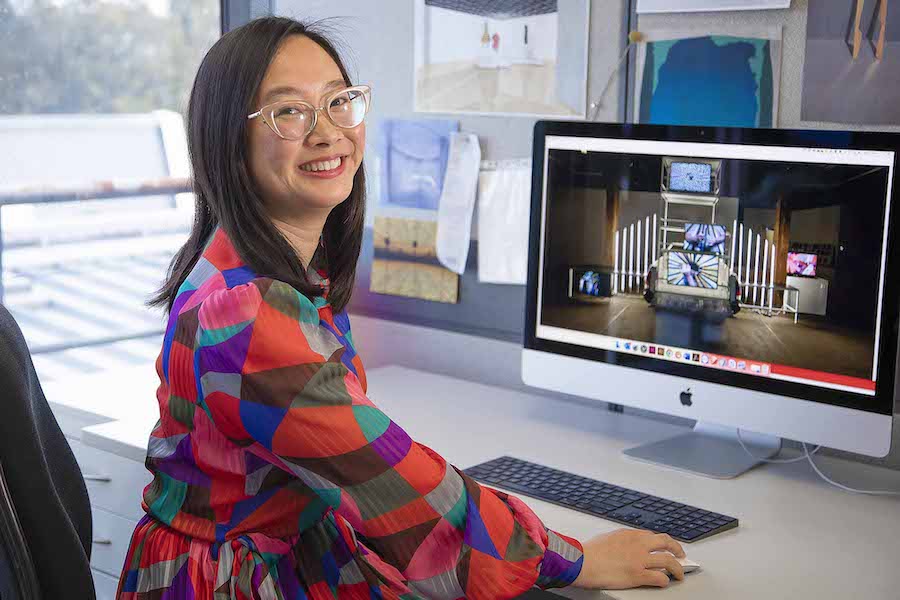 Jing-Ling Chua trained as an architect before her career as an exhibition designer for NGA. Image supplied.
What do you need to be an exhibition designer?
Creativity and a keen eye for colour, materiality, and space. You also need technical drawing skills and the ability to convey design concepts through models, drawings or 3D renders. Being a good listener helps, as we take on board the specialist needs of the exhibition team and give them form to shape the experience of the visitor.
How did you get your start in this career – what was your first job?
After studying architecture and working for a local building company, I enrolled in a Graduate Diploma in Museums and Collections at the Australian National University. As part of my coursework, I managed to secure an internship with the NGA's Exhibition Design team. I would come in for two days a week across three months and was able to absorb inner workings of the gallery.
We were installing an exhibition called Soft Sculpture at the time. There was such variety in scale and mediums of the works, from Korean artist Choi Jeong Hwa huge vinyl inflatable Clear lotus flower, 2009 to Eva Hesse's monumental suspended work Contingent,1969.
I got a glimpse into the wonderfully collaborative nature of installing an exhibition – witnessing all of these highly specialised NGA experts coming together on the gallery floor.
How collaborative is this job?
Extremely! I'm constantly liaising with team members through all phases of the design process. In the concept stage we take cues from the curator's vision for the show as well as artist, lender and conservation requirements.
During the design development stage, I prepare design document drawings, floor plans, physical models and 3D renders for approval from the executive staff. Refurb periods involve managing builders and painters.
Then the most rewarding part of the job is the install period, when you get to see the works of art in person, can appreciate their magnitude and see the design take shape with the help of exhibition coordinators, installers, conservators and registrars.
Another truly rewarding part of my job is the opportunity to connect directly with artists to better understand their intention for their work. I aim to be sensitive to the artist needs, bringing my experience and knowledge of the galleries as physical spaces to find suitable design outcomes. For the upcoming Know My Name: Australian Women Artists 1900 to Now exhibition I've been fortunate to work with many incredible artists including Barbara Campbell, Janet Laurence, Mikala Dwyer and Micky Allan to discuss the location and form of their works.
Jing-Ling Chua (rear) working alongside Exhibition Designer Georgina Whigham (front) to place works in the scale model of the Know My Name exhibition. Image supplied.
What's an average week like?
I'm always juggling a few projects on the go, focusing most of my time on allocated temporary exhibitions, whilst managing the permanent collection and touring exhibition changeovers. No two weeks are the same and that's what keeps the job interesting.
Fortunately, I'm not stuck behind a desk all week. This week I have come in before hours to oversee a signwriter update signage related to the recently opened Art Store; moved pallets of exhibition furniture from the art dock to the exhibition space; looked at works of art in the conservation lab to discuss display solutions; and spent time in the galleries with the curators to advise on the placement of works.
What's the most common misconception about being an Exhibition Designer?
The role is much more than simply selecting paint colours as a backdrop. Also, art is not just paintings on a wall. One of the principal aims of the Know My Name exhibition is to demonstrate how women artists have challenged material hierarchies and ideas of high and low art. Some examples of artists within the exhibition working in diverse media include: Mirka Mora's hand-painted fabric dolls fashioned from her children's bedsheets, right through to Justene Williams' Given that/You put a spell on/mine uterus (2014) which includes a ute, a fridge and neon lights.
In an interview for your job, what would you be looking for in an Exhibition Designer?
A highly creative designer who can synthesise complex concepts from a brief and use engaging and innovative design ideas to present them.
What's changing in Exhibition Design today?
Over the past half-century, exhibition design for museums and galleries has evolved from being predominantly collection-focused to now – much more visitor-centred experiences. Advances in interactive technology and lighting are also guiding immersive experiences in the museums sphere.
I'm passionate about questioning and rethinking the design process to maximise environmental sustainability throughout our practices – and embedding them into the profession. Building and installing temporary exhibitions don't need to use large amounts of construction materials that are difficult to recycle. Clever design thinking, material selection, reuse and modularity are important steps in the right direction for our field.
More in the series:
So you want my arts job: Book designer