WAAPA's new Executive Dean, Professor David Shirley. Image supplied.
Professor David Shirley, the new Executive Dean of the Western Australian Academy of Performing Arts (WAAPA) has only been in the job for five weeks, but he's already enthusiastic about the student performances he's seen to date.
'I've seen some extraordinary work and I've been hugely, hugely impressed,' Shirley told ArtsHub.
From Rise, a dance showcase choreographed on WAAPA's Second and Third Year Dance students which he described as 'beautiful and highly accomplished,' to the Second Year Acting students' Machinal, directed by Perth theatre-maker Jeffrey Jay Fowler, Shirley is full of praise for the committed and rigorous performances he has seen thus far.
'The students are so accomplished, so skilled and so confident – I think they're really, really outstanding and I'm looking forward to celebrating their work locally and nationally and internationally, because we really need to see the world coming into WAAPA,' he said.
A professional actor whose practice encompasses film, theatre, television and radio, Shirley is also a committed teacher with 'a passion for pedagogy'. He believes his experience as a performer stands him in good stead for understanding the challenges faced by WAAPA's students and ensuring that the institution's training continues to be of the very highest standard.
'I worked for many, many years as a professional actor and then I made the decision to become a teacher. I know lots of practitioners sort of fall into teaching but … I made a conscious decision and retrained to become, I hope, an accomplished teacher, because I'd reached a stage in my career where I'd developed a passion for pedagogy,' he explained.
'But pedagogy is only useful when it has a strong connection to the industry itself; otherwise it goes a bit dry. And there's always a danger that one becomes a little bit institutionalised and the practice that goes on inside the school has nothing to do with what's going on outside the school.
'I don't believe you can be a really good teacher and I don't think you can understand what the industry needs unless you are working with the industry,' Shirley said.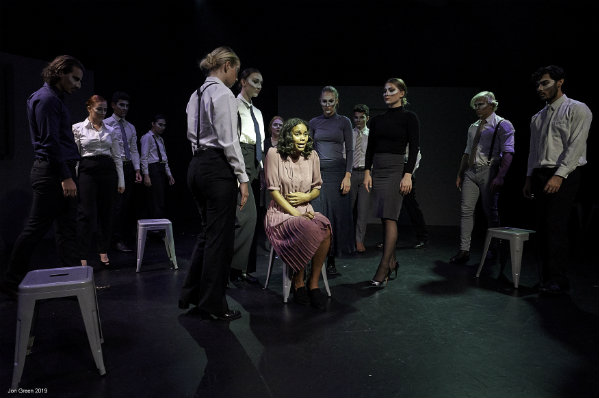 Second Year Acting students in Machinal. Photo credit: Jon Green.
Having previously held the role of Chair of the Federation of Drama Schools during his time as Director of the Manchester School of Theatre at Manchester Metropolitan University, Shirley wants to see WAAPA deepen its ties with the sector and other conservatoire nationally.
'I believe it's incumbent on training institutions like this to begin to set agendas for industry,' he said.
'I want WAAPA to become a place where the industry comes for advice or to workshop because they're looking for new ideas and new ways of thinking … so that there's a really fruitful exchange between the industry and the institution. It shouldn't just become a factory that produces practitioners that we send out into the world and that the industry consumes; there has to be a relationship, an in-out relationship between the industry and the institutions, and I feel that my experience as a practitioner will enable that to happen in an effective way,' he explained.
'I'm also wanting to make links with all the other conservatoire schools in Australia on a national level … We need to speak with a collective voice – and also speak with confidence about the extraordinary training opportunities and conservatoire facilities that are available in this country,' Shirley added.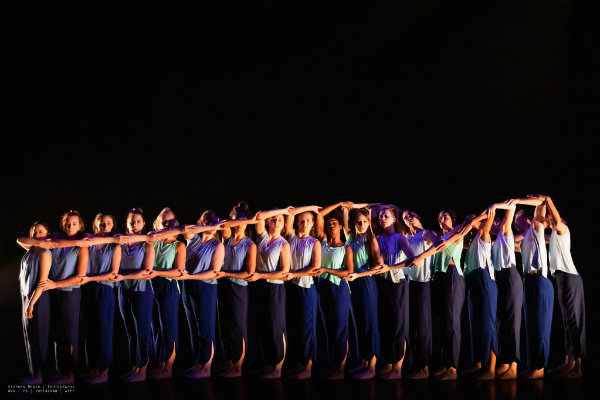 Second and Third Year Dance dance students in Rise. Photo credit: Stephen Heath.
In addition to strengthening WAAPA's role nationally, he is also committed to growing WAAPA's profile globally, including promoting the institutions research and attracting more high-profile international practitioners as teachers and guest artists.
'In terms of my vision, the one thing that I can really help WAAPA to do is to project it into an international space – and not just in terms of attracting international students … I want to project WAAPA out into the world so that it becomes a really attractive conservatoire internationally, at the top in terms of dance training, acting training, musical theatre training, production and design – and all of these courses already have really, really great reputations nationally but we need to push them into an international space so that our students are seen all over the world.'
Long before he was appointed to his current role, Shirley was already familiar with WAAPA as an institution, having been trained and taught by its founders, Lisle Jones and Nigel Rideout, when he was a young drama student in London.
Shirley remains keenly aware of WAAPA's legacy, in part because of the success of WAAPA graduate Eddie Perfect, whose Broadway musical Beetlejuice was recently nominated for eight Tony awards, including Best Musical and Best Original Score.
'If ever you want to see evidence of the international credentials of WAAPA and its achievements, the extraordinary achievements of its students, that's a perfect example of it,' he said.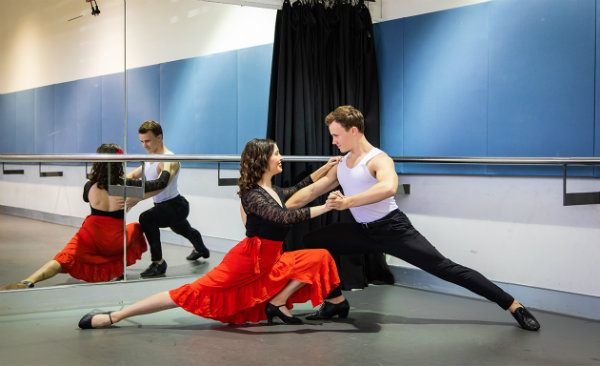 Rehearsals are underway for Strictly Ballroom The Musical. Photo credit: Kathy Wheatley.
WAAPA's major mid-year production, Strictly Ballroom The Musical – featuring new songs by Perfect – is currently in rehearsal, and Shirley is excited about what the production represents.
'For me it really is a celebration of how all the student groups can come together – production and design students, performing students, music students – for a big event that takes place every year, and that this year is co-written by one of our former students who's up for a Tony Award.
'There's something extraordinary about the energy and the synergies that goes on at WAAPA and the extraordinary dynamic and creativity that's available here to everybody. So I'm really looking forward to seeing Strictly Ballroom. I'm really, really looking forward to seeing it – it's a highlight of the year and I'm sure it's going to be outstanding. There's a lot of excitement over here about it at the moment.'
WAAPA presents Strictly Ballroom The Musical at the Regal Theatre, Subiaco, from 15-22 June 2019. Tickets are available through Ticketek.