Actor Kristian Jenkins in The Street Theatre's Epitaph. Image supplied.
The unique nature of Canberra life has a direct and palpable impact on the new work made and developed at The Street Theatre, according to Artistic Director and CEO Caroline Stacey, who took up the reins at The Street in 2007.
'Canberra has a slower pace, I think – which is not necessarily a bad thing. You actually can't do anything really fast because there's not necessarily the resources or the people to hand instantly, and so the investment is in people and in conversations in a longline way' she said.
But just as slow cooking produces rich flavours, so too this slower approach to making and developing work results in strong, resonant theatre.
'You have to really give yourself over to that slower way of being and thinking, and actually it is quite releasing,' Stacey told ArtsHub.
Over the last few years The Street Theatre has consolidated and strengthened its approach to theatre-making in Canberra and the ACT – as well as the surrounding region.
'We've worked pretty hard to really develop our practice in terms of commissioning and making new work; a whole series of initiatives to build voices in our region and our community and also to really figure out the sort of stories that we can tell well, with the resources that we have,' Stacey told ArtsHub.
She points to productions such as 2018's The Weight of Light, which toured to Sydney after playing Canberra and regional NSW, and the smaller scale work Icarus, which premiered at Perth's Fringe World before having a season in Canberra, as examples of The Street's direction and ambitions.
'We're really looking at ways in which we can maximise exposure for artists within the region and then outside of it,' said Stacey, adding that the company is also starting to look at long-term partnerships with other companies in order to increase opportunities for local artists.
'That's part of where we see ourselves going in the next three years,' she said.
'We've also been working to develop our community of practitioners, which is small – there's no glossing over it, it's a small community and it's a real challenge to keep our community employed in an ongoing way, from arts workers to technical backstage, to creatives, to actors – and always looking to make sure that where possible, we make opportunities for everyone to develop their practice.'
ARTISTIC DEVELOPMENT
Cross-fertilisation between artists based in Canberra, members of the Canberra diaspora (who may once have called Canberra home but are now living interstate or overseas) and established practitioners from interstate is one of several ways in which The Street contributes directly to artists' professional development.
'For me, the diaspora is a great way to actually enter the heart of what it means to be a Canberran – which is not about being anchored necessarily physically in place but more a state of mind, a state of being,' Stacey said.
Illustrative of The Street's way of working is an upcoming production of US playwright Lucas Hnath's A Doll's House Part 2, starring comedian Rachel Berger as Ibsen's fierce heroine Nora Helmer.
'We often bring in actors from other places who help everybody open up connections in other places. It's amazing – you bring somebody in and everyone ends up working in different ways in some other part of the country.
'And I chose Rachel very deliberately … She's a great actor who's not really had an opportunity to fully realise, I think, the skills that she has within comic acting roles on the Australian stage. So I felt like she would bring the right sort of edge to the work and the right sort of danger that's required for a work of this nature.'
'For me, the diaspora is a great way to actually enter the heart of what it means to be a Canberran.'
The production also stars local actors PJ Williams and Camilla Blunden, the latter of whom has 'worked with every iteration of professional theatre in Canberra for the last 40 years,' Stacey said.
Continuing The Street's commitment to working with members of the Canberra diaspora, Stacey has also cast a young New Zealand-based performer in the piece.
'Nathalie Morris is a young Canberra actress who's working for Auckland Theatre Company at the moment. She's trained at Toi Whakaari and is building a career in New Zealand so it's great that we're bringing her back to Australia to profile and strengthen her connections here.'
The Street's annual season usually features one contemporary classic such as A Doll's House Part 2 and another play, often with literary resonance, selected in order to provide Canberra creatives with opportunities to connect and work their skills. This year, that play is the Berkoff adaptation of Kafka's Metamorphosis directed by Japanese and East-Asian performance specialist, Adam Broinowski.
'We have a very strong physical theatre community; a lot of people that trained at Le Coq and places like that; and Canberra also has a very strong puppetry tradition, so actually I chose that work for our physical theatre community and to bring those actors together,' Stacey explained.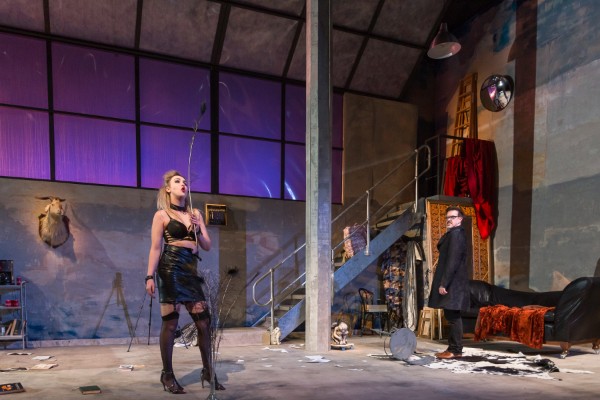 Joanna Richards and Craig Alexander in The Street Theatre's 2018 production Venus in Fur. Photo credit: Shelly Higgs.
LOCAL STORIES, NATIONAL RESONANCE
Canberra's role as the national capital opens up a range of possibilities for inventive partnerships as well as quality theatre-making.
'There is a capacity to commission and make work in Canberra that is more than the domestic. We have many defence organisations, science research organisations, universities – the intellectual-cultural life is quite strong, and that in turn feeds what artists are interested in and what is being made. And so for The Street, what that means is we're looking to partner with and work with organisations that are often based in Canberra but making work that speaks to national issues.'
Two works being staged this year capture that ambition perfectly.
'Flight Memory, which we commissioned two-three years ago in partnership with the Defense Science Technology Organisation, deals with, on one level, the invention of the black box flight recorder – a great Australian invention by David Warren. Everyone knows what a black box recorder is but actually at a deeper level the work deals with the role of scientists and inventors within our society; the way that they're treated, the lack of investment and often the lack of confidence in intellectual ideas. And to me, that work typifies where we sit in terms of both a local and national dimension,' Stacey said.
'At a deeper level the work deals with the role of scientists and inventors within our society; the way that they're treated, the lack of investment and often the lack of confidence in intellectual ideas.'
Also going into production this year is Epitaph, a new play written by Ross Mueller and created in partnership with the Australian War Memorial. Designed to resonate with anyone who visits the War Memorial regardless of their age or country of origin, the work speaks to the universal experience of grief.
'It deals with the challenge that Australians had at the end of World War One in terms of having 66 characters in which to write an epitaph for their loved one … And of course that only applied to people whose bodies were found. Those that were never found, their families were never given an opportunity to write an epitaph in any way.'
Epitaph was developed in 2018 before going into production this year; one of many in-development projects The Street stages annually.
Another work currently in development involves lawyers from ANU and the University of Wollongong, and looks at how theatre can unpick the complexities of the application of law, ethics and jurisprudence. Written by Desmond Manderson and Luis Gomez Romero, The Day They Got El Ticho explores the legal ramification of the capture of drug lord Joaquín 'El Chapo' Guzmán.
FIRST SEEN
An annual season of works in development, under the banner First Seen, is staged each year at The Street. To date, some $350,000 has been invested in First Seen over the last seven years, and Stacey wants to see that grow.
This year's First Seen program (running from April to July) features four new works: Peter Cook's Outsider, which Stacey describes as 'a solo work dealing with mental health and addiction and how to heal oneself'; Milk by Palawa man Dylan Van Den Berg, a story of longing, connection and the ghosts of the past; Hanna Cormick's Zebracorn, drawing on the playwright's lived experience of chronic illness and rare disease; and Fragments, a series of interlinked monologues by Maura Pierlot exploring the mental health issues faced by young people.
'All of the works all come from writers whose voices are very authentic and strong and personal in nature.' Stacey said.
Despite the playwrights' diverse perspectives, all the works programmed for First Seen this year also display a definite, distinctive 'Canberraness', reflecting the city's locality as well as its national status.
'I think all of them have a very strong sense of wider contexts, societal contexts as well as the personal voice, and they navigate and move between those spaces – and actually the portals between those spaces too. All of the works shift and move between those spaces; it's really quite compelling.'
Learn more about The Street Theatre at thestreet.org.au