Breeze [detail], 1989, by Xiao Lang, Collection National Museum of China
Dr Michael Pickering believes that 'everybody is allowed to enjoy history.' He continued, 'It is the act of empowering audiences; to arm them with that bit of information they do not have access to. History is not a sacred secret.'
Pickering is Senior Advisor, Discovery and Collections with the National Museum of Australia (NMA). He believes the Museum's role of storytelling is not just about Australia's history, 'but how Australia fits in with the rest of the world'.
It is not surprising, then, that the NMA is currently showing a scroll depicting the history of the Chinese in Australia from 1788-1988, painted in the gong bi [meticulous brushwork] style.
A jewel from the Museum's own collection, the 50-meter Harvest of Endurance scroll is part of the exhibition, The Historical Expression of Chinese Art – an Australian-first to explore the breadth and tradition of Chinese calligraphy and painting through artworks from the National Museum of China's collection.
'The reminder is that Chinese have held a long part in Australian history. Migration is not a recent thing. The Chinese have influenced the development of many Australian towns and cities,' said Pickering.
Eight metres from the Harvest of Endurance Scroll will be on display in the exhibition, the longest expanse of this vast scroll to be seen publicly since its commissioning in 1988.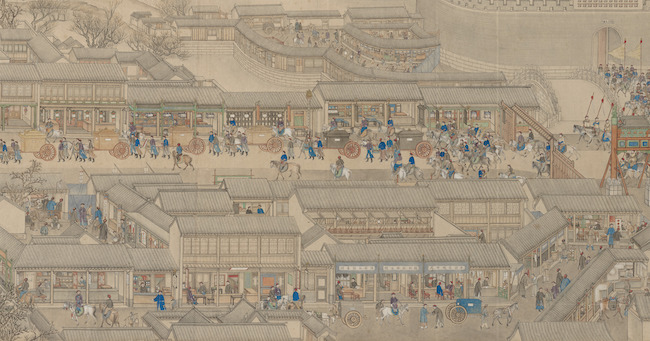 The bustling capital, a detail from The Emperor Departs from Beijing, the first scroll in the series Emperor Qianlong's Southern Inspection Tour, 1770s. National Museum of China
Storytelling is about human experiences
Consisting of more than 100 objects from China – including a 14-metre-wide animated digital experience that brings to life an iconic 18th Century scroll depicting Emperor Qianlong's Southern Inspection Tour – this exhibition brings history and cultural connections into real time.
Considered one of the jewels in the National Museum of China's collection, but too fragile to travel, a high-quality replica of the Emperor's scroll will travel to Canberra.
'It was originally 12 scrolls over 154 meters – the David Attenborough documentary of the time! It's full of fascinating details of clothing, shops, and buildings. Viewers could follow the Emperor's travels through various places, and seasons – not unlike political tours of today.'
Pickering continued: 'Remembering we are a social history museum, we are trying to explain the social history associated with these objects, and it is that explanation behind the art that is really engaging audiences.'
He cited an example by calligrapher Xie Yun, Mountain, that on first appearance is quite impressionistic. 'When analysed, it describes the character for the world mountain, which resembles a mountain in form, so all of a sudden this abstract work becomes a landscape.'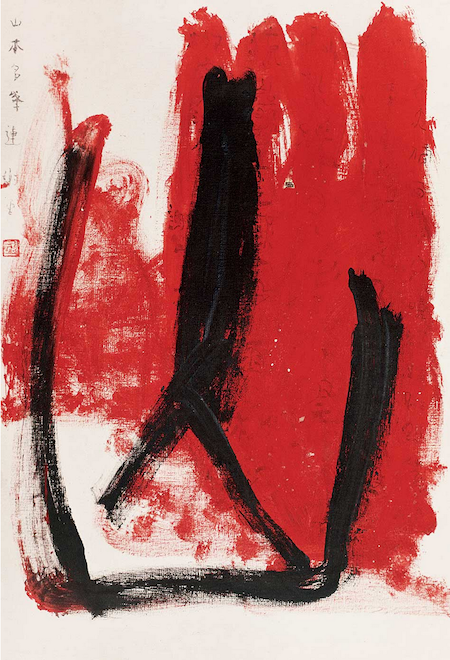 Mountain,1995, by Xie Yun, Collection National Museum of China
'These meanings often escape us, but here they are explained in concise little packets that empowers the viewer; they come out not just appreciating the art itself, but are allowed to know something about Chinese culture, and its relationship to Australia,' said Pickering.
Xie Yun, along with artists Wang Naizhuang and Xiao Lang, are considered Chinese modern masters, extending the traditions of Chinese calligraphy with contemporary inflections.
Xie Yun is known for his abstract depiction of Chinese symbols, while Wang Naizhuang is known for bringing Western and Chinese painting techniques together in harmony, and pushing the boundaries of traditional ink painting.
Ancient Tea-Horse Road, 2010, by Wang Naizhuang. National Museum of China
'With any tradition, it doesn't mean it can't accommodate contemporary ideas,' Pickering told ArtsHub. 'You can use these traditional methods to convey ideas on the world, and also contemporary personality.'
Cultural exchange
The Canberra exhibition follows the hugely successful 2018 show at the National Museum of China of Old Masters: Australia's Great Bark Artists, featuring one of NMA's signature collections, and the most significant collection of Aboriginal barks to tour China.
Pickering remarked: 'One of the things we did there was to have detailed descriptions of what the [Aboriginal] iconography and symbols meant, so audiences would not just appreciate the barks as art, but though knowledge of the inherent meanings see them as Aboriginal people would see them.'
He said iconography was a key influence in how the two museums approached this exhibition of Chinese calligraphy and scroll painting.
Both exhibitions are part of a memorandum of understanding established between the two organisations in 2011. 'Over the years we have shared an exchange of staff to look at how they prepare exhibitions, conserve works, and presented narratives; they also sent their representatives to us to work on various exhibition designs.'
'We are sharing ideas about how exhibition experiences make it possible to cross cultures,' Pickering concluded.
The Historical Expression of Chinese Art exhibition: Calligraphy and Painting from the National Museum of China
5 April to 28 July 2019
National Museum of Australia, Canberra
Entry is free