Barry Keldoulis, CEO Art Fairs Australia; photo Samantha Watson-Wood
Sydney is about to stage its fourth edition of Sydney Contemporary (13-16 September) – an ambitious art fair with global aspirations.
Over the past five years, many of its goals have been met; others remain targets that will truly cement the Sydney event as an astute player in this international market.
Sydney Contemporary reported $10 million in sales over five days that it launched in 2013. That grew to $16 million last year – a figure Art Fairs Australia CEO, Barry Keldoulis is confident remains on a trajectory upward.
When asked whether it was an indication of Sydney Contemporary settling into its skin – maturing – Keldoulis said: 'In a global trend, there has been a maturing in galleries' understanding of what collectors want to see at a fair– and that is new work. It is part of the excitement and energy that has built around this fair, and gives it its character today.'
He told ArtsHub: 'While we have been able to expand the floor plan to take over the whole of Carriageworks, the number of galleries hasn't increased. It is one of the noticeable changes of how the fair has matured. Galleries came initially testing the waters, and have come back wanting more space.'
Internationally, art fairs over the past decade have moved away from the stock-show model, and rather, today often present a solo show of a new body of work, or unveil new work by a variety of artists from their stable.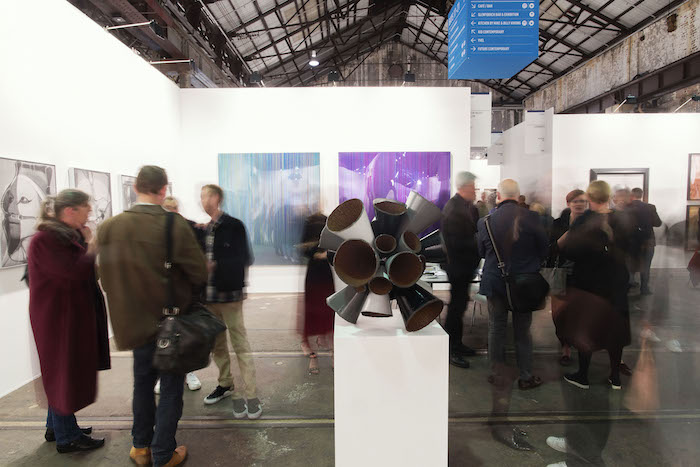 Sydney Contemporary; photo Jacquie Manning
Understanding the weight of an international calling card
One of the quick rebuffs the sector has used in Australia, is that it is parochial, but a recent conversation with a dealer/collector made the point that all gallery scenes are parochial by nature, and that rather the art market in Australia was conservative.
Keldoulis agreed that while it was true that the Spanish, for example, mainly bought Spanish art – and the same could be said of every country – he felt that blinkered pattern was changing.
'A good indication of that is that we have galleries from about 14 countries, but artists representing over 30 different countries at this year's Sydney Contemporary. That just wouldn't happen if we were caught in that old thinking.'
He continued: 'It is very exciting to have PACE come to the fair this year, as the first of the world's mega galleries.' PACE has signature galleries in New York, Hong Kong, London, Beijing, Seoul, Palto Alto (California) and Geneva.
'They might end up being the best of that type of gallery for us – obviously they are very successful, but also their model is one of engagement foremost. They don't want to be seen as this big name coming in to "show how it's done". I am already excited with their level of engagement with scene here, and ultimately, we could see some of these mega galleries take Australian artists onto the world scene,' he continued.
Keldoulis said that while we all share ambitions to make it on in the international scene, few realise that it is a two way street. 'We need to engage with international artists and galleries; PACE is a good example of this.'
Doing that already is Yavuz Gallery from Singapore, which has been showing at Sydney Contemporary since the beginning, and now shows a number of Australian artists abroad.
This year the South East Asian gallery will show the work of international artist Zico Albaiquni and Khairullah Rahim, alongside Australasian artists Abdul Abdullah, Peter Adsett, Lucas Grogan, André Hemer and Euan Macleod, whose work they now exhibits overseas.
With the number of art fairs internationally sitting in excess of 260, Keldoulis laughed: 'We are aiming for one a day.' Staying competitive and unique in that market is one of the greatest challenges for fair organisers.
'Art fairs sort of reflect the nature of their host cities, and Sydney is well placed as a destination on people's bucket list. For international collectors and art enthusiasts the fair is another good reason to engage with cultural tourism and get a snapshot of what is going on here.'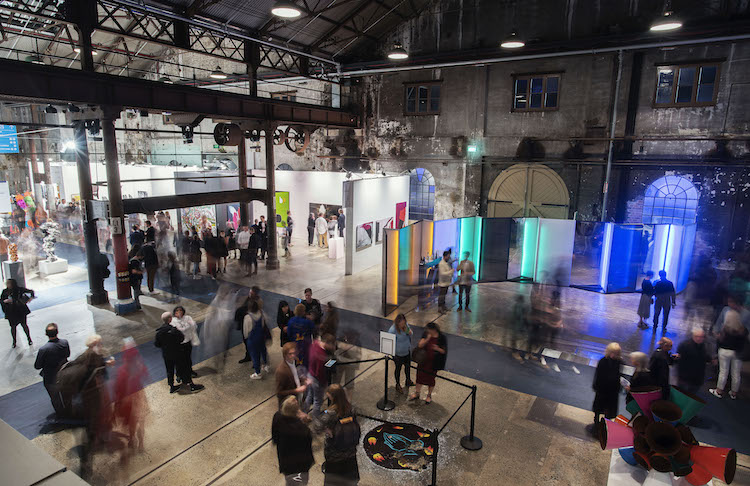 Sydney Contemporary; photo Jacquie Manning
Closing the gap on elitism
Today art fairs these days are not just about a selling work to an astute circle of collectors – they need to be more egalitarian, diverse and learning events.
'Sydney Contemporary always striven to being a whole-of-scene fair. The blue chip galleries and established artists sit equally alongside the newer galleries, and even some artist run spaces. There is an opportunity for a large, varied audience to see how the whole ecosystem of the art world works, said Keldoulis. 'We work very hard to present that balance.
He said that while Sydney has a very sophisticated and large collector base, the fair also attracts a lot of what he calls art buyers.
'Visiting the fair is almost like a physical manifestation of the Internet in that regard of getting a snapshot of what is going on, not only in this city, but around the country, the region and indeed around the world. Most good art needs to be seen in the flesh,' said Keldoulis.
He admits that the art world can get "complicated", with many stakeholders. 'Ultimately for me, when it does, I just pare it back and ask "what is best for the artists? And the answer is to send money back so they can continue their practice.
'The fair is ultimately about sustaining art practices in a society where the work of our creative people is undervalued,' he concluded.
Sydney Contemporary will be presented at Carriageworks from 13 – 16 September.
For ticketing information visit sydneycontemporary.com.au/visit