Vicky Browne, Cosmic Noise, 2018. Material Sound installation view, Murray Art Museum Albury, 2018. Photo credit: Jules Boag.
Even before the Murray Art Museum Albury (MAMA) reopened its doors in October 2015 after a $10.5 million makeover, it already had a reputation for innovative exhibitions and programming.
'What's interesting about Albury is the gallery has always had this quite experimental focus to it,' said MAMA Director Bree Pickering.
Audray Banfield, one of Pickering's predecessors at the former Albury Regional Art Gallery (as MAMA was originally known) was an early champion of photography.
MAMA Curator Michael Moran explained: 'During her long and celebrated tenure as Director of the Albury Art Gallery, Audray championed photography at a point when it didn't have a critical appreciation within an institutional context. It was getting there but it wasn't yet fully-fledged – it was seen as a commercial medium or as something that lacked key artistic value.'
Pickering added: 'Audray recognised that she didn't have a lot of money to buy artwork so she focused on photography, and that was quite a radical move at the time.'
That early commitment to photography continues today, with the Museum hosting the acquisitive, biennial MAMA Art Foundation National Photography Prize, one of Australia's longest running celebrations of photography.
In an age where anyone with a smartphone can take a photograph in seconds, the 12 entrants shortlisted for the 2018 National Photography Prize have demonstrated a return to materiality, said Moran.
'The remarkable shifts that have occurred with photography in the last decade or so, with the complete ubiquity of smartphones and image-making capability in the hands of everybody, it's completely democratised the medium. That forces changes on artists, and interestingly I feel it's pushing photography back towards a more material-led, analogue process,' he said.
'That's certainly reflected in the 12 finalists that we've shortlisted for the prize; artists who are working with expired papers or thinking about photography sculpturally, or really looking at its base materiality.
'And I think it's important that we maintain awareness of where photography positions itself now, because it's a medium with a short but fluid history, and I think we need to maintain an agility as to how we view photography now,' Moran explained.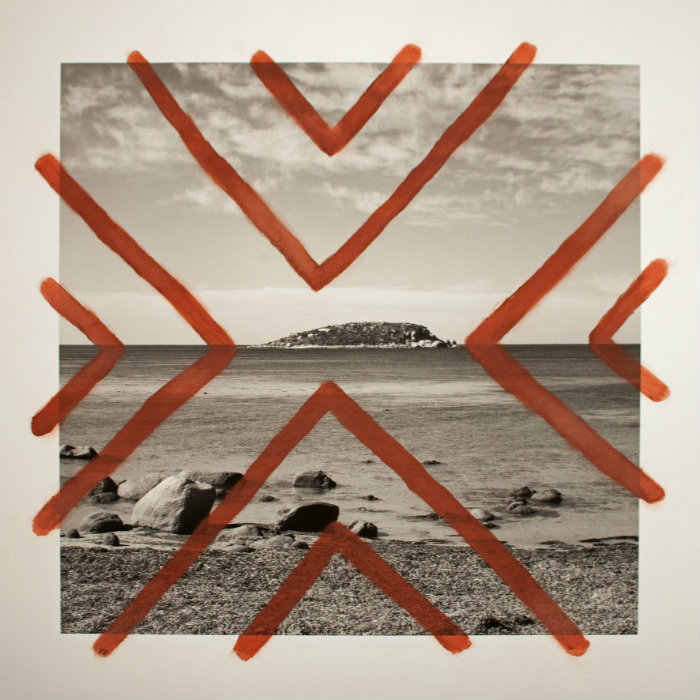 National Photography Prize Finalist 2018, James Tylor, Turralyendi Yerta (Wirramumeyu) 2017, Photograph with ochre, 50x50cm, 2 of 4. Image courtesy the artist.
Such agility comes naturally to an institution like MAMA, according to Pickering.
'We have an agility as a regional gallery that I think is really helpful for us; it means we can be open to things, and change and shift in a way that can be more difficult for a larger institution, but we also have the resources and the space to do things that a community gallery wouldn't be able to pull off,' she said.
MAMA's nimbleness is demonstrated in its programming, which reflects the Museum's importance to the local community – in particular local artists, for whom MAMA provides valuable networking and employment opportunities. But with 50% of museum visitors coming from outside the Albury-Wodonga region, it's also vital that MAMA's exhibition programs have broad appeal – with the museum reaching out to new audiences nationally through social media.
'Our programming structure is broad in the sense that we have space for our collection galleries, we have a space that's primarily focused on regional artists and supporting regional practice, and we have a major exhibition space where we can take loans from major institutions and host exhibitions of national and international standard. And we can have all those things happening at the same time,' Pickering explained.
Moran points to the current exhibition, Material Sound – an exploration of newly commissioned works by artists working with sound art and installation – as a prime example of MAMA's approach to programming.
'I'll be completely honest and say it's a project that we embarked upon with some trepidation. It is a gamble to see how an artform that has a perception as either being peripheral or esoteric is embraced, and I'm really proud in this instance that the gamble has paid off. Material Sound been so well received,' he said.
Although Material Sound closes on 29 April, the exhibition will have a future iteration in the USA, at Black Mountain College in Ashville, North Carolina – yet another example of the way MAMA has put itself on the map, while simultaneously satisfying the needs of its core audience.
Pickering explained: 'My philosophy in coming here is that the [capital cities] don't have a monopoly on the creating of new ideas and art. There's room everywhere for that kind of practice to take place.
'We should be seeing opportunities in the regions and outside the major cities for the generation of new ideas, the presentation of new ideas. And we should be embracing the space that our regional places offer for that generative process, which can sometimes feel constricted in major cities.'
Visit mamalbury.com.au for more details about Material Sound and the 2018 National Photography Prize, and follow MAMA on Instagram for more insights into exhibitions and other programming.