The Cossack Art Awards may be one of the best kept secrets in the land. Despite being very well known and extremely popular with locals, it's not necessarily on the radar of artists outside of that. But it should be.
The award has a rich 30 year history and a diverse set of 10 award categories for both professional and aspiring artists working in two-dimensional media. Its exhibition and public program is held in the tiny town of Cossack, a popular daytrip about half an hour's drive from the mining hub of Karratha.
City of Karratha Arts Development and Events Coordinator Beverly Growden describes the award as a distinctly open, yet high profile opportunity for a diverse range of artists.
'The Cossack Art Awards have become known for discovering new talent,' Growden told ArtsHub. 'And there really aren't that many opportunities around now for young or new artists to have this kind of start in the industry, so it can be a very important step for them.
'It's also a brilliant chance to survey some of this region's most exciting new work and celebrate the unique beauty of this part of the country.'
The distinctive beauty of the Pilbara is something Growden, as a recent arrival in Karratha, is relishing, though she is also attuned to the intriguing history of the area.
'Obviously the landscapes here are stunning … but the town of Cossack itself is a really interesting place. It's a very small historic village, and I don't think anyone lives there except for the caretaker,' she said.
'Its heritage buildings, like the old Bond Store and the Post & Telegraph Building are incredible, and these buildings are the galleries for our awards exhibitions.
'Certain parts of Cossack do have an eerie feel about them. The area has links to the WA pearling industry of the 19th century.'
Growden is quick to observe that the ghost town's atmosphere is totally transformed at awards time.
'The awards bring this historic town alive in a special way,' she says
'The opening night gala event is the cultural event on the calendar for the region – it's hugely popular,' she said.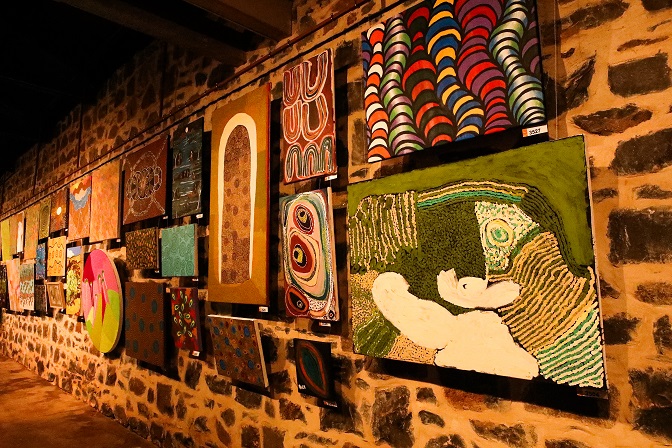 City of Karratha's Cossack Art Awards 2020, Cossack WA.  Images: Brianna Wheatley Photography
ENTERING THE AWARD
'The Cossack Awards have a completely open application process,' Growden explained but it is worth applying early.
'We only take up to 300 entries and we do that on a first-in basis. So, while entries are open until early June this year, we may need to close them before that date as we reach that mark of 300 applications.'
The main category is the acquisitive Best Overall Artwork, worth $15,000, with past winners including Martu artist Gloria, and Perth-based Eveline Kotai.
Other award categories include Best Artwork by Pilbara Artist ($10,000), Best Painting of a Pilbara Landscape ($8000), Portraits ($8,000), Emerging Young Artists ($8000), Painting Open Theme ($8000), Painting by Indigenous Artist ($8000), Northwest Flora and Fauna ($8,000), and Works on Paper ($8000).
This breadth allows the award to highlight the Pilbara's distinctive artistic layers alongside new work from outside the region.
THE PILBARA: PACKED WITH ART
While the awards are wide open to works from around the country, it's obvious there is no shortage of artistic action at a local level.
'For such a remote region we've got a large number of active Art Centres, and there are a lot of professional artists moving in and out of the area all the time,' Growden said.
'There is an amazing mix of [local] people here too,' she continued.
'And it's interesting, although the more permanent population here [in Karratha] is small for a city, it's a young community, and people are hungry to learn and build new skills. I've already noticed strong engagement from locals in our public art programs and workshops.
'So, it may be a remote place, but there's a wealth of artistic opportunity here.'
The Cossack Art Awards close 7 June. Event and exhibition period: 17 July – 8 August. Find out more about entering the Cossack Art Awards.