Photography has the power to generate sympathy and connection on a global scale – photos can provoke a political uprising, challenge social injustice, and capture lived experiences for an entire generation.
This year, the Ballarat International Foto Biennale (BIFB) will unveil the artform's possibilities through the works of 260 international and local artists, showcasing their ability to generate fresh perspectives and facilitate social engagement.
Audiences will be encouraged to consider the familiar medium in a new light thanks to the overarching premise, Past. Tense. Now. which emphasises themes of identity, familiarity, inequality, spatial awareness and human/nature relationships.
'Photography has that democratic ability to discuss, in a very easy way or in a very photographic way, what's happening in the world. Past. Tense. Now. is something that seemed to fit beautifully with this enormous change that we are going through,' explained BIFB Artistic Director Fiona Sweet.
Looking back at another monumental cultural shift, BIFB presents a landmark retrospective of Linda McCartney's astounding career, featuring over 200 never-before-shown photographs capturing music legends Jimi Hendrix, The Rolling Stones and The Beatles, as well as prints from McCartney's visits to Australia between 1975 – 1993.
Sweet explained: 'It's a snapshot, a frozen moment of history from the 60s and 70s. And it talks about a time and place where the world was completely changed by this movement of music … [McCartney] was there at the time, taking these incredibly personal candid photographs. The show is not to be missed.'
Also featured in the international program are Los Angeles-based LGBTQI photographer Steven Arnolds, London based French artist Alix Marie (whose work is showing at the newly developed National Centre for Photography) and Malaysian/Singaporean duo Chow and Lin's social commentary series, The Poverty Line.
'Last year was a time of contemplation and thought. Being the only visual arts festival in the town we have a kind of responsibility to activate the area … It was imperative for me to find a way that would give the city something to enjoy and celebrate,' Sweet explained.
The two month festival also features a curated outdoor program alongside its indoor events, including Say it with Flowers at the Ballarat Cemetery – a loving albeit morbid trail exploring rituals of memory and nostalgia curated by Wotjobaluk curator Kat Clarke.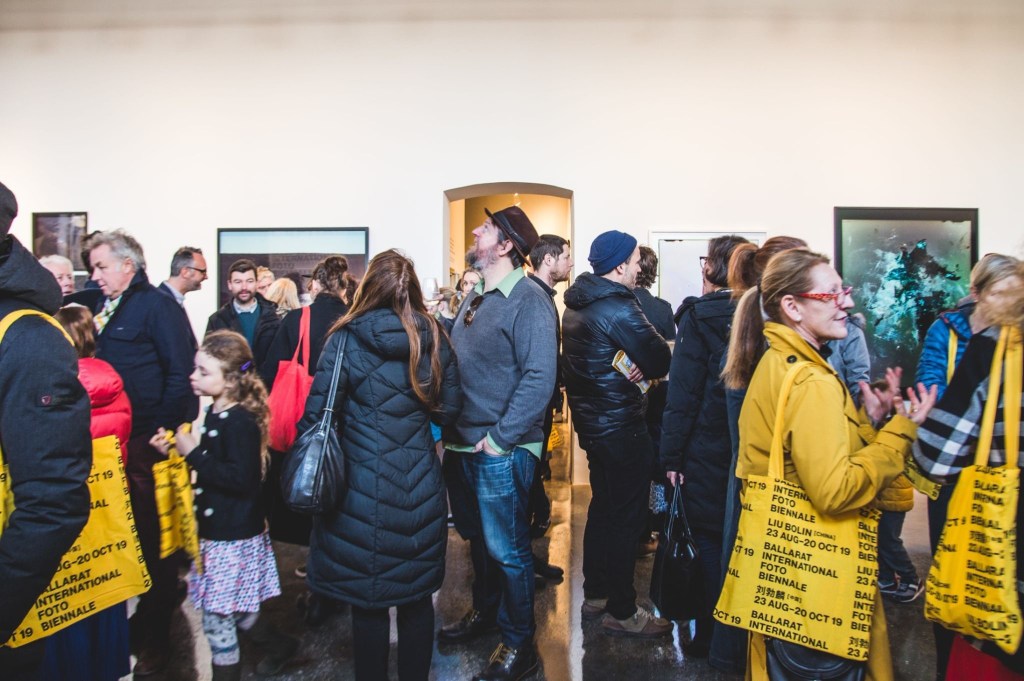 A NEW ERA OF PHOTOGRAPHY
'There is a stronger interest in the broader art world towards the relationship between photography and fine art,' Sweet said. 'There is also the interest in the exploration of alternative and new photography mediums and styles. [Works that challenge] politically, socially, but also artistically.
'[The Biennale will] look at alternative practices, at non-lens-based photography. I suppose all of them do come from a strong philosophical point – a lot of artists who don't identify as photographers use the photographic medium.'
Supporting artists is at the heart of BIFB, and this year's Open Program hosts a record number of independent artists displayed across the city.
Sweet shared her excitement: 'The whole city is just filled with photographs – 75 cafes, bars, and restaurants in our little city are filled with photographic exhibitions. All the Open Program is free to attend and we only exhibit artists who haven't exhibited before.'
The power of photography lies in its accessibility and familiarity, Sweet continued: 'There are a lot of audiences that come along without that fear of not knowing what they're meant to expect or how to respond, because it's a medium that is very familiar. This is a medium that they can engage with.'
For the first time in the festival's 16-year history, visitors will be able to grab day passes which grant entry to all Core Programs, including two Australian exclusive group shows at the 19th-century Mining Exchange. We will all eventually return to the earth explores photography as a tool of colonisation and decolonisation, while Raining Embers examines the 2020 Australian bushfires through a journalistic lens.
'At its peak of the gold rush, [Ballarat] was one of the most diverse towns in Victoria – it was a really culturally diverse and very economically rich town,' Sweet said. 'We are bringing that back with the arts.'
View the full program for the 2021 Ballarat International Foto Biennale, extended until 9 January 2022.