The arts and cultural sectors are strong advocates for First Nations knowledge and for creating inclusive, authentic experiences. That's where responsible tourism comes in with experiences that celebrate First Nations culture.
Brisbane Economic Development Agency (BEDA), in partnership with Queensland Government, Redland City Council and SeaLink, have recently collaborated with more than 20 local Minjerribah tourism operators to introduce eight new cultural and eco-tourism experiences celebrating First Nations narratives.
A 25-minute ferry trip from Cleveland on Brisbane's bayside, Minjerribah (North Stradbroke Island) lies in the heart of Quandamooka Country and offers a variety of activities, from feasting on local bush foods to jewellery making using natural materials, led by fibre artist Paula Boo.
Elisha Kissick is the founder of Yura Tours and guide for the Minjerribah Cultural Tour. She told ArtsHub: 'What makes the experiences really good is that I take people to places they would have driven past and didn't know about. It means they get to experience Minjerribah through a local and traditional custodian's eyes.'
Kissick's passion for leading the tour comes from a long line of storytellers and educators who took inclusivity to heart. 'My grandparents opened their doors to everybody from all walks of life and were really generous with their knowledge … So a lot of the places I tour hold special meaning to me and the stories that I share are ones I've learned directly from my grandparents as well. There's the connection to Country but also shows people that we are a living culture.'
She continued: 'I've got three young girls and my middle child is really interested [in what I do], she loves her culture and loves to speak in front of people … The thing is there's not a lot of Aboriginal women tour guides around. I want to make it accessible and let the girls know that you can make a living from actually being on Country and doing what they love.'
Part of Kissick's tour is to visit Brown Lake, a place dedicated to women's gatherings where she invites visitors to 'channel our women ancestors'.
Kissick added: 'For me and all of the mob on the island that are tour guides, it's about treating people who come to our Country like guests – you're not a tourist, you're my guest. It means that I'll look after you, show you my Country, make sure you feel comfortable and also allow you to learn something to take away as well.'
For me, it's trying to ignite that flame in people to educate themselves and also to continue learning about our Indigenous cultures.

Elisha Kissick, Founder of Yura Tours
The breadth of activities means that there is something for everyone, from nature enthusiasts to veteran art lovers.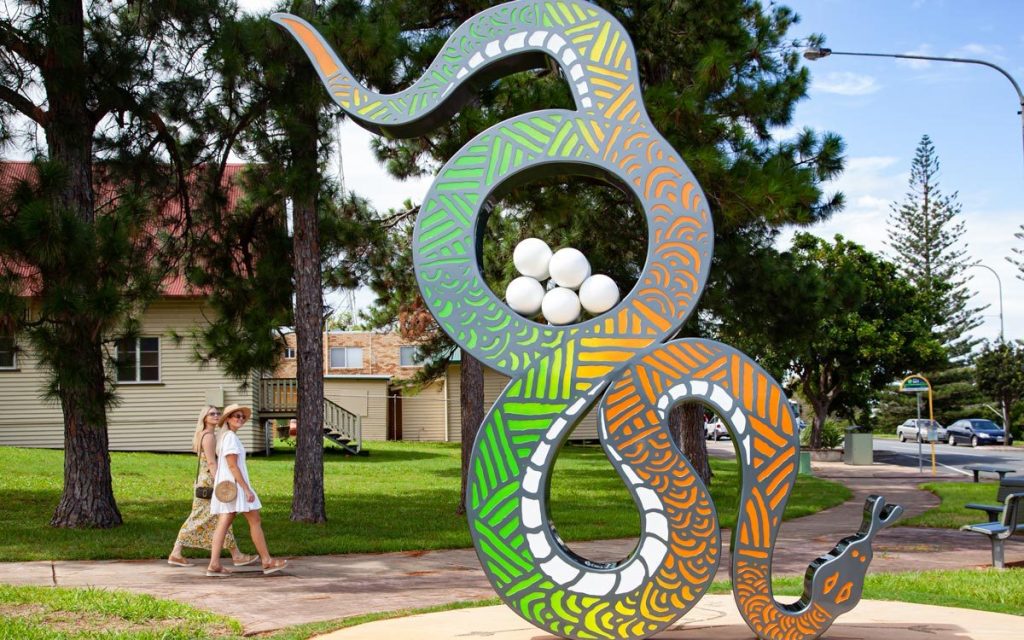 Kissick's tour ends with a stop at the local art galleries, including the studio of Quandamooka artist Delvene Cockatoo-Collins. Her practice spans prints, ceramics, homewares and public installations.
'Delvene is amazing – she's one of my cousins! She designed the Gold Coast Commonwealth Games medals as well,' Kissick shared.
She added: 'There are many talented artists on the island and we've also got the Salt Water Murris Aboriginal Art Gallery. It's just a cultural melting pot there in Goompi/Dunwich that a lot of people don't realise.'
For more information and to book your Minjerribah SeaLinkDay Pass experiences, visit their website.