WILAM BIIK ('Home Country' in the Woiwurrung language of the Wurundjeri people) opened at TarraWarra Museum of Art in 2021, and has subsequently travelled through regional Victoria with NETS Victoria.
'Experiencing Country through a First Nations lens provides a perspective that can inspire, give insight and knowledge, and affirm and re-establish a fundamental connection with nature,' says the exhibition's curator, Wurundjeri, Dja Dja Wurrung and Ngurai Illum Wurrung woman Stacie Piper.
'This is critical to the well-being of people, nature and the planet.'
Currently showing at the City of Greater Dandenong's Walker Street Gallery and Arts Centre, WILAM BIIK creates a vital gateway for visitors to see and understand Country through the eyes of 10 artists. Touring exhibitions are also a valuable and rewarding opportunity for the artists involved. As Wemba Wemba and Gundjitmara woman Paola Balla explains: 'It's been a real honour to be part of WILAM BIIK even though the first show at TarraWarra was interrupted by lockdowns.'
'Once WILAM BIIK started touring, it became something else and it's an ongoing relationship with the exhibition for me. It deepened my connection to the theme that Stacie Piper so beautifully set out, and allowed me to connect with different community members on Country,' she says.
'Regional galleries in Victoria give so much to the community. We often take galleries for granted in the city but, in country towns, people do not take their local galleries for granted, especially for those involved in the arts. So when people show up for the opening and come to see the work, that means a lot to me,' Balla adds.
Her site-specific installation, Murrup (Ghost) Weaving in Rosie Kuka Lar (Grandmother's Camp) (2021) has evolved with each touring iteration – a process that has brought on new thinking in her practice as Balla visits different venues to recreate the work, including the La Trobe Regional Gallery, Wangaratta Art Gallery and Wyndham Art Gallery.
'It's the first time I've done anything like this, where I'm working with around 300 pieces of fabrics that I have bush-dyed and applying them to the frame,' Balla tells ArtsHub.
'Every time the show tours, my grandmother's wallpaper will be printed differently to fit within the new gallery space too.
'Each time I make it, I learn something different. I realise that it's very much a time-based practice where I am covering every inch of this frame, and it's an act of healing.'
The touring exhibition also features works by Kent Morris, Deanne Gilson, Glenda Nicholls, Steven Rhall, Nanette Shaw, Kim Wandin, Lewis Wandin-Bursill, Arika Waulu and the Djirri Djirri Wurundjeri Women's Dance Group. Piper says, 'My hope is that each person walks away inspired, in awe of the beauty of Country, and empowered with a personal sense of connection and responsibility.'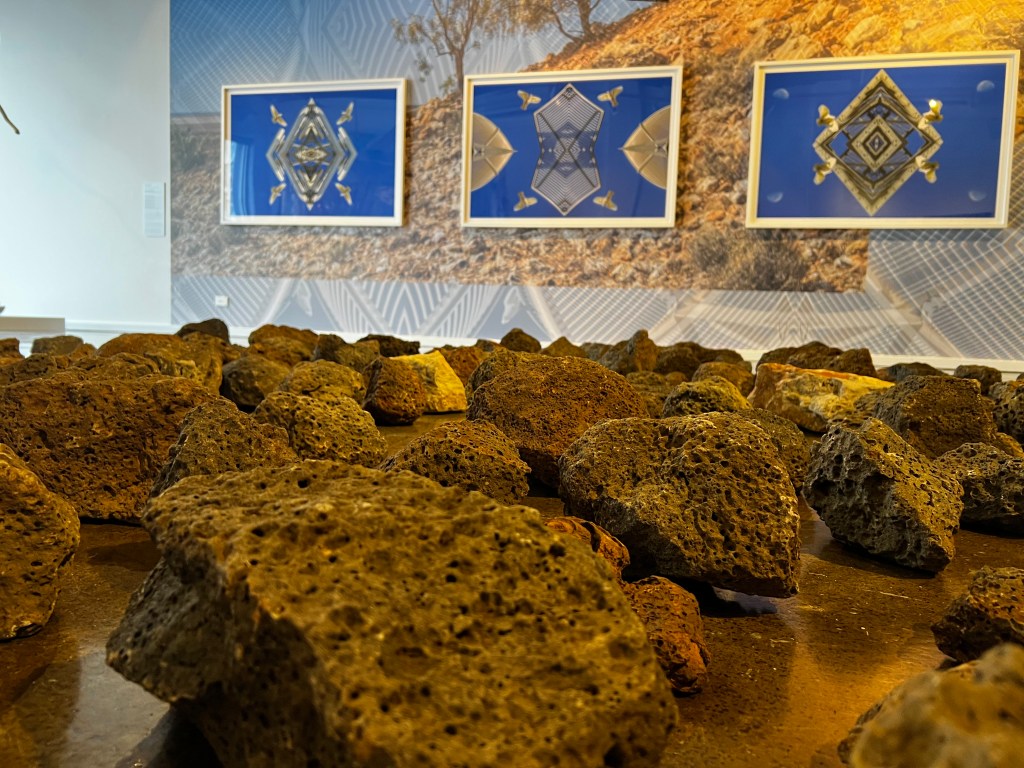 The amount of care that goes into a travelling exhibition is also paramount. In this case, 'the crates were so divine that I wanted to keep them', Balla laughs.
'I've never been so appreciative to see so much care put into how my work is looked after… To curate means to care, so when you see that level of care being given to your work and fellow Indigenous artists, to have the resources put into them professionally, it means a lot and I never ever take that for granted.'
WILAM BIIK is showing at Walker Street Gallery and Arts Centre, Dandenong, Victoria from 25 July to 8 September. The exhibition's Opening Celebration takes place on Saturday 29 July from 2-4pm; register here.