With the multiple impacts of COVID still fresh in the sector's memory, one of the most pressing needs for the arts industry nationally is the necessity of replacing the many arts workers and technical crew members who left the sector in 2020 and 2021 in search of more secure and stable work.
The Diploma of Live Production and Technical Services offered by the Western Australian Academy of Performing Arts (WAAPA) is a one-year, entry-level course consisting of two separate but parallel streams: Production Arts (covering Scenic Art, Costume Construction, Prop Making and Scenic Construction) and Technical and Live Performance (including Lighting, Sound, Stage Management and Technical Drawing).
'It's the perfect time to undergo this training and get involved with this type of career because the opportunities and the demand are so significant,' explains Associate Professor Richard Reddrop, WAAPA's Associate Dean of Production and Design.
'What we're trying to do with our diploma here is give the learners an in-depth but broad understanding of the sort of key components of the production process, such as lighting and sound and stage management. And beyond that, because of the learning environment here – because we mirror professional practice, because it's very much a work-based learning model at WAAPA – students also learn about the production process and about how their different roles intersect with each other.'
Once they have completed their diploma, many graduates choose to stay on at WAAPA and undertake the Advanced Diploma of Live Production and Management Services the following year, where they develop their specialism in a specific area of production , for example, lighting , sound or stage management. However, potential WAAPA students with a degree of industry experience can also enrol directly in the Advanced Diploma, perhaps then segueing into a Bachelor of Performing Arts degree. Others go straight into working in the industry in an assistant capacity.
Significantly, there is no ATAR requirement for students wishing to undertake either the diploma or the follow-up advanced diploma at WAAPA.
While the Diploma of Live Production and Technical Services is focused on skilling up those students who are just starting in their arts careers, WAAPA's three-year, full-time Bachelor of Arts (Arts and Cultural Management) equips people with the skills to flourish in more senior roles while also taking a more holistic approach to the role of the arts in society.
As Dr Vahri McKenzie, Course Coordinator of WAAPA's Bachelor of Arts (Arts and Cultural Management) explains, 'The role of arts workers is becoming more broadly understood as the engine of so many of the organisations that keep all of our very diverse sectors going. And this course is central to the challenges that we need to address as a society – it positions arts and cultural leadership as being vital in addressing discussions about COVID, climate change and First Nations representation, for instance.'
WAAPA's Bachelor of Arts (Arts and Cultural Management) students study all aspects of arts management, from communications, marketing, law, finance, project management and production through to arts criticism, cultural policy, leadership and entrepreneurship.
While strongly focused on equipping graduates with management and human resources skills as well as business acumen, the three-year Bachelor degree also empowers students and encourages them to celebrate their involvement with and commitment to the arts sector and society as a whole.
'We are vital to the world more broadly as well as in facilitating the work of performing and visual artists and cultural leaders. So, in a practical context, it means that we are working with a lot of artists every day, and explicitly through practical experiences throughout the course,' McKenzie says.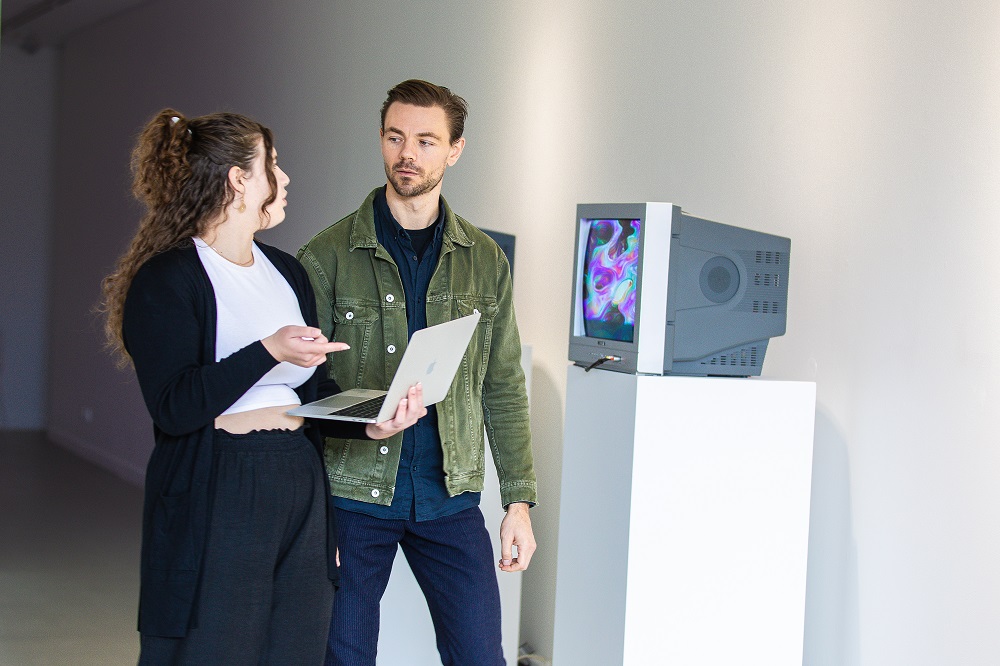 WAAPA student Jasmine Reeves is deeply appreciative of the broad scope of the Arts and Cultural Management degree.
Hailing from a regional area, Reeves acknowledges that while you may be officially employed as the Artistic Director of a small company, you can also be called on to be 'the choreographer, the teacher, the stage manager, all in one role. So, for me, this degree is very important because I'm learning all of those things in one,' she says.
All WAAPA courses benefit from the Academy being a year-round production house, where multiple performances across dance, theatre, music theatre and more are presented throughout the year. Consequently, students in both Arts and Cultural Management and Live Production and Technical Services gain hands-on and real-world experience by working alongside students from the performing arts streams every year.
In Reddrop's words: 'One of the things that we work very hard at behind the scene is the choice of repertoire, so that we present a really interesting and broad range of challenges across a range of genres. We also work very hard at recruiting some really strong, nationally-known directors to lead those projects, because, in a way, the tone of the rehearsal room is very much set by the experience and the qualities of the external directors that we have come in. And, of course, these directors add significant value to a student's CV.'
This practical approach is also deeply satisfying for third year Production and Design student McKenna Marshall, who says: 'We get such a wide range of skills within our disciplines, and we then get to put them into practice, which I feel really solidifies our learning.'
The hands-on nature of learning at WAAPA also means students leave speaking 'more than one language,' as McKenzie puts it.
'In the relational role [occupied by arts managers] we are often situated between artists and art workers, between arts organisations and funding bodies. So, being able to talk both languages … and being able to relate to the many, many different stakeholders and engagement groups in all of the spaces we operate in, is essential,' she tells ArtsHub.
Key dates for your diary:
Applications to the Bachelor of Arts (Arts and Cultural Management) close on 29 September 2023.
Applications for CUA50420, the Diploma of Live Production and Technical Services (both the Production Arts major and Technical and Live Performance major) close on 31 October 2023.