Innovation is a key driving force within Deakin University, and no more so than within its creative arts courses. An Associate Lecturer in Art And Performance there, Görkem Acaroğlu brings her 20-plus years of theatre practice into her teaching of theatre and performance. She's an interdisciplinary artist; her art-making has always been based on experimentation and play, making her well placed to comment on the way the arts have adapted during COVID.
Prior to COVID, Acaroğlu explored the use of digital technologies as performers with actors in a live venue setting. She worked with robots, avatars, 3D stereoscopic projection, motion capture technologies, and video projections as interactive performers. Since COVID, however, she's moved towards various online platforms as a site for performance presentation as well as a teaching tool.
'There's a long history of performance and theatre works that have engaged with digital technologies' she says. 'Artists have been experimenting with digital technology for decades, both as a site for performance as well as integrated within the performance work. Companies and artists have also used digital technology as a necessary tool to make work.'
She continued: 'I remember the Belarus Free Theatre telling me they directed their shows on Skype while in exile in the UK with actors in Belarus. When I wrote my PhD on the subject of digital technologies as performers with actors in live theatre, I was investigating this very question: "how can theatre and performance embrace digital technology effectively in live performance?"' 
During a pandemic, where lives are in flux and the learning environment precarious, Acaroğlu notes the need to pivot towards different ways of making and of being flexible in terms of both expectations and outcomes.
'When all theatre and performance venues shut down, more and more artists and companies began exploring the use of digital technology as a site for performance, out of necessity. This continues today, as people have come to realise there's no guarantee that a staged work will go on. When lockdowns are announced, whole festivals (like Rising in Melbourne) can be shut down with a day's notice, after years of work and millions of dollars invested, so artists know that finding ways to present work online is essential. Companies across the Western world are currently offering work online.'
As an industry professional, she points out that arts practitioners don't believe digital platforms are ideal to present live work. 'Nothing after all, can replace the co-presence of actor/performer and audience'.
But by live-streaming out of a platform like Zoom and by ticketing the event to occur at a certain time that's analogous to a live work, Acaroğlu notes that there's currently a boom in the ways of engaging with this form. 'It's still live, because it's being presented as the audience is witnessing it, so it has some of the elements of live performance: that this is occurring now in real time and it will never happen like this again,' she told ArtsHub.
'The issue of course, is that you don't have the physical audience there with you in the same space,' added Acaroğlu.
Online streaming platforms come with their own set of limitations. For Acaroğlu it's mainly about the best way to deploy them. 'I personally think these platforms should not be seen as merely a tool but as a site much like a non-theatre site would be used to create site-specific work. In this way, artists can engage with the [online] platform [they're using] as a location, using its specific attributes, rather than just seeing it as a means to present a traditionally-staged work. The performance should be created for this site and not as a theatre work would be created on a traditional stage. Performances online can utilise the language of many artforms – visual arts in terms of composition, choreography in terms of organising frames, film and television in terms of framing language and theatre in terms of focusing and orchestrating dynamics.'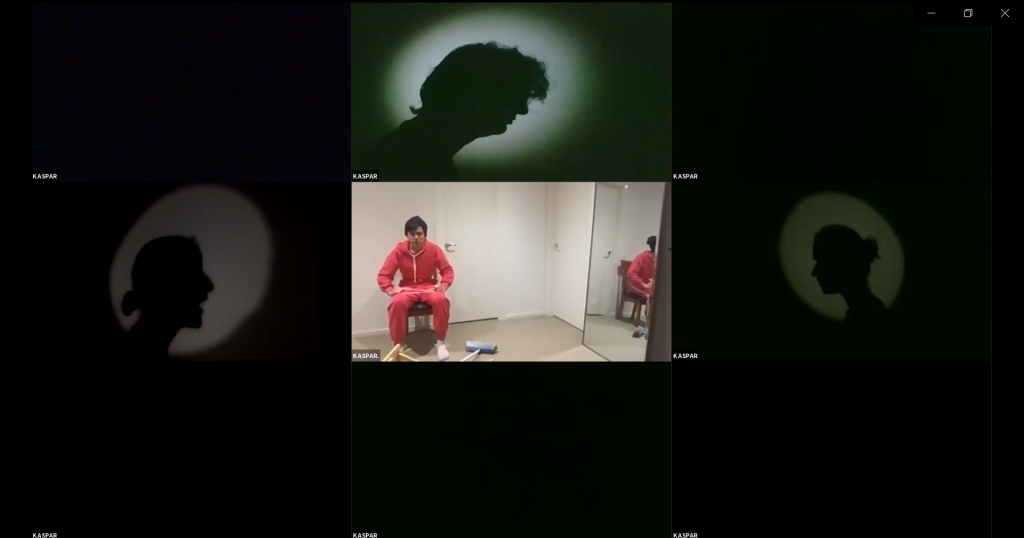 At Deakin, as teachers of performance during COVID, Acaroğlu and her cohorts have used online streaming platforms to teach live performance and to present live work. They were able to explore this medium with their students to find its nuances and capacity as a site for performance.
'With my students I worked with Zoom in an abstract way, so that's where a visual arts language came into it. We thought about the juxtaposition of the frames, the tiles where each person was located and about lighting and shadow play to create an aesthetically beautiful work that didn't deny that it was on Zoom, but at the same time didn't situate itself within it.'
Acaroğlu admits that while it can be challenging to teach performance online – or any arts subject – what Deakin does well is foster digital literacy by 'encouraging students to explore and be experimental,' she said.
'There are opportunities to present creative work online and to see what works or doesn't in a structure students may not be familiar with. What's beneficial is the chance to make mistakes and learn new strategies in a learning environment, regardless of whether the teaching is mediated via screen or in person.'
Learn more about creative arts course taught by practicing industry professionals at Deakin University.