Art prizes with an environmental theme are becoming ever more popular and relevant in our society today. In the eyes of the 2022 People's Choice winner of the Northern Beaches Environmental Art and Design Prize, Fleur Schell, 'it should be one of the main reasons we make art in Australia: to discuss our footprint and the way we treat the natural world moving forward'.
The Perth-based artist was already exploring some of these themes in her practice, but entering the prize and sending her work to Sydney became an opportunity to engage with like-minded creatives.
Schell tells ArtsHub: 'I was at a stage in my career where it's really important for me to reinvest ideas and notions into my artwork and enlighten people, to make them think. Making room for the wildlife had already been completed and it fitted [the prize] like a glove. The work shows that it's the subtle things we all do as a collective that can bring on change.'
Schell's winning work is a permanent porcelain map depicting the compartmentalised suburbs of her residential neighbourhood in Perth. This personal connection and reflection on how urban design can not only separate us from wildlife, but also each other, is what touched the hearts of many.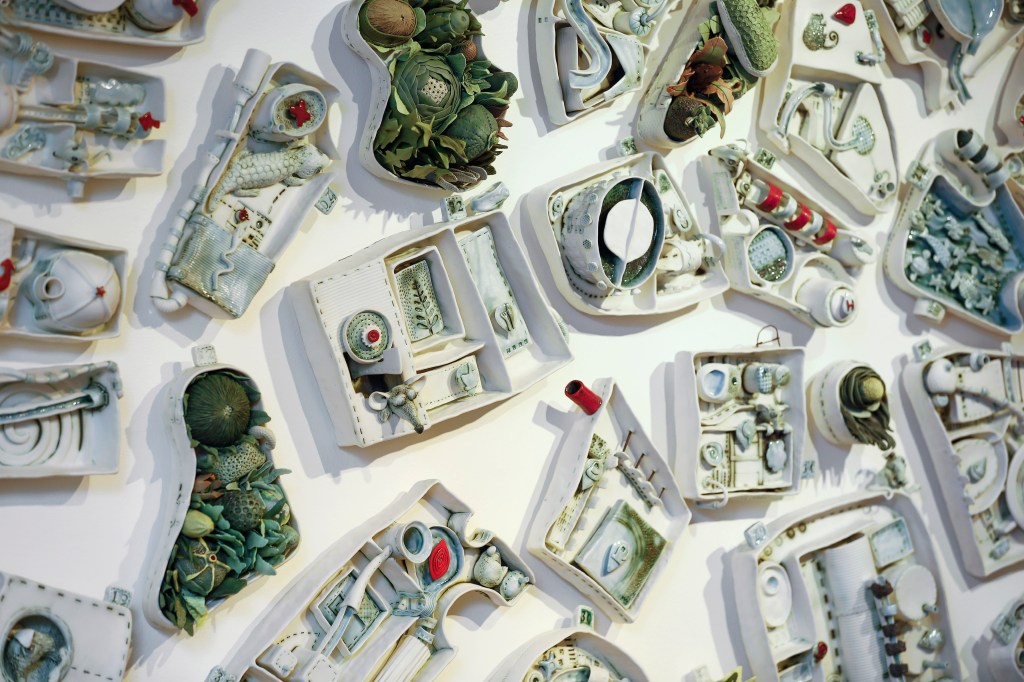 Returning for its third year, the Environmental Art and Design Prize is once again calling for entries nationwide to put artists and designers at the forefront of discussions around our collective environmental challenges.
The annual non-acquisitive award presents a prize pool over $40,000 with nine categories across ceramics and small sculpture, film and video, interdisciplinary collaboration, painting and mixed media, works on paper and photography, wearable design and function design. It also includes two age groups for young artists and designers: 7-12 years and 13-18 years.
The prize is open to artists at any stage of their careers, meaning 'you don't have to be an established or mid-career artist to stick your neck out and make brave work like this,' says Schell. The young artist/designer categories also put the voices of the next generation front and centre, where they will be critical in driving the changes for a better future.
Schell continues: 'I feel like the Environmental Art and Design Prize is a catalyst for much bigger things to happen Australia-wide. I think it is a pilot for what national exhibitions should be in the future.
'It's such a good feeling to be around people who are putting the emphasis in their art and their energy into the environment,' she adds.
Thinking of entering the Environmental Art and Design Prize? Schell says it's all about making works that 'come from the heart'.
'The most powerful art in the world is done by people who are dealing with the topics that come from the heart. I'm really grateful that the Environmental Art and Design Prize is giving kudos to those people who are taking those risks and exploring the things that really matter.'
She concludes: 'Artists are masters at what they do, and the prize is about showcasing the clever ways that artists can communicate how they feel about what's happening in the world.'
Entries for the Environmental Art and Design Prize open from 17 March to 14 May.
Exhibition of finalist works will be held from 4-27 August across three Northern Beaches venues; at Manly Art Gallery & Museum, Curl Curl Creative Space and Mona Vale Gallery.
Winners are to be awarded by an external judging panel of leading creative practitioners, including in 2023, Adam Goodrum and Caroline Rothwell. Learn more.