When Ivy Mutuku won the Local Emerging Art Prize (LEAP) at the 2022 Wyndham Art Prize for her video work, The Way She Looks, it didn't just put her on the map locally – it changed her entire perception of the art world.
'Up until then, my notion of the art world was that it was very elite and mainly reserved for white people,' she says frankly.
'But Wyndham really showed me that it's not like that. Anybody can exist in the art world. It really comes down to the artist's passion and what you're trying to say. It's really not as scary as it looks from the outside in.'
Mutuku, a Kenyan born, Melbourne-based photographer and filmmaker, grew up in the City of Wyndham in Melbourne's outer south-western suburbs. Winning the LEAP made her feel that 'my art is valid,' she tells ArtsHub, and helped increase her profile within her local community.
'It was a full circle moment to me, and I think it really helped me to start to understand the value of the community here.'
The prize also lead to Mutuku being invited to curate her first exhibition Between Us (now showing at Wyndham Art Gallery until 19 March).
'It's definitely given me a little bit of a confidence boost, and I guess leverage, in that I've been recognised in my City of Wyndham … I haven't entered into another art prize yet, I've probably been more focused on trying to sculpt what I want to do in the future, but I'm definitely hoping to enter more [art prizes] in the future,' she says.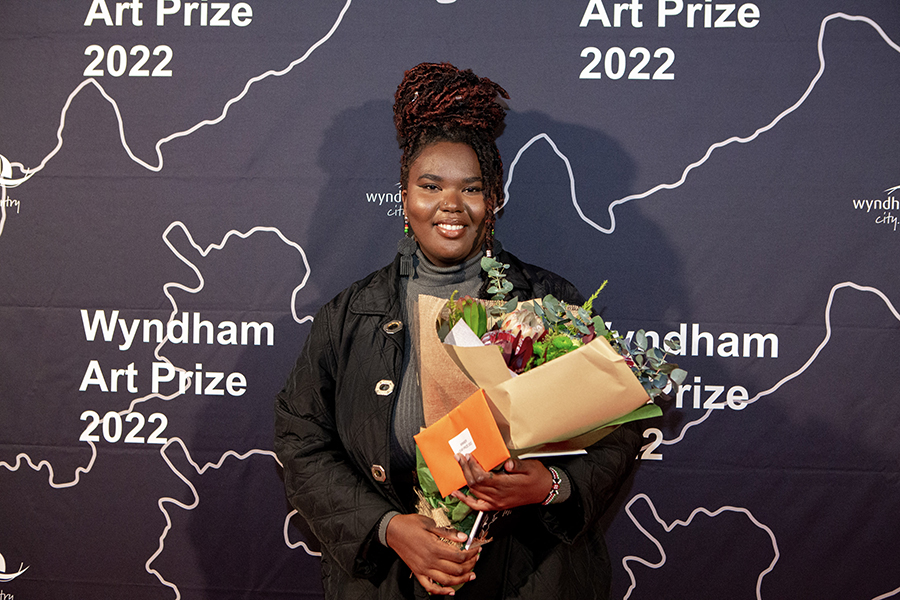 Now in its ninth year, the Wyndham Art Prize attracts established and emerging artists from across the nation, while also reflecting the diversity of the City of Wyndham. It offers a main prize of $15,000 – which last year was won by Lilah Benetti for her photographic portrait entitled More Like a River – as well as the Local Emerging Art Prize. Over 500 entries were submitted to the Prize in 2022, with the winners being selected from a longlist of 80 finalists. This year's judges are Jason Smith, Director and CEO of Geelong Gallery, Nicole Durling, Executive Director at Craft Victoria, and Gail Harradine, Curatorial Manager at Koorie Herritage Trust.  
An array of artforms have been included in the Prize over the years, ranging from painting, drawing and sculpture to video, textiles and digital media. Once the finalists are selected by the gallery's curators, three prominent judges are appointed to choose the winners. At the end of the exhibition, a People's Choice Award of $2500 is also presented.
An exhibition of artworks by local artists aged 12 and under, the Wynnies, runs alongside the Wyndham Art Prize.
Having first entered the Wyndham Art Prize 'a couple of years' before winning the LEAP, Mutuku encourages other artists to consider entering.
'My advice is go for it, first of all, but also to be intentional with the work. I think that the judges can tell when you're not serious. So be intentional, and trust in yourself and in the work as well.'
Key dates for your diary:
Wyndham Art Prize applications open Monday 3 April
Applications close Friday 16 June
Exhibition Opening: Wednesday 16 August
Exhibition Dates: 17 August to 22 November 2023
Learn more about the 2023 Wyndham Art Prize and how to enter.