Making do is the spirit of resilience. That spirit is highlighted through stories revealed by quilts in the National Wool Museum's exhibition Necessity: waggas and the art of making do.
Drawing on one of Australia's largest and most significant collections of heritage quilts and waggas from the National Wool Museum, the exhibition showcases objects and narratives that threads the proud Aussie spirit with a contemporary rethink of our material culture.
Looking at waggas which were often made out of wheat sacks born out of scarcity from the 1890s to 1930s, National Wool Museum Director Padraic Fisher hopes to send out a gentle reminder that we don't have to consume new things all the time.
Fisher told ArtsHub, 'The Earth is a closed loop and we've only got a [certain] amount of resources. The thought of making do and repurposing has been core to the work that we've done in excess of 10 years now.
'There's something to be said for carrying things through and finding new life for something and not just throwing it away. Because when you repurpose a thing, you give it a new life or a new capacity to be part of your life,' continued Fisher.
Now the Museum is inviting communities across Australia to partake in The Wagga Project to look through their closets and trunks for heritage quilts and waggas.
Historically waggas – also known as bushman's blankets – were used by bushmen and drovers who stitched together burlap wheat bags that were tough and warm, making them an indispensable item on the road.
During the Great Depression through to the 1960s, waggas were also made as gifts by people with limited means for family members to celebrate a wedding or birth.
Made through repurposing scraps of fabric, the wagga is a collage of family history and presents unique narratives waiting to be unveiled.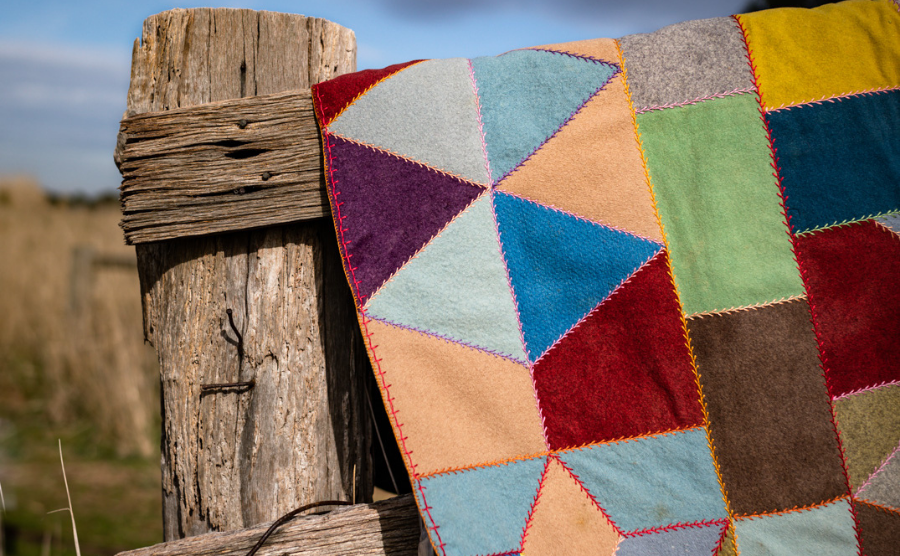 If you have a wagga at home, ask if there is any family history behind it and with a little detective work you may uncover some clues.
The material used to make the quilt or wagga can often be telling, advised Fisher: 'Look if the fabric is commercially made or might it be homemade? Does it look synthetic or a natural fibre? In some kinds of quilts and waggas – particularly what's called the crazy quilt which are like an unmatched patchwork of pieces of fabric – people will use things like an old ribbon from a school uniform, an old handkerchief or something of personal value that they stitched into it as a personal memorial.
'Also take a look if a family member might have signed their quilt. True waggas are always individual.'
For Fisher, The Wagga Project celebrates the idea of heritage being 'one foot in the history, and one foot in the future'. It welcomes both historical quilt pieces and contemporary makers into the community to share their stories, memories, inspirations and creativity.
MODERN MEANINGS FOR SUSTAINABILITY
The art of making do continues to hold true for many contemporary makers thinking about environmental issues and sustainability, opening up their creativity for reimagined futures.
'Quilts are our stories made in cloth,' added Fisher, and the National Wool Museum is dedicated to preserving these stories and connecting them with a contemporary audience.
By registering your quilt on the National Quilt Register, or donating heritage waggas to the National Wool Museum, their stories can be shared to more people and preserved for generations to come.
'At some point in time, everything that we have was made brand new. The reason why it's precious, for most things, is because they've been saved or they've managed to survive,' said Fisher.
'So whether you found Nan's wagga in a trunk or you want to go out and make one right now because you feel inspired, they are both valuable and they are both part of this history.'
Necessity: waggas and the art of making do runs from 8 August – 13 February 2022, including as a virtual tour. You can share your quilt or wagga story by registering it on the National Quilt Register.