Installation view Turn Turn Turn at NAS Gallery; photo ArtsHub.
Regardless of what you might think of ceramics as a contemporary art material, this exhibition is a comprehensive look at the medium's traditions within the academic realm, and the ability of that fraternity to flourish and sustain six decades of making despite the challenges of perceptions.
Turn Turn Turn: The studio ceramics tradition has been curated by Glenn Barkley, who has made no secret of his bias for the material giving it a spotlight in this year's Art Month Sydney. It is in sync with a zeitgeist globally that has elevated ceramics out of the perceived murky foundations of craft, flipping it into one of the most expressive materials emerging today – art schools are swamped with the demand for enrolments.
For this exhibition, however, Barkley aims at reminding us that ceramics is hardly 'the new thing'.
Taking the ceramics department at Sydney's National Art School (NAS) as his cue, this is an erudite and impassioned look at the medium's 60-year history without the baggage of labels; a place where personalities can co-exist and freeness for expression and making is championed.
Best capturing that ethos is a studio-like arrangement that sits central to the exhibition; a collection of 128 individual works from past graduates and faculty that has been described as a 'show-within-a-show'. The arrangement uses furniture from the sculpture department to present the department's teaching collection interspersed with works by past students and faculty – hierarchy has been erased here.
The very proposition of including all graduates is a nightmarish aesthetic challenge, but Barkley manages to pull it off with loose clusters that sit in conversation. As a viewer these are probably less obvious on first glance; the eye searching like a treasure hunt or guessing game, resting on the familiar or the desirable. You become a player is this stage of learning.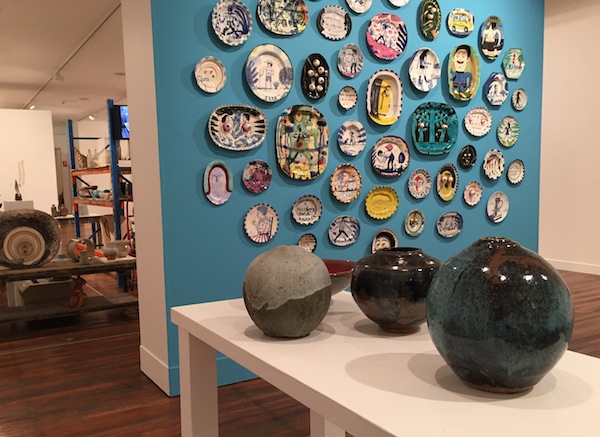 Viewers walk into Stephen Bird wall of plates and Peter Rushforth's pots (founder of NAS ceramic department), before encountering a studio gallery of past students. Photo ArtsHub with courtesy NAS Gallery
Fleshing out some of those techniques, Barkley has selected twelve artists for individual mini-shows: Stephen Bird, Louise Boscacci, Lynda Draper, Merran Esson, Steve Harrison, Patsy Hely, Juz Kitson, Janet Mansfield, Alan Peascod, Peter Rushforth AM, Thancoupie Gloria Fletcher AO and Toni Warburton. Their works are grouped and presented on raised platforms across the two levels of the gallery.
They sit as both a statement to the individual artist and their legacy, and yet the conversations that flow between these portals for consideration builds an energy across the exhibition that has an electric spark. It feels dynamic, engaged and seductive as a medium.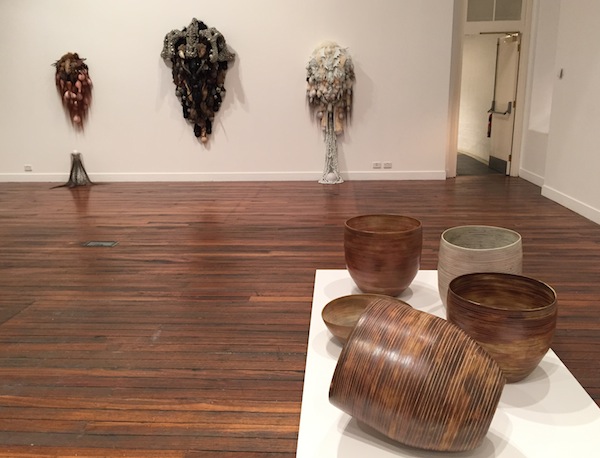 Louise Boscacci's pots with Juz Kitson's new work in the background; photo ArtsHub, courtesy NAS Gallery.

One only need consider the diversity of practice between Lynda Draper, Steve Harrison, Peter Rushforth and Juz Kitson, for example, to get a sense of the kind of openness that Barkley unpacks across this exhibition. As a viewer, despite its scale, the exhibition is not overwhelming.
One is allowed the intimacy of contemplation, curated with these eddies or islands of consideration that draw one in, half from curiosity and half in disbelief. The walk-away is one of a subtle wonder and a new found respect, not only for the medium, but the way this coterie of artists have sustained their practice over this sixty year passage.
This exhibition is a definite must see – whether you have a passion for pots or not. It forces us to rethink how we celebrate materiality in our museums and our learning institutions and gives hope that the two might just be moving to a closer resolve and respect.
Rating 4.5 out of 5
Turn Turn Turn: The studio ceramics tradition
NAS Gallery, Darlinghurst
5 June – 8 August
Art Forum Talk with artists: Wednesday, 22 July 1-2pm
Thursday afternoon conversations in July from 4 – 4.30pm with exhibiting artists.
For a list of programs held in conjunction with the exhibition visit nas.edu.au/NASGallery
And to engage more with ceramics, the Australian Ceramics Triennale will be held in Canberra 9-11 July.