On opening night, the audience is literally hanging off the edges of their seats with anticipation for the world premiere of Capricorn written and directed by Butchulla and Kabi Kabi writer Aidan Rowlingson.
Lights out. Sam (Sean Dow) is busy tidying the lounge while preparing dinner when Ally (Jazleen Latrise) arrives home. After the niceties are dispensed with, the pair sit at the table when Ally blurts out 'I think we should take a break'. Sam is dumbfounded and tries to discourage Ally but she is adamant about her decision. A full-blown argument ensues. Expletives are exchanged. Insults are hurled back and forth. Accusations have no limits. Boundaries are crossed. Anger blinds the embittered couple as they dive headlong into their fractured relationship.
Enter 'Here Fishy Fishy Fishy' (Kerri Llewy-Allan), the couple's pet goldfish. Sometimes invisible to Sam and Ally, his voice of reason (or is it treason) depending on whose side he's on, adds another dimension to the downward-spiralling relationship. The lovable, zany, queer goldfish coupled with his uproarious vignettes had the audience in fits of laughter and took the edge off the sadness of his owners' declining romance. 
Rowlingson's engrossing, acerbic dialogue captures the downfall and conflict of a relationship in crisis. It sheds a harsh but truthful light on two consenting adults who, over time, have come to discover unsettling truths that have undermined what they thought of each other. Rowlingson's script also skilfully encompasses societal issues from the perspective of First Nations people. These are expertly portrayed through the creative vision of a stunning set design by Peter Keavy and larger than life video projections by Sasha Parlett.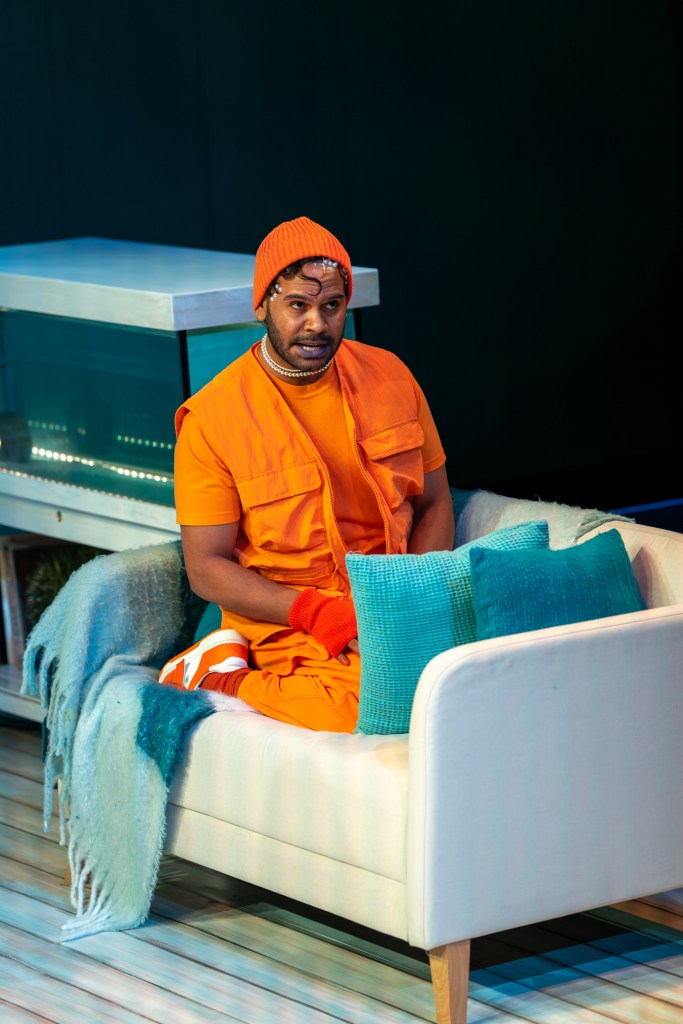 Dow, Latrise and Llewy-Allan are superb in their respective roles. Sam and Ally's bitter breakup is emotive, palpable and intense, filled with bittersweet memories that are conveyed through a separate set of projections displayed on the living room floor and cleverly devised by video designer Sasha Parlett. 'Here Fishy Fishy Fishy' is undoubtedly a show-stopper in his brightly coloured orange and pink outfits, each drawing a satisfactory sigh as a nod of approval from the appreciative audience.
Additionally, Rowlingson's script was brought to life through Parlett's vision with video projected on two large panels, including a smaller TV screen. These visually stimulating social and somewhat absurd commentaries on climate change, institutional corruption, political power play, the disappearance of pet goldfish to name just a few, were wonderful distractions from the sad breakup being played out on the stage and added to the overall humour.
Keavy's set design comprised a cosy apartment with an open-plan living area overlooked by an enclosed, glass-panelled kitchen. The intimate living space allowed the audience to become silent onlookers but not in an intrusive way. The enclosed kitchen added to the already mixed bag of emotions as the audience watched the couple argue silently within its confined space. Shades of teal, turquoise and green emulating the ocean made up the cool, calming colour palette.
Co-Director Nadine McDonald-Dowd, Lighting Designer Geoff Squires, Sound Designer Wil Hughes and Composer Jhindu-Pedro Lawrie combined their respective creative skills and expertise in creating the mood, the ambience and the myriad of nuances that pervades this outstanding production. The gurgling sound made by a fish tank was the cherry on the proverbial cake when 'Here Fishy Fishy Fishy' made his entrances and exits from a back-lit panel as he struck a pose for more dramatic effect.
Read: Theatre review: Miss Peony, Belvoir Theatre
At the heart of Capricorn is the ill-fated breakup of lovers Sam and Ally brought to life through Rowlingson's engrossing script, which in turn is interpreted by a stellar cast. But ultimately Capricorn is a commanding, debut play written from a First Nations perspective that takes into account the cultural aspects of what it means to be a First Nations person living on unceded land.
Capricorn, written and directed by Aidan Rowlingson
La Boite Theatre Brisbane
Cast: Sean Dow, Jazleen Latrise, and Kerri Llewy-Allan
Co-Director: Nadine McDonald-Dowd
Designer: Peter Keavy
Lighting Design: Geoff Squires
Video Design: Sasha Parlett (Red Handed Productions)
Sound Design: Wil Hughes
Composers: Waveney Yasso and Jhindu-Pedro Lawrie
Here Fishy Fishy Fishy Costume Commission: Delvene Cockatoo-Collins
Fight, Intimacy and Movement Director: Nigel Poulton
Cultural Consultant: Colleen Wall
Director Observer: Che Skeen
Capricorn is performed at La Boite Theatre from 24 July to 12 August 2023; tickets $39-55.
This review is published under the Amplify Collective, an initiative supported by The Walkley Foundation and made possible through funding from the Meta Australian News Fund.