Paul Cézanne, Fruit 1879/80; oil on canvas, 46.2 x 55.3 cm, Inv GE 9026, The State Hermitage Museum, St Petersburg
photo: © The State Hermitage Museum 2018, Pavel Demidov and Konstantin Sinyavsky.
Australian audiences are well accustomed to "the blockbuster" these days, a phenomenon that has been with us for a good two decades or more. One might ask, then, whether our tastes and demands have shifted over that time?
If the Art Gallery of NSW's exhibition, Masters of modern art from the Hermitage, is any indication then the answer is yes. Great art will always bewitch – tastes change little when it comes to blockbusters – however, audience expectations have changed significantly and the experience of how we view those works demands more nuance and engagement.
This exhibition has a more digestable scale – less encyclopedic for the sake of it – and arguably offers a more layered visitor experience, with the insertion of a multi-screen video installation, alternative viewing pathways, and what could be described as "landing rooms" offering spaces for pause within the exhibition.
Gone are the port wine and ruby walls, dim lighting and stuffy authority that we see with many exhibitions of masters. This exhibition has a lightness that makes these paintings more human, their stories more real.
Hermitage Director, Mikhail Piotrovsky says: 'Every Hermitage exhibition has charm and meaning which says as much about the museum overall as it does about the particular slice of cultural history that is its subject.'
Few of us have the opportunity to visit The State Hermitage Museum in St Petersburg, Russia – so to have 65 modern masterpieces in an exclusive visit to Sydney makes this exhibition every bit worthy of the "blockbuster" title.
Piotrovsky added that this exhibition presents 'a Hermitage view of the history of modern art.'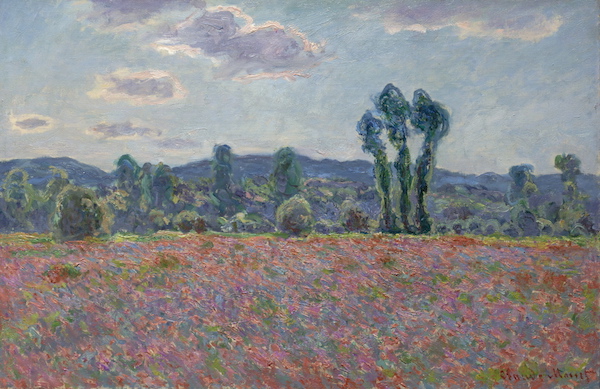 Claude Monet, Poppy field, 1890/91, oil on canvas, 61 x 92 cm, Inv GE 9004 The State Hermitage Museum, St Petersburg, photo: © The State Hermitage Museum 2018, Pavel Demidov and Konstantin Sinyavsky
Rather than just a chronological roll call of the greats, this exhibition frames its narrative around two famed art-collecting industrialists, Sergey Shchukin and Ivan Morozov. About two thirds of the exhibition is drawn from works they bought to Russia in the early 20th century.
As AGNSW Director Michael Brand explained: 'Matisse and Picasso were quite young and these two Russian collectors were taking a risk – they were buying ahead of the market.'
Shchukin owned a staggering 50 Picassos and hung them all in his home – eight of them have made their way to Sydney, along with eight paintings by Matisse, and iconic works by Kandinsky, Gauguin, Monet and Cézanne.
AGNSW Senior Curator of Historical European art, Peter Raissis makes the point that these painting are not just being pulled out of the vast vault of over three million works in the Hermitage collection, rather that these '65 pictures are coming off the walls. They are not in reserve, they are on permanent display.'
On first entering a gallery one sees Paul Cezanne's Fruit (1879/80), Claude Monet's Poppy field (1890/91) and Camile Pissarro's Boulevard Montmartre, afternoon sun (1897).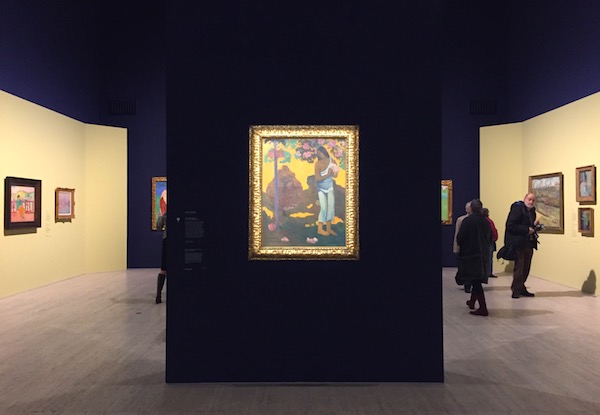 Installation view of Gauguin's painting The month of Mary (te avae no Maria) (1899) and other master works from the Hermitage Museum at the Art Gallery of NSW (2018); image ArtsHub
Viewers are then ushered into a golden-hued central gallery by Gauguin's painting The month of Mary (te avae no Maria) (1899), pulling the eye through to Matisse's Game of bowls (1908) and Picasso's proto-cubist Woman with a Fan (1908) and later galleries with Kandinsky's Landscape: Dunaberg near Murnau (1913) and Malevich's Black square (c1932).
The design of this exhibition has been beautifully considered. There is even the inclusion of Australian George Lambert in the exhibition, with his painting The mask (1911) held in the Hermitage collection since 1939.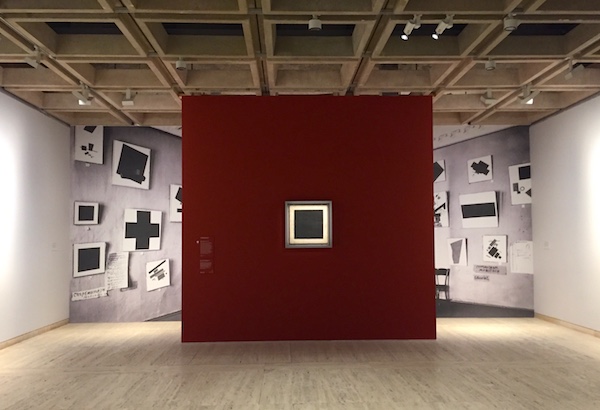 Installation view of Malevich's painting Black Square (1932), in Masters of modern art from the Hermitage at the Art Gallery of NSW (2018); image ArtsHub
A particular joy is the pairing of works by Giorgio Morandi, Metaphysical still life (1918) and Amedee Ozenfant's Still life, crockery (1920), as well as Sonia Delaunay-Terk's illustration of Blaise Cendrars' text – what they described as a 'simultaneous book' which captures a certain creative passion of its time.
Raissis explained that Shchukin opened his home to art students, adding: 'As Shchukin's collection was on public display, it played a significant role in shaping the birth of the Russian avant-garde.'
The gallery has created a space within the exhibition where archival photographs of the interior of Shchukin's palace are blown up to room-sized proportions – paired with a portrait of the collector by Christian Cornelius Krohn (Xan Krohn) from 1915.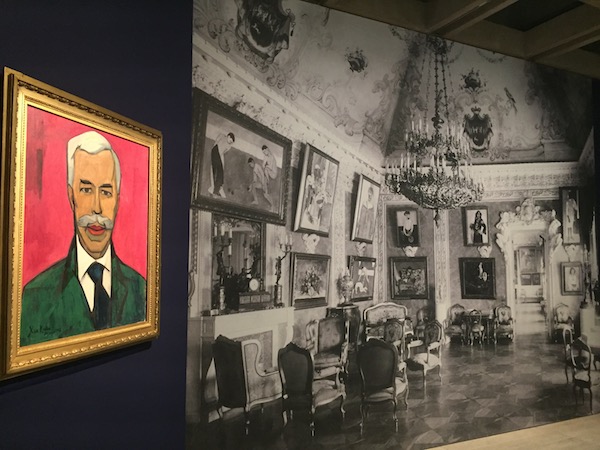 Installation view of archival photographs of the interior of Shchukin's palace and portrait in Masters of modern art from The Hermitage (2018); image ArtsHub
It is almost like a "waiting room" where crowds can pause before entering the immersive video installation of Saskia Boddeke and British filmmaker Peter Greenaway, a refreshing addition to this style of exhibition.
Launched at the Foundation Louis Vuitton last year, it re-imagines the extraordinary dialogue between Shchukin and Matisse about his iconic paintings Dance and Music in 1909-10. Both of these works were commissioned for the stairway in Shchukin's Moscow residence.
A multi-screen video, featuring a performance by the Dutch National Ballet and music by Italian composer Luca D'Alberto, it delves into the impact of the work on young Russian artists, and has been described as 'a visual poem'.
Installation view of Saskia Boddeke and British filmmaker Peter Greenaway's multi-channel video in Masters of modern art from The Hermitage (2018); image ArtsHub
That kind of rethinking of how such an exhibition might be experienced has also been applied through the classic audio tour, an institution in itself, to offer a journey escorted by music paired to the art works.
What this exhibition does is start to move audiences beyond just reading these paintings with an "awe moment", and rather – through the framework of Shchukin and Morozov – opens up a fantastic unfolding history.
We have to remember that while Shchukin and Morozov celebrated this modern movement with a kind of lustful frenzy to acquire, their collections were seized just a handful of years later and nationalised with the 1917 Russian revolution.
They were denounced by Soviet commissars as bourgeois and degenerate, and were kept hidden from public view in what Piotrovsky discretely described as 'ten years of isolation'.
He continued: 'At great risk to their careers, staff at the Hermitage successfully defended the right to put modern art on public display …Thus it was that the "third floor display" took shape.'
It is remarkable that visitors today can walk into the AGNSW, greeted by the edifice of the Hermitage as imagined in the painting by Bernard Buffet, "facing off" with footage of its opulent interior, to then embark on this incredible journey through history, resistance, innovation and beauty.
Piotrovsky said: 'The Hermitage continues to create its own map of modern art, art which is in fact an inseparable part of its tradition, part of its DNA,' adding that 'The Hermitage is not just a Russian museum, it is a museum of the world.'
What could have been a tricky exhibition to mount has turned into a hang that leads the viewer into fresh conversations, thanks to the curatorial and design team at the AGNSW.
The exhibition was curated by the Hermitage's Department of Western European Fine Art deputy director Dr Mikhail Dedinkin and senior curator Dr Albert Kostenvich, and then handed over to the AGNSW for display.
It is presented as part of the Sydney International Art Series (SIAS) and co-organised by Art Exhibitions Australia. Since its inception in 2010 SIAS has attracted over 2.1 million visitors to its blockbuster exhibitions.
AGNSW Director, Dr Michael Brand has been a member of the International Advisory Board of the State Hermitage Museum since 2009.
Rating: 4 ½ stars ★★★★☆

Masters of modern art from the Hermitage
Art Gallery of New South Wales
Domain Road, Sydney
13 October 2018 – 3 March 2019
Ticketed