Video and photography are not the easiest of mediums to present, having to deal with sound bleeds and reflections under intense gallery lighting.
The exhibition Ian Strange: Suburban Interventions 2008 – 2020 is an example of getting it right. Curated by Chris Malcolm, director at John Curtin Gallery, this is surprisingly the first survey exhibition of Ian Strange's work, and it is fitting to coincide with Perth Festival, which under its new branding celebrates local creative heroes.
Perth-born and New York-based, Strange is known for representing the familiar. In his hands, the idea of home – which is ingrained with all kinds of notions of identity and security – is turned inside out, made raw.
This tone is set from the start with SUBURBAN 2011-2013, a suite of works printed on aluminum (pictured top). Here viewers move through images created across Ohio, Detroit, Alabama, New Jersey and New York, showing homes foreclosed following the 2008 Global Financial Crisis (GFC) in the USA. They are emblazoned with targets or nullified through painting – an action that might feel aggressive, but is intended to debunk the metaphors of security that we attached to our homes.
Angled walls usher viewers on a gentle journey through Strange's suburban narratives, which hang on a slightly off-white to allow the whites in the image to register and pop, while others facing the hanging photographs are a warm grey, which act to absorb the light. The result is that you don't end up looking at a photo and finding yourself in it too.
Continuing this design savvy, video pods form the central axis to the gallery and bridge the spaces, allowing the viewer to stand within them and draw a line of connection between works, and years.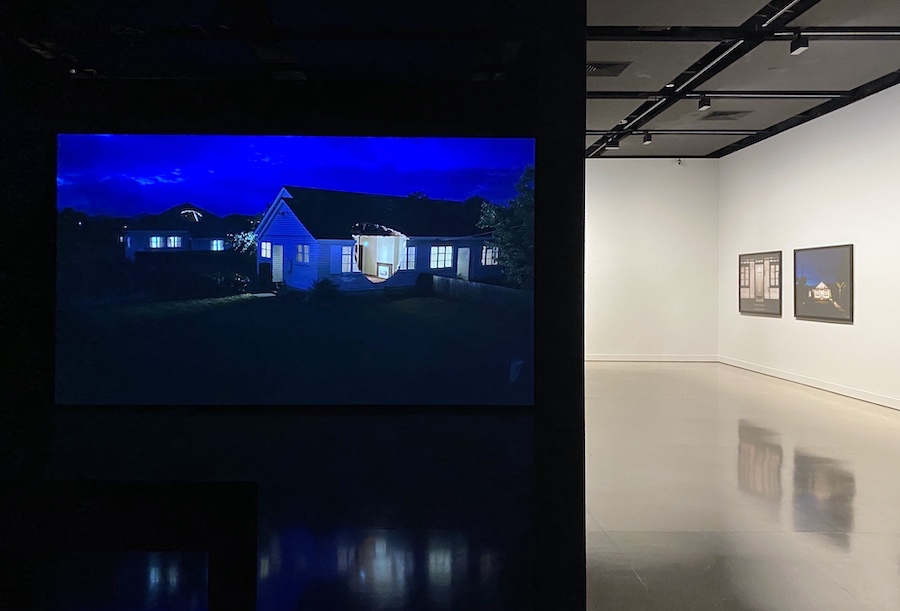 Installation view of Ian Strange: Suburbia at John Curtin Gallery, Perth. Photo: ArtsHub.
Not often do we find this level of consideration, and it's one that comes from a solid curatorial relationship with the artist, bouncing off Strange's own meticulous attention to production levels.
The exhibition is arranged sequentially in six titled chapters: Suburban, Final Act, Ztoty, Shadow, Target and Island – each containing a distinctive body of work responding to a specific place and time.
Malcolm explains that Strange's intention is to 'place the psychological interior of the home onto its exterior.' This is perhaps most raw in the images that Strange made in the wake of the 2011 Christchurch earthquake where over 16,000 homes were slated for demolition.
In this suite of works, FINAL ACT, which Strange made in 2013 working with local residents and cinematographer Alun 'Albol' Bollinger (Lord of the Rings), light emanates from within these homes in a manner that is both haunting and an expression of great empathy.
A home without its walls feels incredibly vulnerable; that whole notion of safety debunked. It is extended by a video piece, which then flows to the major three-channel video Suburban, which again extends the earlier series concluding in a burning – perhaps cathartic – crescendo.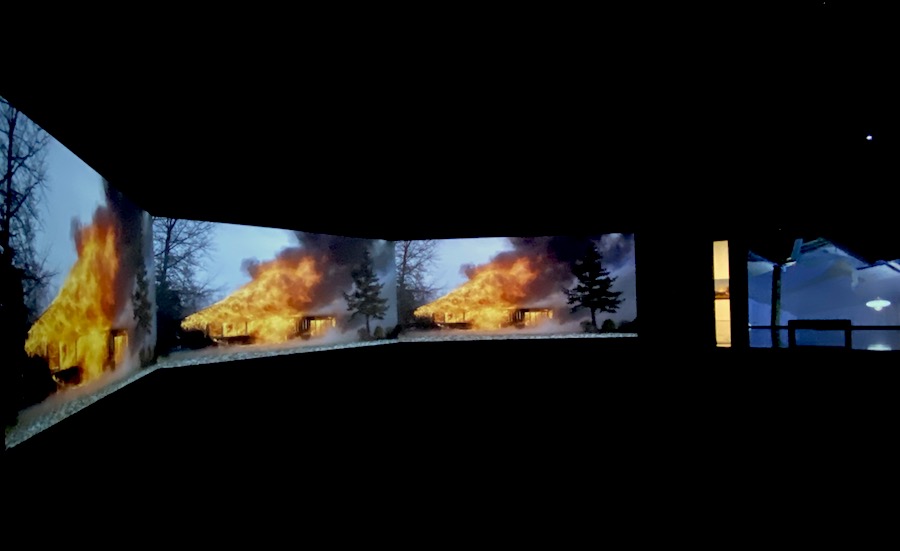 Installation view of Ian Strange: Suburbia at John Curtin Gallery, Perth. Photo: ArtsHub.
In the second gallery, the viewer moves through another suite of works made in the US, ISLAND, which 'considers the idea of the home via the metaphor of the desert island – a place of personal sovereignty but simultaneously entrapment. In these images we see the words SOS, RUN and HELP emblazoned across these structures – suturing the icon of the messages of memory, displacement, identity and aspiration.
Completing the exhibition is a group of five works from Strange's SHADOW series (2015-2016), which have been acquired by the university gallery.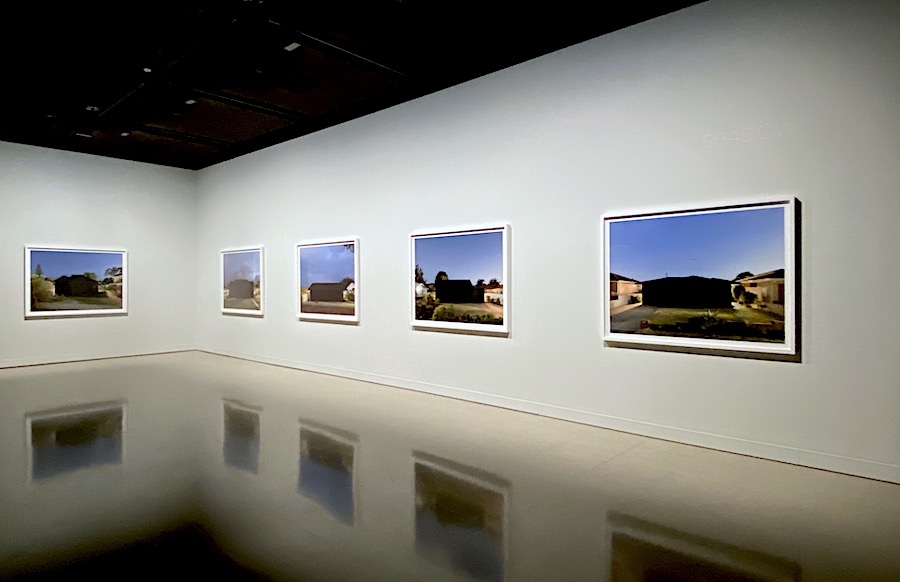 Installation view, SHADOW series in Ian Strange: Suburbia at John Curtin Gallery, Perth. Photo: ArtsHub.
Here, classic Australian red-brick post-war homes from the suburbs of metropolitan Perth – where Strange grew up – have been 'blacked out', not unlike the earlier sub-prime foreclosures, but in this case homes are rendered valueless over the cost of land during the recent WA mining boom.
Overall there is a feeling of pride and respect in those homes; in some the lawns are freshly cut and new plants added. They are not an expression of an individual's destruction or a slum, but rather are the pawns of economic shifts.
Strange restores empathy across all these sites, maintaining their role in shaping memories and holding history. He works closely with the communities he captures, and in doing so extends his background in graffiti and guerrilla filmmaking to explore what the notion of 'neighbourhoods' mean in contemporary society.
5 stars out of 5 ★★★★★
Ian Strange: Suburban Interventions 2008 – 2020
Presented as part of Perth Festival
7 February-24 April 2020
John Curtin Gallery, Curtin University WA
Free admission
The writer travelled to Perth as a guest of the Festival.