Installation view, Garry Sibosado, Rainbow Serpent (Aalingoon) in Desert River Sea; Portraits of the Kimberley, Art Gallery of Western Australia. Photo: ArtsHub
The idea of surveying a region is always a complex curatorial proposition. Do you take a straight chronological through-line, do you focus on the nuances that reflect a geographic footprint, or do you perhaps take the path of legacy and moment, exploring how that has defined a region today?
The Art Gallery of Western Australia (AGWA) has successfully combined all three approaches across a six-year project, Desert River Sea; Portraits of the Kimberley, which reached its culmination in a celebratory exhibition of the same title, to coincide with the Perth Festival.
Co-curators of the exhibition Emilia Galatis and Carly Lane were keen to point out that the exhibition was not about surveying the best work from the Kimberley, rather that it is a documentation of the Kimberley region, and the sustained connection artists have with it.
What sets this project apart is its curatorial model. When AGWA made the commitment to Desert River Sea – which Rio Tinto stepped up to fund to the tune of $1.8 million – it decided it had to be curated on a model of partnership with the region's art centres.
In other words, it "handed over" the authorship of this exhibition largely to Kimberley artists and the art centres' Indigenous curators themselves. The first three years were spent creating an online archive of Kimberley art and providing training for local Indigenous art centre workers.
To get a grasp on what that might mean, one must consider that the Kimberley is made up of over 200 communities and 30 language groups, and is scattered across a 1,500km radius out from Broome. Despite its remote character, it has been an important region for contemporary art since the 1980s.
The culminating Desert River Sea exhibition features 150 works from more than 40 independent art centre artists. It is huge, and it has a vibrancy and an integrity that is palpable as you move through the exhibition. You get the sense of witnessing something very special.
The exhibition is essentially broken up into three sections: eight newly commissioned works; a collection of "legacy" artworks from each of the six communities, selected by guest curators Dora Griffiths, Lynley Nargoodah, Maitland Ngerdu, April Nulgit, Marika Riley and Stanley Taylor; and a third section where Lane and Galatis have drawn together Kimberley masterpieces from AGWA's own collection to provide a broader context for the region and its history.
The legacy section is compact, but truly phenomenal, and that it was directed from the art centres underlines how important this project is.
However, the heart and soul of the exhibition are eight newly commissioned works.
Time allowed professional development
The eight commission projects that sit central to Desert River Sea are by Daniel Walbidi from Bidyadanga; Garry and Darrell Sibosado for the Kira Kiro Art Centre; a collective work by Mangkaja Arts Resource Agency in Fitzroy Crossing; Mowanjum Aboriginal Art and Cultural Centre in Derby; Waringarri Aboriginal Arts from Kununurra in East Kimberley, and Warlayirti artists from Balgo and the Warmun Art Centre.
For many they are names on a map, and yet this exhibition and its online resources start to usher audiences towards a better understanding.
Each commission has its own space in the gallery and mood, and while sight lines across the galleries ensure the exhibition is read as a whole, these projects are largely independent in their presentation.
For example, the juxtaposition of the works of brothers Garry and Darrell Sibosado – an over-sized Rainbow Serpent (Aalingoon) of incised pearl shell and laser-cut steel wall designs, which sits on a vibrant blue wall, are presented alongside the earthy pigment paintings on shaved cow hides by Gooniyandi man Mervyn Street.
The contrast is strikingly different, and builds a conversation about the diversity of this region rather than thematic flow.
The 1.8 meter shell snake Aalingoon is the "poster work" of this exhibition, and has been made by Garry Sibosado. It is accompanied by Darrell's riji designs representing a whale, mating turtles and snake that use a very contemporary material and vernacular of geometric abstraction. For me these are the real gems of this show.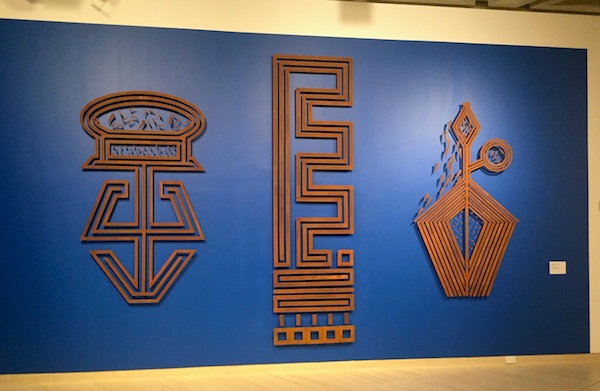 Installation view, Darrell Sibosado riji designs steel sculptures, in Desert River Sea; Portraits of the Kimberley, Art Gallery of Western Australia. Photo: ArtsHub
When you see his delicate drawings elsewhere across the exhibition, you start to understand how this exhibition has allowed these artists to work at a scale that they hadn't before – to be ambitious in their making.
Equally, Street's hides captured the attention of viewers with their quirky materiality and narrative. Street starts by shaving the cow hides and then paints upon them; deeply personal stories from years of mustering cattle, linking Country, people and the spirit of animals. It is also a story of white and black engagement as cattlemen.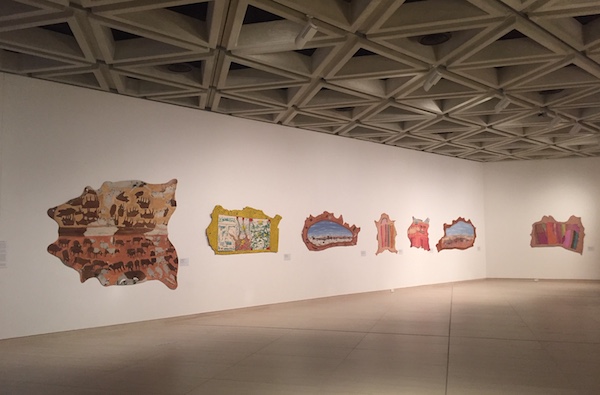 Installation view, Mervyn Street's work in Desert River Sea; Portraits of the Kimberley, Art Gallery of Western Australia (2019); courtesy Mangkaja Arts Resource Agency. Photo: ArtsHub.
To grasp the sweep of materials across this exhibition, many artist have turned to video, to animation, to glass, and re-use of materials, such as an installation and commentary on bush clothing by Eva Nargoodah using Dingo Flour bags and forged knives by Illiam Nargoodah.
I was particularly drawn to the luminous wall-mounted glass artworks by nine Warlayirti Artists from Balgo. This is the first time I have witnessed glass coming out of Country, and to take a story of bush tucker into fused sheet glass is an exciting turn.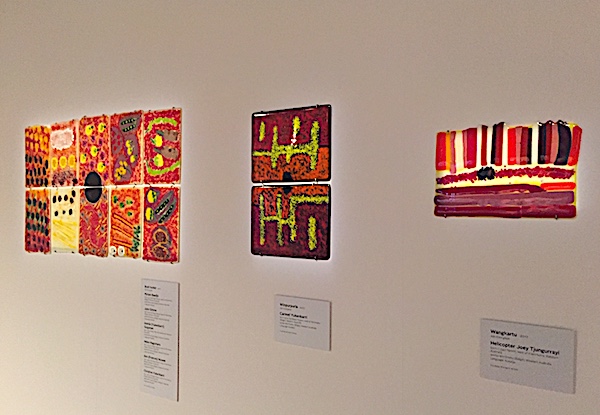 Installation view, glass works by Warlayirti Artists, Balgo, in Desert River Sea; Portraits of the Kimberley, Art Gallery of Western Australia (2019); courtesy Warlayirti Artists. Photo: ArtsHub.
As a viewer, this is perhaps the most exciting quality of this exhibition – the region's openness to experimentation with fresh new forms of expression. The six-year lead time for this project has also allowed that, and nurtured the artists in finding their language confidently.
Several of the communities have created film-based works that both describe the landscape and chronicle important cultural protocols.
Daniel Walbidi from Bidyadanga has created the installation Wirnpa (2016-2019), which pairs a a large scale video projection with a sand floor work with natural pigments, which speaks of the ephemeral nature of saltwater country and the environmental footprint of climate change on the inland salt lakes, recreated in the gallery. It is a very contemplative, quiet, beautiful piece.
Another work by Rona Charles records traditional dance using a contemporary tool to assist in passing on these songlines; in another by artists from Waringarri Aboriginal Arts in Kununurra a two-channel video wraps around an installation of fire and rocks, with wall-mounted paperback coolamans made by family.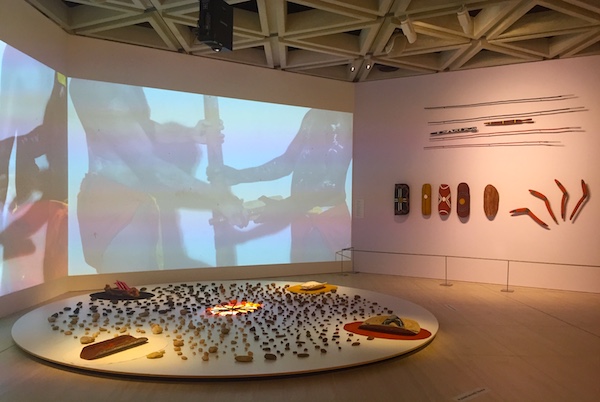 Installation by artists from Waringarri Aboriginal Arts in Kununurra in Desert River Sea; Portraits of the Kimberley, Art Gallery of Western Australia (2019). Photo: ArtsHub.
It is a story of trade among clans (wirnan) – a tradition of respectful ­exchange; of not taking more than you can use and sharing what you have for the greater good.
This new work is all about teaching a younger generation the fundamentals of traditional culture through contemporary art.
We see it again, more clearly, in the beautiful pairing across a suite of 15 traditional-style ochre paintings typical of this area's origins, of which six have been animated to draw in a new, digitally savvy generation, allowing them to learn the old stories of their Gija country in new ways.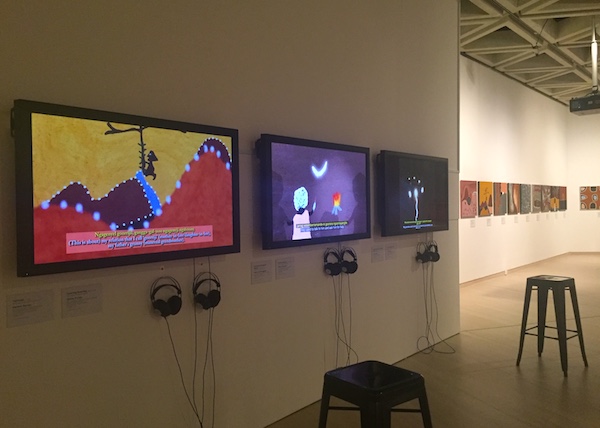 Installation view, animations and paintings in rear in Desert River Sea; Portraits of the Kimberley, Art Gallery of Western Australia (2019). Photo: ArtsHub.
Overall, Desert River Sea: Portraits of the Kimberley is deeply impressive.
While the first real survey of Kimberley art was in 1993 – Images of Power: Aboriginal Art of the ­Kimberley at the National Gallery of Victoria – and there have been other exhibitions since, Desert River Sea is really the next milestone in this region's history of contemporary art making.
This exhibition is buzzing with authenticity; it is fresh and considered; it is inclusive and empowering and most importantly, this six year project leaves a legacy that will be felt for years to come.
If you can't get to Perth to view this exhibition, then take the time to view the online resource or buy the catalogue. This is a significant part of our contemporary Australian art history, and this project gives us the opportunity to come "up to speed" on the valuable work that is coming out of this remote north-west region.
Rating: ★★★★☆ 4.5

Desert River Sea: Portraits of the Kimberley
Art Gallery of Western Australia (AGWA)
9 February – 27 May
This exhibition was partly funded by the Australia Council for the Arts.
Gina Fairley travelled to Perth as a guest of Perth Festival