House of the Heart feels like a warm embrace – a cabaret show full of heart, in a house steeped in story.
As Melbourne cabaret legend Moira Finucane opens House of the Heart, adorned in a striking floor-length red satin gown with gold trim – traditional colours of celebration and luck (red) and good fortune and wealth (gold) in China – she directs our attention to the Dragon Gallery that we are in.
Surrounding us are enormous Chinese dragons, part of the museum's permanent collection – the Millennium Dragon, the largest processional Chinese dragon in existence and the head of Dai Loong, the Millennium Dragon's predecessor.
Finucane, drawing us in with hushed tones and spellbinding energy, tells us that Dai Loong travelled to the Chinese city of Foshan in the 70s. A dragon-making descendant studied him, helping to revive the lost art of processional dragon-making craft in China, after cultural suppression post-1949 led to the industry's decline.
It's an impressive backdrop, and the story of place and the significance of the artefacts that surround us bring an air of ceremony to what is, in fact, a multicultural celebration of Lunar New Year as cabaret.
Finucane & Smith's House of the Heart brings together a number of their collaborating regulars: Finucane herself provides the backbone of the show as both performer and emcee, ushering acts in through the narrow serpentine spaces between cabaret tables, which – adorned with crushed velvet in rich hues – are squeezed together like dragon scales.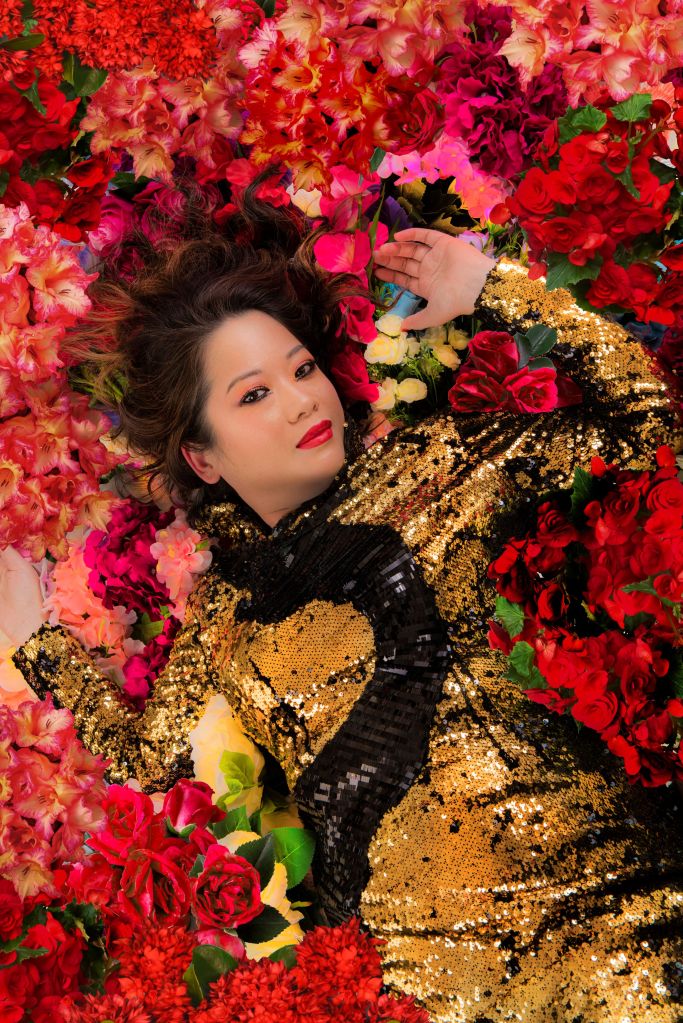 Indie singer Sophie Koh is back, after also performing in last year's Finucane & Smith production of Future.Joy.Club. Here she weaves through the audience, guitar in hand, in a gown of gold sequins, as she sings to us. She makes her way to the stage before introducing a song about her mother's migration to Malaysia as a young child, her displacement and loss of home and language. She's vibrant and a delight – and she effortlessly moves from cabaret songstress to supporting role on the guzheng or melodica, as part of other acts.
Fellow Future.Joy.Club. alumna, Ngarluma jazz singer Lois Mary Olney, performs with guitarist Dave Johnson. Her rendition of Nina Simone's 'Feeling Good' is achingly good – her voice, as with all great jazz singers, seemingly connected directly to her soul. There is pain there, life and grit and joy, and it's deeply moving. As a member of the Stolen Generations, Olney's stories of displacement, searching for her lost family and, upon locating them, finding out that her mother had died only a year before, are gut-wrenching. Her art is a gift in this intimate show, as she sings 'Going Home', a song she wrote about finding her father, and 'Motherless Child'.
The performers are varied in ages, backgrounds, skills and experience, with some collaborating across a number of acts, and others, in the spirit of cabaret, dropped in as solo performances, elbowed into the show with a brief intro about their background as a nod to the theme of home, heart and family. Although with a performance of the quality of dancer and choreographer Raksha Parsnani's – a clear standout on the night – there are no complaints here.
Emerging artist Zi Tao Deng performs a song, introduced by Finucane, who – as Deng's performance mentor at Monash University – advised him to 'write what you really care about'. It's visceral: Deng gleaming, his hair a halo around him, wearing a long, diaphanous pale pink embroidered tulle gown – a display of raw talent and youthful passion that will only develop and become honed with experience. His final line in the song 'I am who I am' demands we take notice – and, really, it's hard not to. Tao will be one to watch, certainly – a diva-in-the-making. 
Special mention goes to the incredible Rachel Lewindon who – as composer and musical director for this show, and long-time collaborator with Finucane & Smith – is just so impressive. Tucked away to the side of the stage, on the same level as the audience, performing on keys, singing accompaniment, she keeps the show together, providing music for Finucane's cabaret performances, Paul Fabien Cordeiro's storytelling and dance, and numerous performances throughout the show. I recently was blown away by Lewindon's choral composition for The Gospel According to Jesus, Queen of Heaven, and it's clear she is a singular talent.
Some of the challenges of this show are related to the limitations of the space itself. The Dragon Gallery is small, and fitting so many tables into this space to seat 44 guests makes it very cramped. It seems a very specific number of seats, and an oddly picked one, given that the number 4 is such an unlucky number in many Lunar New Year-celebrating cultures – the word is a near homophone for 'death' in Mandarin, Cantonese, Vietnamese, as well as Japanese.
The stage comprises a short, raised-platform catwalk at the end of a narrow platform, framed by a proscenium arch of red velvet curtains pulled across a gold ruched central curtain. The arch is decorative rather than functional, as it backs onto part of the Dragon Gallery's architecture, which leaves performers in the awkward position of having to enter and exit from the front of the stage and wind their way through the tiny spaces between the cabaret tables to get backstage. Finucane does an admirable job of keeping things moving with her polished cabaret chops, but it remains a bit clumsy.
Some of the acts, too, feel like they need tightening to highlight the more significant elements – Cordeiro's story about his family of eight brothers and sisters seems like an extended list rather than a performance and Finucane's performance based on cellist Xiao Xiao's tattoo of a swift (a swallow-like bird) feels like a weaker moment, particularly as it requires a coda to explain the story's connection with Xiao Xiao's story of home and family.
Much more successful is Finucane's performance as she tells the story of the male emperor penguin's six-week egg-protection vigil in total Antarctic-darkness – powerfully rendered by an expert storyteller in command of her body, voice and the audience. Her use of repetition, 'they boated on out', draws parallels with our experiences in Australia – with the vast majority of us having history in coming to find home in this country on boats.
For a show that promotes itself as a celebration of home, heart and family – House of the Heart certainly does that, although the displays of sentimentality can trip over into earnestness and sometimes feel a bit overcooked. Further, a bit more decisive direction and a longer rehearsal period may have helped to bring some of the disparate elements together and created a tighter show.
Read: Theatre review: Wittenoom, Red Stitch Actors Theatre
House of the Heart certainly wears its heart on its sleeve – and, for all its strengths and foibles, you'll leave feeling as if you've spent an evening firmly ensconced in the tight embrace of family.
And what is New Year about if it's not about being somewhat sentimental?
House of the Heart, Chinese Museum, Melbourne
Directors: Moira Finucane and Jackie Smith
Collaborating Artists: Sophie Koh, Lois Olney, Rachel Lewindon, Paul Cordeiro, Zi Tao Deng, Xiao Xiao, Raksha Parsnani, The Muirs, Shirley Cattunar (Guest Artist), Mama Alto (Guest Artist), Lachlan Bartlett (Guest Artist)
Tickets: $68-$88
House of the Heart will be performed until 12 February 2023.