Lucy Guerin Inc's NEWRETRO at the Australian Centre for Contemporary Art (ACCA) encapsulated 21 years of choreographic practice, with Guerin's team of dancers distilling the essence of her movement ethos through three-hour durational performances across seven days.
Fluorescent lights transformed ACCA's Main Gallery into something akin to a dance studio (kudos to Lighting Designer Paul Lim), where performers activated the space – completely immersively – and seamlessly delved into different notable pieces.
In the adjacent gallery, videos of the 21 works were displayed, each providing a sampler to Guerin's celebrated pieces.
The site-responsiveness of NEWRETRO creates satisfying linkages between the Main Gallery performance and those in Galleries Three and Four.
In Gallery Three, a solo dancer selected a work from NEWRETRO's repertoire and learned it live in front of audiences. The dancer's body became an embodiment of choreographic knowledge in the making, further adding to the layered dynamics of the performance installation.
Gallery Four presented pairs of female dancers performing duets, spotlighted by brightly coloured projections onto their bodies and movement. There was love, care and connection as limbs intertwined in an embrace.
Read: Rethinking performance, exhibition and documentation through dance
While visitors were free to roam, dancers activated the space as they weaved between the galleries and joined the main group at different moments.
This kind of gallery space was no doubt a challenging one for the dancers to navigate, let alone present such uniform commitment to a three-hour long durational work.
In many ways this was an athletic marathon that tested memory and endurance, as much as an artistic form showcasing deep conceptual thinking and experimentation.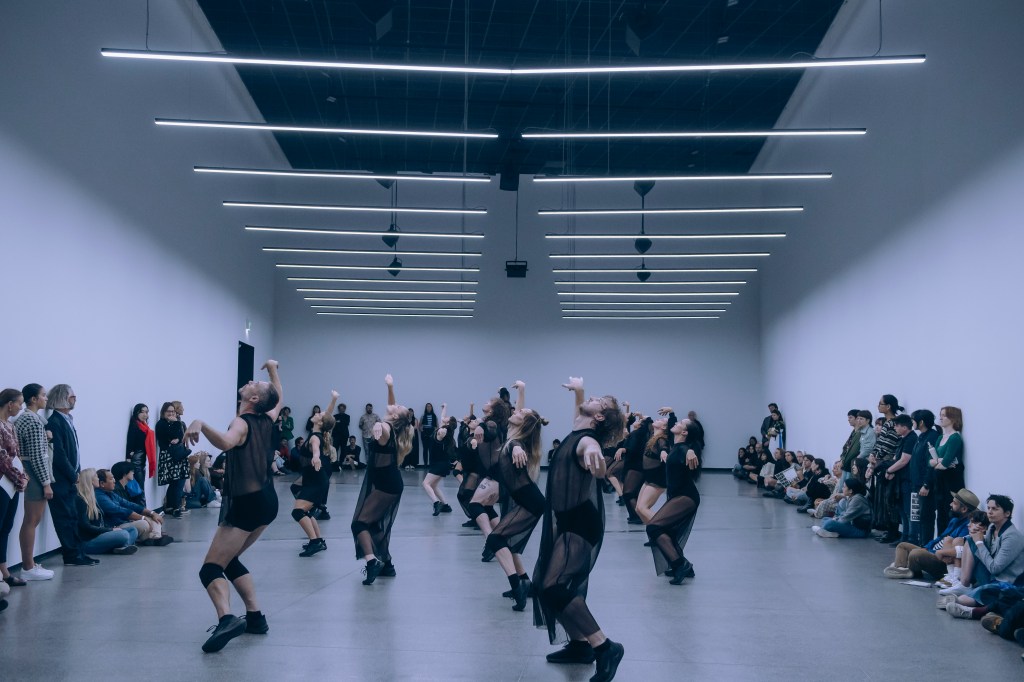 Jethro Woodward's sound design – a considered remix of scores from the 21 past works, including some by Woodward himself – brought audiences into the dancers' world.
At one point the tempo slowed and dragged, bringing the dancers' movements with it and manipulating the sense of time. In a few heartbeats it escalated once again, matched by a flurry of movement as the dancers shuffled and turned with an aerobic-style routine.
In another segment, the dancers gathered in two formations facing each other like a stand-off. One side quickly pulled another member over to join their gang, raising their fists high overhead to demonstrate their victory; the others cowered their heads at their loss.
It was interactions like these that kept audiences mesmerised, even without a single climax or narrative in NEWRETRO, but multiple interlinking ones throughout.
Also worth mentioning was the great crowd-management for a durational event like this by the ACCA team, which created a comfortable atmosphere for all to delve into Guerin's immersive presentation.
Lucy Guerin: NEWRETRO was presented at ACCA from 25 March – 2 April as part of FRAME: A biennial of dance.