WHAT AN ACHIEVEMENT this has been. While it may be relatively small-scale when compared with urban counterparts, this eclectic combination of visual and performance arts in regional North Queensland successfully incorporated a number of regional towns in and around Townsville to bring together a series of exhibitions and performances designed specifically to disrupt perceptions and push boundaries.
Under the creative leadership of director Kate O'Hara, Townsville's Umbrella Contemporary Studio Arts has achieved just that with the third Pop Up North Queensland (PUNQ 2021). With a focus on First Nations art and culture, she and her team have mingled art forms by mounting visual art and performance in a number of strange and unexpected places. Still true to its origin, the festival continues to contribute to the invigoration of Townsville's CBD and this year has stretched its wings to involve Magnetic Island, Charters Towers and Hinchinbrook.
Pandemics aside, this biennial festival is without doubt its most ambitious thus far. While it was impossible to view and/or experience everything, what I did manage to see was interesting, unusual and remarkable, and hats off to Umbrella for creating such an event by partnering with local arts and cultural organisations across the four locations in the region.
The participating artists tackled a variety of subjects from First Nations histories to the Townsville floods, the plight of the Great Barrier Reef to UFO sightings and feminism, with a whole range of issues in between. In addition, and in order to bring the outer sites into the festival, several bus tours in the form of art trails were included to Magnetic Island, Charters Towers and Ingham.
The Festival also introduced an emerging First Nations artist program as well as celebrated its connection to place by including the First Nations place names in the program. Featured in its program were a host of specially created installations and events as well as workshops and exhibitions. There were so many different entry points for this festival from the paid performance to the free community workshop. Here is a sampling of what was on offer for this successful event.
TOWNSVILLE (Wulgururkaba & Bindal Country)
World Interior – Dancenorth
A Dancenorth production presented by Dancenorth in association with PUNQ.
An old semi-derelict house in Townsville's North Ward suburb was the quirky setting – and central core – for this unusual site-specific performance work.
Unoccupied for at least 13 years, this wooden high-set house was more than 100 years old, and had been stripped back to its skeleton – stud walls, cement floor and some vestiges of the traditional tongue-and-groove wooden walls that had been a hallmark of the house's heyday. This was the backdrop which took the creators – directors Kyle Page and Amber Haines – three weeks to devise with their dancers.
They clearly took into account the very specific features of the house and turned any perceived limitation into an advantage. The walls and what remained of the internal fittings (even a toilet) were used like a playground jungle gym as the five dancers explored the space with Dancenorth's distinctive athletic style – and not without considerable humour, in particular with the improvised involvement with the audience, reactions from whom varied from performance to performance.
In keeping with Dancenorth's continually successful philosophy of collaboration (which has brought the company considerable success nationally and internationally), the major collaborator for this work was renowned guitarist and composer Cameron Deyell. He provided an eclectic soundscape and score which saw him perform a live guitar accompaniment for the second section of the three-part work.
This work plainly adhered to the Festival's intention to challenge and disrupt perceptions, and by the very nature of its location and content was probably the most noticeably disruptive of all the works presented in the Festival.
Dancenorth played to a sold-out season.
Untitled Gloves by Tania Lou Smith
Video was the medium favoured by internationally-exhibited Tania Lou Smith, a performance artist who works across live performance, video and photography, and whose work is characterised by absurdity and startling imagery. This work – described as part vaudeville and part feminist enquiry – was an ongoing event shown at Townsville's Bulletin Square screen in the centre of town.

Read: Festival review: Light Cycles, Illuminate Adelaide
After by Alison McDonald
For this Townsville artist whose work is diverse, the Townsville floods of 2019 were the inspiration for this work.
Laid across the Townsville City Council forecourt space in the shape of Townsville's Ross River and Ross Creek, McDonald rescued wooden parquetry flooring from floors which were discarded as a result of the floods. Scraped of all residues, but still displaying the signs of wear, she laser-cut and commemorated the street names of the streets where homes and possessions were lost during the floods.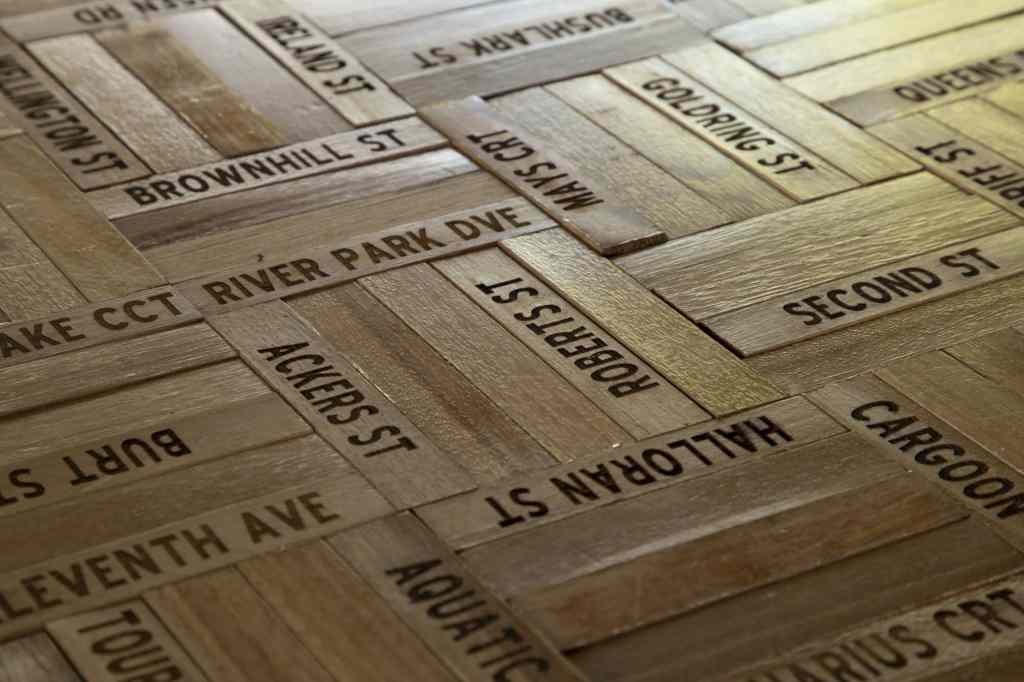 Preserve/Conserve – Invocation #3: Openness – Going with the Flow, by Jill Chism
Port Douglas-based artist and environmentalist Jill Chism, created daily mandalas on a secluded beach near Townsville's Old Jetty in Pallarenda for this continuous daily work designed to prompt contemplation about marine life and the plight of the Great Barrier Reef.
Using ordinary house salt which she poured into PVC pipes with letters punched out in dot form, she produced word mandalas on the sandy beach every day for an eight-day period. These words were of course washed away with every tide, but each set of words were gentle and poignant reminders of exactly what we should be thinking about, and how we should go about it – slowly and with thought.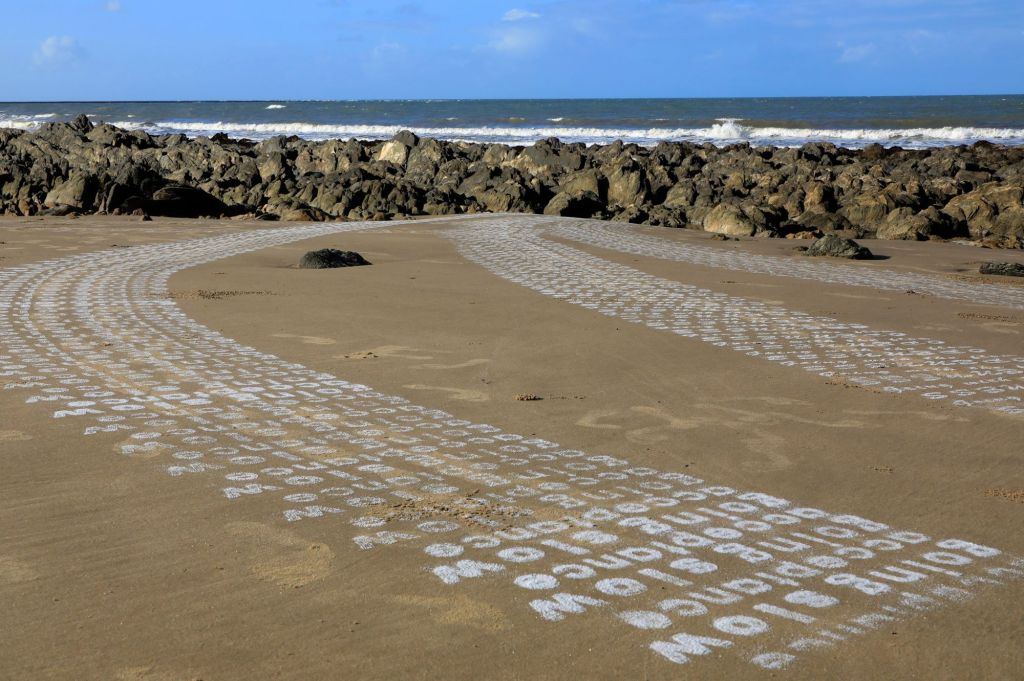 One Journey: Many Stories Many People Many Places by Big Eye Arts & Culture Centre
A new mural created by the centre which presents the local environment of sea, land, trees and animals to celebrate the First Nations significances of the local traditional custodians.
From the Desert to the Sea: Stephen Oliver/Sailor
This exhibition at Big Eye Arts celebrated the new work of emerging First Nations artist, Stephen Oliver/Sailor. His work ranged from distinctive North Queensland fauna and landscapes to desert fauna, using a style of dot-painting rarely seen in his Waanyi background.
MAGNETIC ISLAND (Yunbenun country)
The Mark by Jenny Mulcahy
Local artist Mulcahy is passionate about the land on which she lives.
Located at the Magnetic Island History Museum and Craft Centre, this is a site-specific experience which features a series of wooden stakes, each with a characteristic x-mark. With its origins in the 19th century quarantine status of Magnetic Island – then used as a waystation for new immigrants in an effort to curb such shipboard diseases as cholera and bubonic plague, this artwork is situated in a grove of trees where the first quarantine tents were placed in 1875 and where the first victims' graves were dug.
They were a simple reminder of pandemics that have impacted on successive civilisations and how communities have responded, whether it be bubonic plague, leprosy, AIDS or COVID-19.
Drop Bears by Jan Hynes & Robyn Bogdanis
Hynes, one of Townsville's most prolific artists, collaborated with her Perth-based sister, Bogdanis, and turned to the folklore of drop bears for amusing creations of these mythical creatures. They were mounted in trees along the challenging (for some) Forts Walk on Magnetic Island.
These delightful installations were interpretations of the creatures which were supposedly larger than koalas and dropped from their native trees on unsuspecting victims.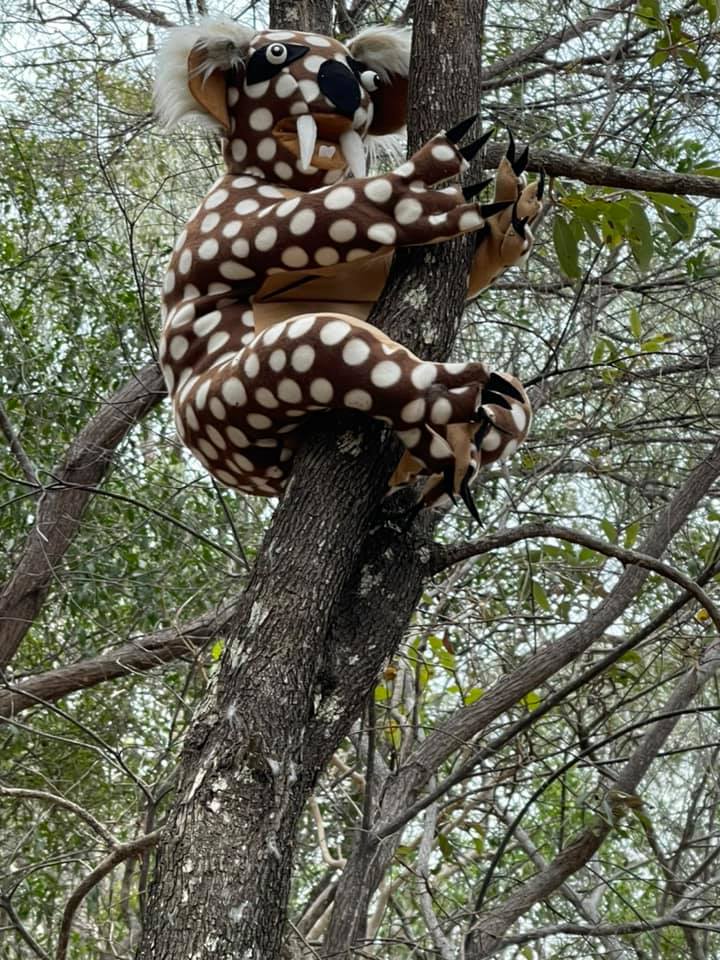 HINCHINBROOK (Warrgamay, Nywaigi & Bandkin Country)
Site #272 by David Rowe
Queensland artist David Rowe set up his contribution in an actual cane field. Known for his painting and sculpting, for this particular work he examined the folklore around UFO sightings, alien abductions and contracts in the North Queensland area to construct a crop circle formation in the cane field located in Blackrock, en route from Townsville to Ingham.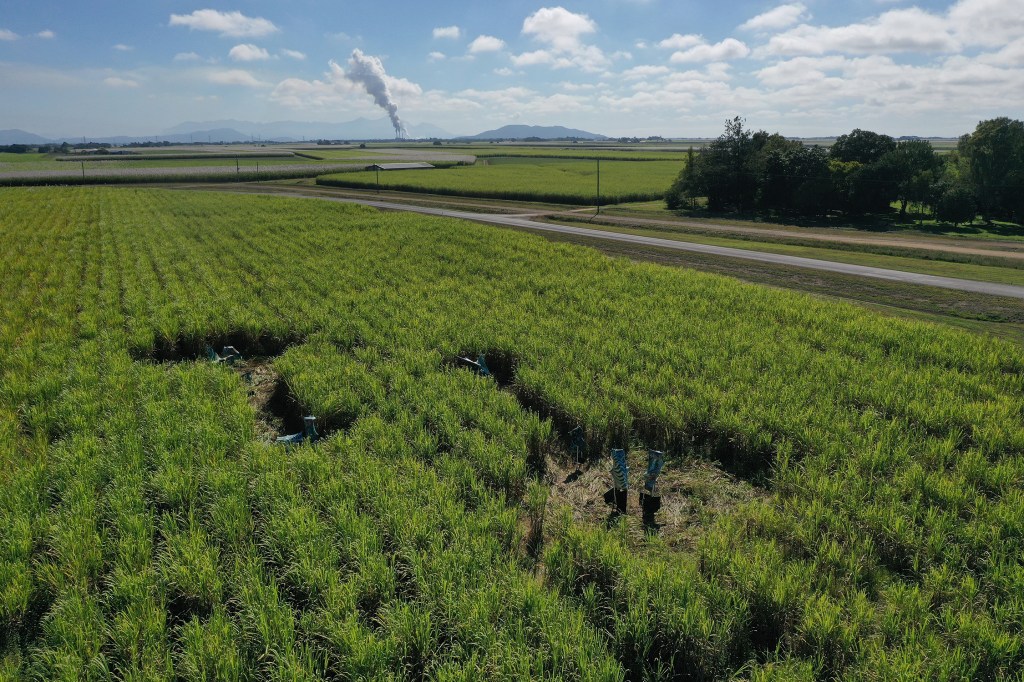 ALL THREE SITES
Both Ways
The use of billboards as a form of artistic expression – as opposed to a commercial advertisement – was explored by four First Nations artists: Gail Mabo, Libby Harward, Tony Albert, Bural Bural (Patsy Dallachy) and Jupiter Mosman.
This series of billboards – found on major routes between Townsville, Hinchinbrook and Charters Towers – featured contemporary and archival work in examining the artists' perceptions of place in the area. In keeping with the Festival's notion of challenge, these images highlighted histories and voices not necessarily heard in the larger narratives of indigenous Australia.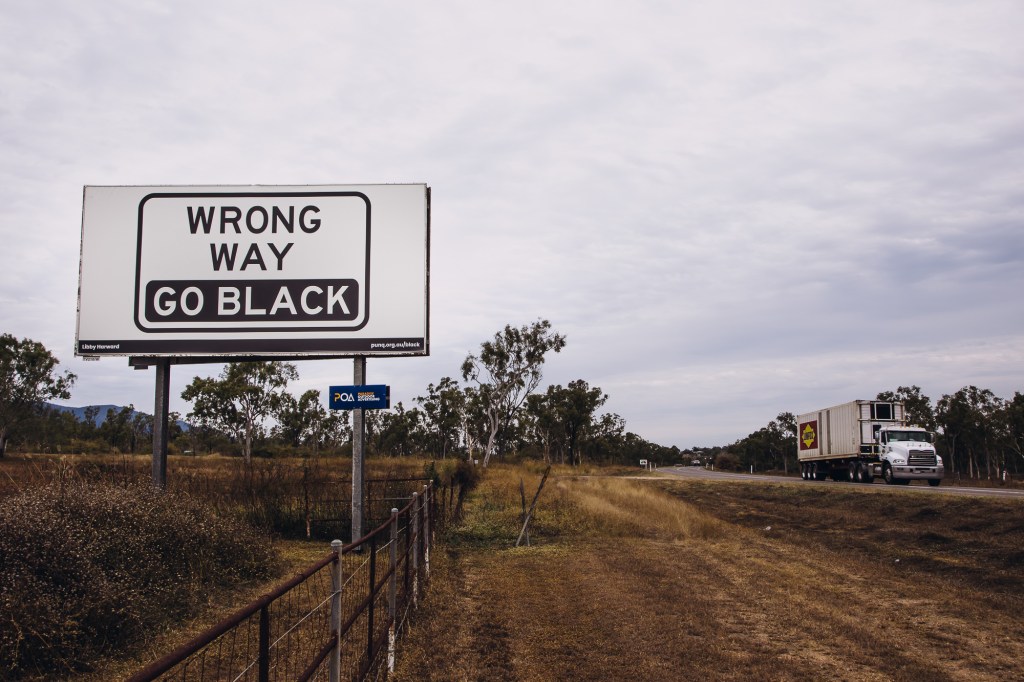 PUNQ 2021: Pop Up North Queensland Festival.
30 Jul – 8 August 2021
Umbrella Contemporary Studio Arts, Townsville
Director: Kate O'Hara
Various locations Townsville, Magnetic Island, Charters Towers, Ingham