Jukebox musicals have found mixed success over the years, and yet another homage style show – this time based on the life of singer Tina Turner – has just opened at Sydney's Theatre Royal. But this one feels a cut above its contemporaries. It may be cheesy to say – but it's 'Simply the Best'.
This highly acclaimed bio-musical originally opened in London in 2018, then had a successful transfer to Broadway in 2019, where it was nominated for a slew of awards (despite pandemic closures) and won a Tony for its star.
The story is fairly predictable, as you'd expect from an offering such as this, but it moves fast, and its greatest strength is that the existing body of songs slide more successfully into the narrative than many other jukebox musicals seem to achieve. The first act takes us from Turner's humble beginnings as Anna Mae Bullock, singing too loudly in church in Nutbush Tennessee (yes, the same Nutbush as 'that' song) through to her discovery by, and often violent relationship with, Ike Turner. He reinvents her as Tina Turner, marries her, and she becomes a star. But the relationship is complex and soured by abusive behaviour – until she at last finds the strength to escape.
Act Two charts Tina's difficult but ultimately triumphant journey to a solo career and culminates in a breathtakingly exciting mini-concert of some her greatest hits, including the iconic 'Nutbush City Limits', 'Simply the Best' and 'Proud Mary'.
The staging and lighting design appears understated initially, but builds surprisingly and impressively throughout the performance, as we transition seamlessly from sleepy Nutbush to pounding rock show. The audience gasped at the final concert reveal.
The original production has been lovingly rendered by the Australian creative team, and it remains both moving and visually exciting. It's rare that the wigmakers deserve special mention in a review, but the hair in this production is epic and transformative, not just for the star but for a bevy of minor characters. It has won awards and you can see why!
The script has occasionally been accused of being a little melodramatic – but it's done believably and, given we are dealing with a story of abuse, first by Turner's own parents, then at the hands of her husband – it's probably fair enough.
Ike Turner is played by Tim Omaji, fresh from his run in Moulin Rouge! It is a thankless task for an actor to play a character has who become so reviled over time, but Omaji does it with intelligence and style, and deserves huge credit for his sensitive work. The equally dislikeable character of Tina's mother Zelma, hardly a supportive figure in any way, is also perhaps a difficult challenge, but Ibinabo Jack has great presence and brings a confronting truth to the role. The struggle against racism that pervades these characters' lives does much to explain, although not excuse, their anger and pain.
The ensemble is strong – really strong – and often step forward to play momentary characters in Tina's journey, before returning to dance up a storm in the incredible flashy choreography. The kids are great, John O'Hara's Phil Spector is hysterical, and Rishab Kern is wonderful as Tina's first love Raymond, smoothly nailing the song 'Let's Stay Together' as well as some impressively energetic moves later on.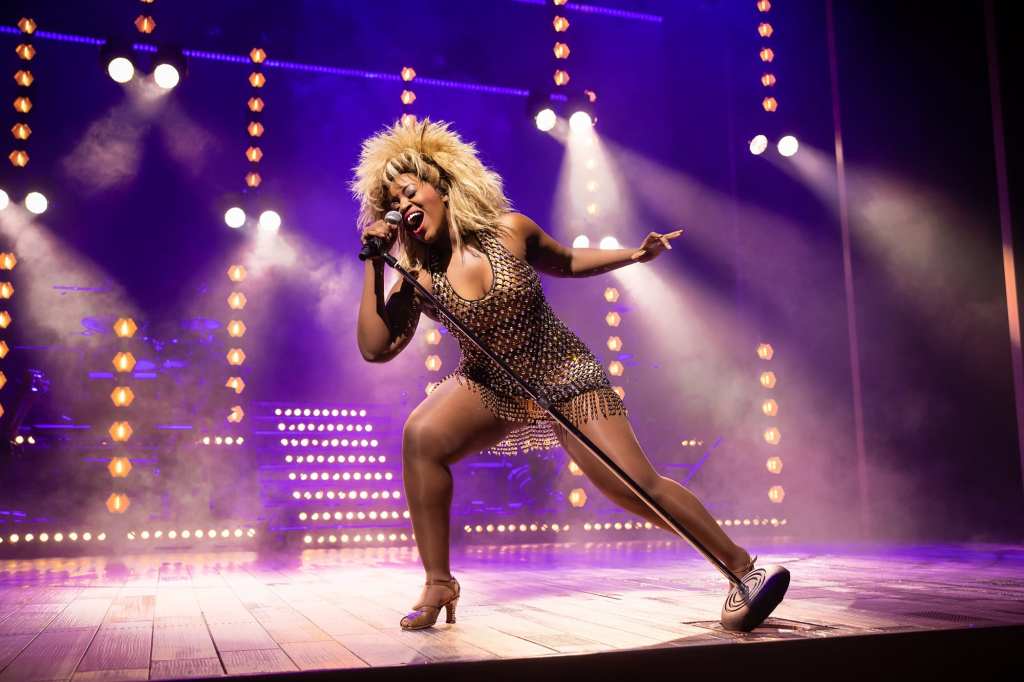 But let's face it, we are all here mostly for Tina Turner's music, so the show's success rests on the performance of its star. In Australia that's Ruva Ngwenya (with Jochebel Ohene MacCarthy at selected performances).
And Ngwenya does not disappoint. She takes on this exhausting, powerhouse role and makes it all look so easy, building her vocals and persona gradually through the show til it culminates in the legendary look and sound of the icon. She weaves it all into a crescendo for the high-energy final performance, where you would swear you were seeing the real Tina strutting her stuff.
Read: Performance review: Cinderella, Peninsula Hot Springs
This really is a not-to-be-missed night out. It's not just for the fans. It is immensely satisfying both musically and emotionally and you leave feeling you have been doubly blessed to have seen both a wonderful piece of theatre and a hard pumping rock concert at the same time. Superb cast, incredible band and a whole lotta fun.
Tina – The Tina Turner Musical
Book by Katori Hall with Frank Ketelaar and Kees Prins
With Ruva Ngwenya, Tim Omaji, Ibinabo Jack, Deni Gordon, Nadia Komazek,
and Jochebel Ohene MacCarthy as the Tina alternate at selected performances.
Original Director: Phyllida Lloyd
Australian Director: Leah Howard
Musical Supervisor and Additional Music: Nicholas Skilbeck
Music Director: Christine Polimos
Choreographer: Anthony Van Laast
Set and Costume Designer: Mark Thompson
Lighting Designer: Bruno Poet
Theatre Royal, Sydney
Tickets: $99 – $249. Now playing until 8 October 2023