Artistic Director Jack Liebeck opened his second Australian Festival of Chamber Music (AFCM) with a judicious mix of well-known work alongside some new and tantalising pieces. What on paper may have appeared to be some quirky choices, without an obvious theme, turned out to have good resonance demonstrating the capabilities and skills of the opening night musicians.
The concert commenced with a world premiere by composer Deborah Cheetham Fraillon AO that had been commissioned by AFCM for its 30th Birthday in 2021. Rescheduled due to COVID, it has finally received its first performance at the 2023 Festival. Created to acknowledge the Wulgurukaba people of Gurumbilbarra, the traditional owners of the land on which the Festival takes place, it has an apt title, Nginda Ngarrini Bi Ngya, meaning "arrival" or "coming". Written in the Wulgurukaba language, the piece was evocatively sung and interpreted by Wakka Wakka lyric soprano, Nina Korbe. With a lovely creamy voice and excellent top notes, her voice soared ethereally above the carefully played strings of the Goldner Quartet. Violinists Dene Olding and Dimity Hall, violist Irina Morozova and cellist Julian Smiles played beautifully, with a tenderness that gave the work a sense of gravitas and spirituality over its the three short movements.
Sally Beamish's Carnival Samba, originally composed for three pianos, was rearranged here for violin, cello and piano. Moments of the composition worked well, such as the opening clash of diverse sounds plus opposing instrumental tunes that goaded and played off each other with much humour. In such a short, five-minute work, however, it was difficult to determine if the orchestration seemed a little contrived for the instrumental choices, but maybe a trio of pianos would have resonated better.  
Pianist and composer Joseph Havlat was the first musician of this festival to choose a 'Guilty Pleasure'. Liebeck introduced this novel idea last year, asking each musician to play a favourite piece and explain why it was their choice. With often surprising choices, the idea was relished by audiences and it has returned bigger and better this year. Havlat's peculiar and quirky choice, a rearrangement of a computerised, synthesised work he had previously composed with his two brothers for their group JEP(ic) here became a short piece for three pianos. Two pianos were actually utilised, one for four hands, played by Charles Owen and Katya Apekisheva. Entitled 64 Geese, due to the noise produced, the ragtime jazz sonority for the trio of piano sounds included many notes played excessively fast and at the extremes of the high and low registers. This work had similarities to an accompaniment to a crackling black and white silent film and was brilliantly delivered by all three pianists.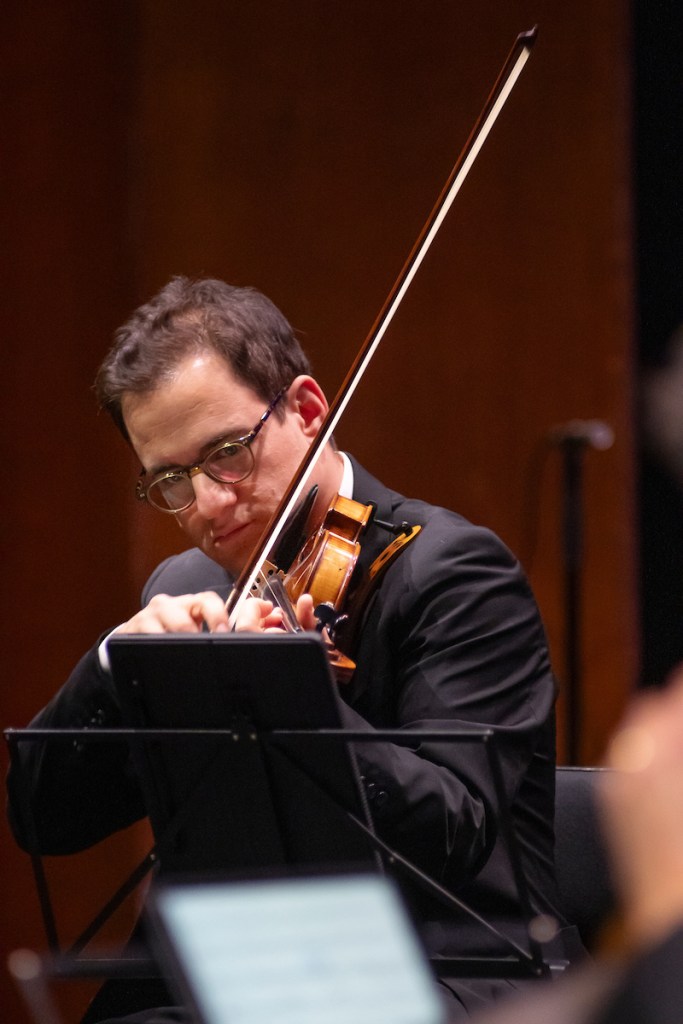 Mozart famously stated that his Quintet for Piano and Winds in E-flat major, K.452 was perhaps the best thing he had ever composed. It is certainly a joyous work for oboe, clarinet, bassoon and horn working harmoniously alongside a florid piano that is full of arpeggios. The Largo-Allegro moderato movement has a gentle, romantic opening in sonata form leading into the main theme from the piano. Emulated by each of the winds in turn, the sweetness of Joshua Oates' oboe was balanced by the darker clarinet of Matthew Hunt. Nicole Tait's rich bassoon neatly gave way to the elegant delivery of Katy Woolley's powerful and well played horn.
The slower Larghetto was delicately played with piano repetitions underscoring the melodies, while adding depth to the woodwind. Oates took the initial lead in the Rondo: Allegretto, a five-part cadenza perfectly realised by the quintet. The interactions between instruments gave us a colourful palette of sound, its many trills and delightful playfulness delivering a superbly crafted and very well played work.
Read: The changing face of chamber music in Australia
Tchaikovsky's Souvenir de Florence for Strings Op.70 in four movements was written for a sextet, but was the perfect work for Liebeck to show off the strength of the string players engaged to play at the Festival, with 15 involved.
Led from the violin by Goldner Quartet's Dene Olding, his solo work was ravishing with the addition of violist Irina Morozova and cellist Julian Smiles. Charlotte Saluste-Bridoux, making her debut at the Festival, was also splendid playing alongside Olding. Well supported by the remaining strings, the collective attention to detail, especially in the many passages played pizzicato, was excellent.
The Allegro con spirito gave us a brisk tempo and a bright, speedy opening movement followed by the distinctively romantic voice of Tchaikovsky in a ballet themed soundscape in the Adagio cantabile e con moto. The Allegretto moderato and scherzo, with its melange of Russian folk music, rhythms and melodies, led into the final Allegro vivace with frantic and fast bowings and first-rate dynamics from everyone. A marvellous ending to the opening night concert of the Chamber Music Festival.
James Cook University Opening Night Concert – Opening Applause
Townsville Civic Theatre, 28 July 2023
The Australian Festival of Chamber of Music continues until Sunday 6 August 2023
Artistic Director: Jack Liebeck
Artists: Goldner Quartet, Deborah Cheetham-Fraillon, Nina Korbe, Jack Liebeck, Thomas Carroll, Charles Owen, Joshua Oates, Matthew Hunt, Nicole Tait, Katy Woolley, Katya Apekisheva, Joseph Havlat, David Zheng, Emily Sun, Charlotte Saluste-Bridoux, Ting-Ru Lai, Sally Beamish, Charlotte Miles, Kees Boersma.