Rossini's opera Il Viaggio a Reims (The Journey to Rheims) was first performed in 1825 to mark the coronation of Charles X (1757-1836). But the composer never expected it to become a repertoire staple: indeed, he repurposed about half of the music for his later opera Le comte Ory (1828).
It was only through a bit of 'musicological detective work' that the original score was revived and again performed for the first time in our modern era in 1984. This rare opera comes to Australia for the first time this year. A co-production of Opera Australia, the Dutch National Opera and the Royal Danish Opera, it premiered abroad in 2015 before being performed in Melbourne in May, and this week, it opened in Sydney for just five performances.
But today's version of Il Viaggio a Reims drifts far from Rossini's original story of a group of European aristocrats, celebrities and dilettantes who pass through the spa town of Plombières-les-Bains on their way to Rheims Cathedral for Charles' coronation, only to find that the lack of transport stranded them at an inn.
In the hands of Italian director Damiano Michieletto, that inn is relocated to an art gallery, the innkeeper becomes a gallery director, and the aristocrats are 'A-list gallerinas'. It is fabulously realised by set and costume designers Paolo Fantin and Carla Teti.
In a surreal touch, which extends the absurdity of Rossini's tale, the artworks come to life. Michieletto has replaced the nationalistic identities of Rossini's original dignities in the caravan of guests with the masterpieces of those nations, in a political satire.
Strutting the stage are self-portraits of Frida Kahlo and Vincent Van Gogh. Velazquez's Infanta Margarita Teresa strolls around in her blue dress, while Keith Haring's animated figure adds a comic note. There is Magritte's apple-faced The Son of Man coming to life, as well as characters from the paintings of Botero, Goya and Whistler.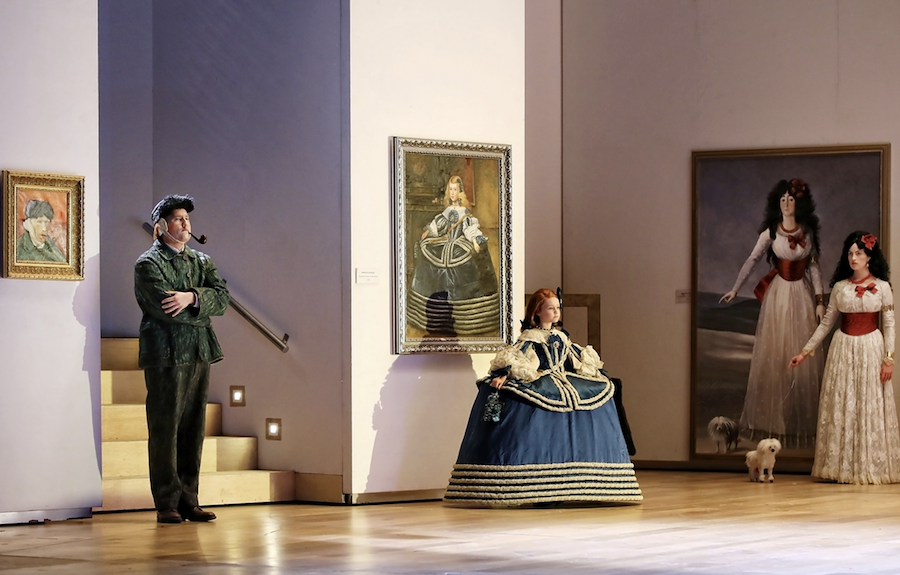 The cast of Opera Australia's 2019 production of Il Viaggio a Reims at the Sydney Opera House. Photo: Prudence Upton.
To use a filmic reference, Fawlty Towers becomes Night at the Museum.
It is pushed further. Julie Lea Goodwin as the gallery owner Madama Cortese has tones of Meryl Streep in The Devil Wears Prada, while Don Profondo, sung and acted by Giorgio Caoduro, becomes an art auctioneer and the Englishman Lord Sidney is reimagined as art restorer, performed by Teddy Tahu Rhodes.
Sargent's painting Madame X literally moved out of the canvas to hug Rhodes in a Pygmalion-like gesture, eventually covering him in paint, while in another scene, Canova's sculpture Three Graces turns from stone to sensual dance.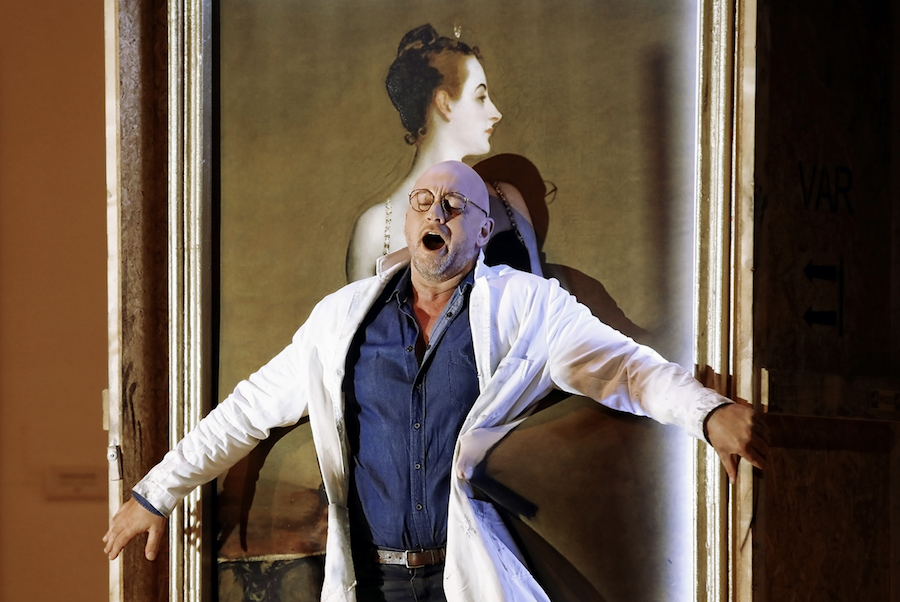 Teddy Tahu Rhodes as Lord Sidney in Opera Australia's 2019 production of Il Viaggio a Reims at the Sydney Opera House.  Photo: Prudence Upton.
The triumph of this revisioning of Il Viaggio a Reims is its finale, as the entire cast slowly moves into a tableau to recreate the painting, The Coronation of Charles X (1827) by François Gérard, and indeed realise their journey metaphorically, as opposed to being landlocked in an inn some 300kms from Reims.
Big vision, big spectacular, this opera is also big on voice – with no less than 14 principal roles and a large chorus. Everyone was intrinsic to the delivery of this fast-paced comic pastiche, and each is given a moment to shine.
Even the conductor Daniel Smith contributed to the laughs, taking part in an art auction in the first Act, balanced with his passion in delivering this incredible and difficult score.
Vocally, this is a demanding opera. Rossini's concertato for 14 voices at the end of Act II is an operatic masterpiece, while the incredibly long aria, Partir, o ciel! Desio, performed by soprano Emma Pearson is a textured comic lament for her shoes, Soprano Irina Lungu is memorable in the final act, transforming this crazy romp and play into something almost divine.
Surtitles, for many, help navigate an opera's narrative. For some, those lines help deliver the context of the tragedy on stage; for other operas you can just let them visually and aurally wash over you. Il Viaggio a Reims is one such opera where the libretto is almost incidental, and when one does try to track it, is highly repetitive. It almost gives you permission to switch off and get lost in the kooky action on stage.
Overall, this opera is a bit of magic, and while the music style is perhaps more challenging for contemporary audiences, the comic tone and art world antics have bought this production into full relief. The theatre was often filled with sincerely engaged laughter. And in that is the mystery and the magic of the medium. It can connect. And by using art history's greatest gong, the boundaries are seamlessly removed.
By abstracting Il Viaggio a Reims, Rossini's rarest opera might indeed become his most popular. 
4 stars out of 5 ★★★★
 Il Viaggio A Reims
Opera Australia 
Conductor: Daniel Smith
Director: Damiano Michieletto
Revival Director: Constantine Costi 
Set Designer: Paolo Fantin
Costume Designer: Carla Teti
Lighting Designer: Alessandro Carletti
24 October – 2 November 2019
Joan Sutherland Theatre, Sydney Opera House
Tickets from $47