The Queensland Art Gallery of Modern Art (QAGOMA) has opened its mid-year blockbuster exhibition with a double bill of two of the most distinguished and significant contemporary Australian artists. eX de Medici's Beautiful Wickedness and The Favourite from Michael Zavros include notable works by both artists, demonstrating the breadth of their careers and the development of their artistic practice over many years. Their practices exude diverse influences and interests, yet offer relevant social commentary and values, with a dedication to the exquisite craft of their respective practices.
QAGOMA is the perfect gallery to exhibit the discrete works of these two artists – its two distinctive exhibition spaces connected by a central atrium. Here two huge painted murals by the respective artists face off against each other, making powerful individual as well as collective statements. de Medici's work Tooth and Claw, originally created as a pen and ink drawing, is a response to the 2007 Nisour Square massacre in Baghdad when unarmed Iraqi civilians were fired upon. It packs a strong political punch denoting the atrocity in the midst of daily life, several sub-machine guns being intricately entwined with blue swallows and pink carnations.
Meanwhile, Zavros has created a work that speaks to his Greek heritage, painting a huge tourist 'selfie' of the Parthenon, entitled Acropolis Now. Zavros wants it to encourage the viewer to investigate who we are and where we come from. Additionally, the space in front of the work will be used to simulate a summer tourist scene by functioning as a Greek coffee house once a month, with backgammon tables and coffee cart.
de Medici's gallery space shows a diverse and eclectic range of over 100 of her works, with the distinctive themes of the natural world underpinned by consumerism, authority and control, as well as works based around the corrosive effects of coercive control. Included are her impressively detailed panoramic watercolours, a mix of posters, blood swabs, photographs and drawings documenting her years as a tattooist, plus her fascination with botanical art, most recently crossing moths with guns and other human technologies. It is a carefully and lovingly curated journey through five rooms.
Her exhibition commences with her meticulously detailed, socially disturbing, watercolours of the 1990s. Of particular note are the distinctive works Blue (Bower/Bauer) 1998 and Red (Colony) 1999 about colonisation and corporation respectively, while The Theory of Everything 2005 serves to highlight consumerism.
Her 12-year stint as a tattoo artist is well-represented and shows an insight into designing bodily art, especially evident in The Blood of Others 1991. It is followed by works denoting surveillance techniques, and government and big business collusion. Equally disturbing are her watercolours around the theme of domestic violence.
Poignantly illustrated by using decorative art, works such as Shotgun Wedding Dress/Cleave 2015 and The Seat of Love and Hate 2017-18 use feminine images overlaid with guns. A whole room is given over to her 2021 works fusing moths with chemical weapons and guns to denounce the futility of war.
Zavros' The Favourite develops his work chronologically bringing together some 90 pieces, mostly paintings but with some sculpture, video and photographs. It commences with his earliest works, a series of miniature paintings that were inspired by luxury advertisements in male magazines. Man in a wool suit 1999 and Ferragamo 2000 are the best examples – an intriguing look at masculinity, a theme continued in his later works. These include his Debaser drawings, head shots of male models and the Prince/Zavros series inspired by cowboy images of the late 1980s and the iconic Marlboro Man tobacco advertisements.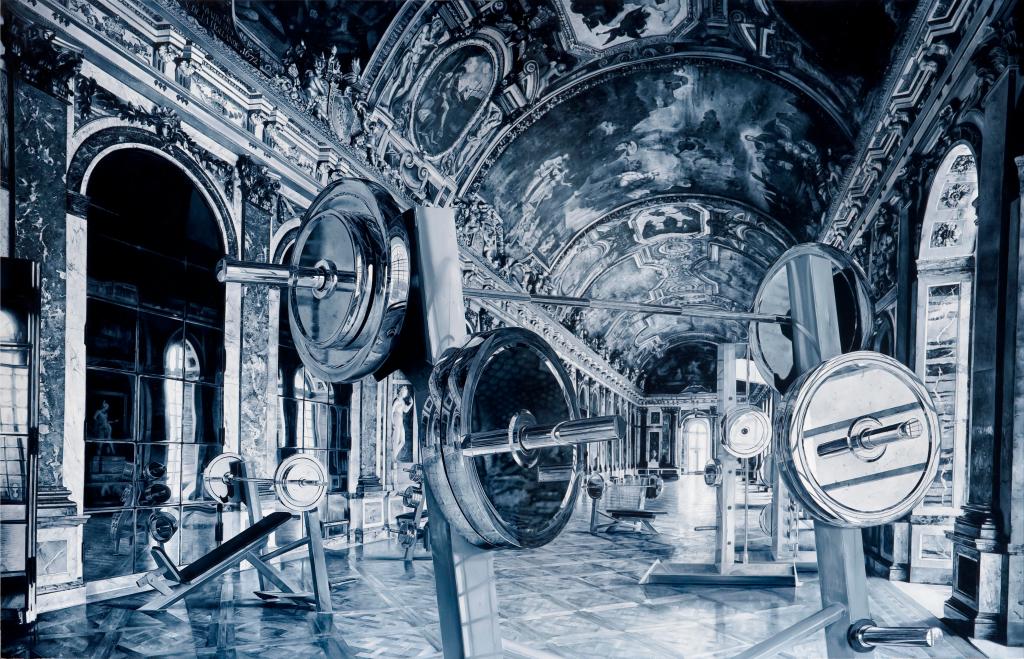 Perhaps these works are thematically closer to his portraits, which are a main focus of the exhibition. Here Zavros himself and his family are often subjects in various indoor and outdoor situations. Those showing his three children – Phoebe is Dead/McQueen 2010, Madonna and Child 2016 and Boy with Lemon 2018 – are decidedly playful yet intimate. Images also link back to his heritage, with the beach scenes more reminiscent of the Greek islands than of Noosa. His representation of himself as the mythological character, Narcissus, is quirkily self-deprecating as are the paintings of himself as a mannequin. 
Representations of stately European houses and gardens include a number of follies while he converted the Versailles Hall of Mirrors into a gym, a contemporary if ominous use of this space. His sculptural work, Drowned Mercedes 2023, saw him fill a classic Mercedes-Benz Convertible SL with water, surely another folly. 
Read: Exhibition review: CHAGALL, Jewish Museum of Australia
His most recent works are an exquisitely crafted set of still life arrangements. Created from fruit and flowers, with the addition of seashells and scarves, these works in white vases are designed to conjure up bird and animal images. Not dissimilar to the ideas of the 16th century Italian painter, [Giuseppe] Arcimboldo, these images give a sense of fun and levity, whereas Arcimboldo's were sombre and monstrous. The phoenix, peacock, lobster, poodle and panda are all beautifully depicted.       
Two irresistible exhibitions: eX de Medici: Beautiful Wickedness and Michael Zavros: The Favourite are showing at the Queensland Gallery of Modern Art, Brisbane until 2 October 2023.