Earlier this year, ArtsHub asked The Huxleys what's on their studio playlist. They said: 'Music is a huge thing for us. It is how we bonded when we first met, shopping for records and chatting about our mutual love of David Bowie, Grace Jones, Prince and Kate Bush. Music inspires us to make our art and we always have music playing when we create.'
This bond through music has been exemplified in full flamboyant force in their latest exhibition The Huxleys: DisGraceland at Abbotsford Convent.
This time the duo brought their glitter and glam – think full-body sequin suits, sky-high wigs, blue and green makeup that demands attention – to regional Victoria. Photographs recall vintage album covers where the two are perfectly staged travelling musicians, and viewers were invited on their journey through the highs and lows.
There were moments of absolute confidence, ready to conquer the path to sparkling careers (Schlock 'n' Roll), but also those that were more vulnerable, such as where one comforts the other inside the motel room (Are you loathsome tonight).
Read: Exhibition Review: Sutr Santati, Melbourne Museum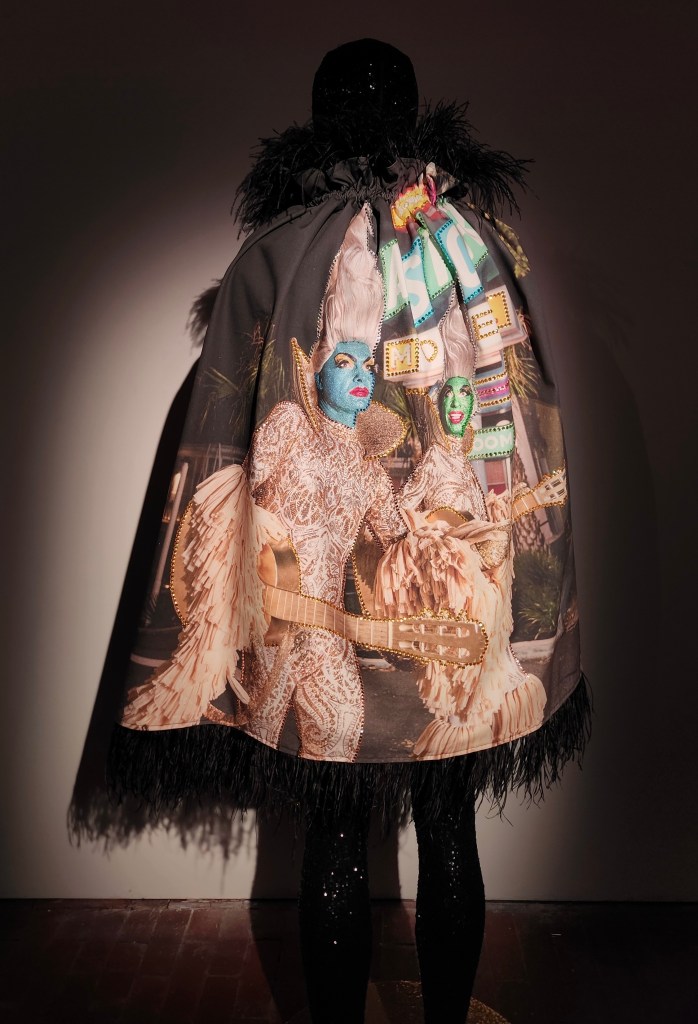 The Huxleys' intricate costumes were on full display in this exhibition, perhaps a rare sight elsewhere. The creatives have also transferred their photographic works onto elaborate capes worthy of the Met Gala.
Blue Moon (2022) is a video work that still holds The Huxleys' trademark tongue-in-cheek style, but delivers a deeper message on breaking the definitions of macho masculinity and expressive freedom. Musical vignettes showed the two performing in tender moments, while they became playful and hypnotic against the backdrop of video snippets featuring Elvis, Bowie and the like.
The duo gave an energetic performance on opening night (10 August), ending in a passionate kiss as the two kneeled facing each other.
No matter how outlandish these works are visually or conceptually, The Huxleys' love for and connection to each other, and the queer communities past, present and future, was what spoke volumes in their work.
DisGraceland is a series of photographs commissioned by Vogue Australia with the release of Baz Luhrmann's 2022 film Elvis.
The Huxleys: DisGraceland was exhibited at Abbotsford Convent until 20 August 2023.