Although she is currently based in the UK, Renee So's works have been consistently shown throughout Australia. Born in Hong Kong in the 1970s, So migrated to Australia with her family at a young age and later trained as a painter at the Royal Melbourne Institute of Technology (RMIT) from 1993-1997.
So is self-taught as a ceramicist and, after moving to London in 2005, she also took on knitting as a critical medium, creating large 'paintings' that are flat-lined and cartoonish.
Renee So: Provenance is her first museum survey, held at the Monash University Museum of Art (MUMA) and aptly titled considering her works often take their lineage from historical artefacts and are intertwined with (Western) museum practices.
A body of glazed earthenware opens the exhibition with quiet dignity – there is something simultaneously crude and cosmopolitan about the selection of snuff bottles and vessels.
Popular during the Qing Dynasty, snuff bottles held powdered tobacco and were used by the upper classes. Later they became symbols of status and taste.
So's snuff bottles critique the exoticisation of the 'Orient' – as well as the romanticisation of imperialism – by having words such as 'Opium' and 'Colony' inscribed on them. These are, of course, actual names given to luxury perfumes and fragrances.
Spanning more than a decade, this survey of So's work brings together her early fascination with German Bellarmine (or Bartmann – bearded man) jugs and later explorations of the female form, following the birth of her child.
Wares of three-legged female forms in earthy tones of brown and black combine mythology with more recent feminist political history. Of special note are references to some of the first Venus figurines and a 200-year-old French law (1799-2013) that banned women from wearing trousers.
A particular example is Woman Sans Culottes XV (2022), a figurine with bared chest and a flamboyant cap, wearing a pair of striped culottes.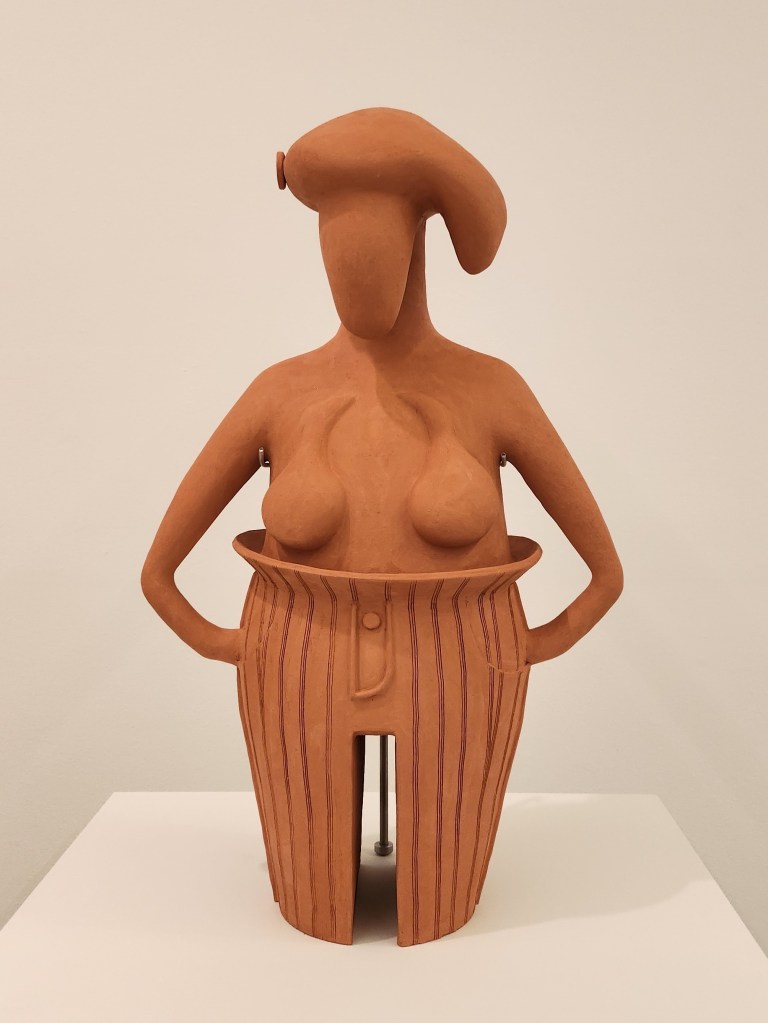 Provenance also highlights So's fascination with vessels, from jugs to boots and an elephant hoof. Indeed the human body itself is a vessel for air, liquid and substance, but also for emotions, thoughts and dreams.
Drunken Bellarmine (2012) is a humorous case (though So doesn't consider herself particularly funny) of this interaction between the drinking and the human vessel. In the 150- by 110-centimetre knitted work, a figure lies upended, detached from its useless cup-like lower body.
In many of the works that interrogate masculinity, So prompts juxtaposition without fully giving them away. What appears to be fun and quirky at the outset holds up a critical lens towards structures of patriarchal power.
Her cartoon-style ceramic heads, each individually named, are counterparts to the solemn and authoritative bronze busts of (male) founders, heroes and leaders.
This stylistic conversion is also evident in her large 'knitted paintings', where bearded men – sometimes with a boot becoming their head – appear comical rather than imposing. Yet, there is also a sense of harmony and ease in these characters, perhaps thanks to them being liberated from the expectations of stereotypical masculinity.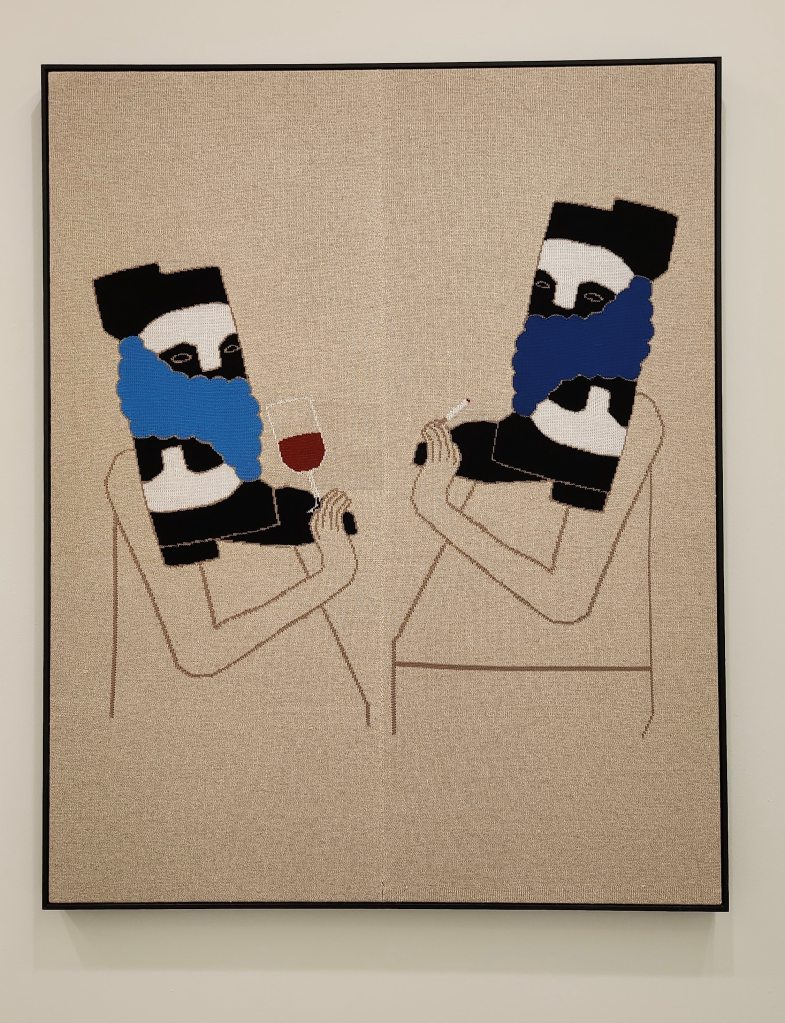 Although this has not been made explicit, aspects of So's works are tied to her Chinese heritage. The boot-face patterns resemble Chinese opera masks '脸谱' and the Western ideology of the cowboy boot can be further contrasted with the ancient Chinese custom of binding women's feet '小脚' – another status symbol that was desirable and even raised marriage prospects from the 10th to early 20th century.
Provenance asks us to consider not only the origin of these objects, but also the connotations and ideals communicated through them.
As an introduction to Renee So's breadth of practice, Provenance is intriguing and delightful. As a museum survey, however, it leaves much to be explored in terms of the complexity of So's research and her multifaceted thinking.
Read: Exhibition review: Murmurations, Museum of History
That being said, Renee So: Provenance is an exhibition that holds its weight from beginning to end, with works that captivate at every turn.
Renee So: Provenance is on view at Monash University Museum of Art (MUMA) until 8 July, guest curated by Charlotte Day. Free.
It will be presented at UNSW Galleries, Sydney from 18 August to 19 November 2023.