I remember fondly visiting a textile market in Phnom Penh (Cambodia) some years back, and seeing the stacked bolts of fabric, their colour and geometric patterns seemingly vibrating in their juxtapositions – alive with an energy you don't expect of fabric.
It was a similar feeling walking into Nicole Ellis' exhibition at The Drill Hall Gallery in Canberra this month.
Fabrications has been curated by Tony Oates, and maps more than 30-years of Ellis' inquiry into material and form, as fabric and acrylic paint jostle shoulder-to-shoulder across her canvases.
Read: Exhibition Review: The Image is Not Nothing (Concrete Archives), ACE Open
It is a honed aesthetic that only that commitment can bring, and a level of nuance that is both seductive and surprising.
When one thinks of hard-edged abstraction, the use of fabric is not immediately top of the list. However, Ellis' collages and assemblages have a rigour and enquiry to them that is worthy of the genre's great makers.
Just like that market in Cambodia, there is a celebration of the incidental meeting, and a human touch and gesture, which Ellis celebrates.
'I enjoy the qualities of the worn, aged, broken, torn, the seeming casual, the imperfect, traces of paint and reversals.'

Nicole Ellis
This is a huge exhibition that stretches across three gallery spaces.
Visitors are greeted by a suite of tiny paper assemblages that sit in a horizon line – again an unexpected first choice. They set the stage for Ellis' inquiry and offer a sense of play. Off to the right is an installation of standing Poles (2015); their architectural form pulls that line out from the canvas into space.
The two long walls of the main gallery are beautifully paired in their curation: one side offers a suite of Ellis' swatches – Black/Yellow Swatch, Blue/Pink Swatch, Brown/Red Swatch (2010) – where tabs of felt-like fabric seemingly hold swatches of checked fabrics that push and pull, bounce and play off each other. Ellis' attention to palette is spot on.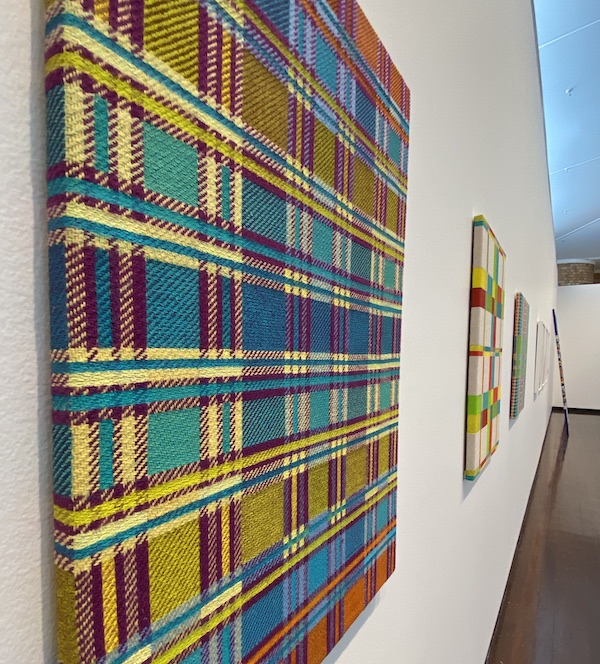 Installation view Nicole Ellis: Fabrications, Drill Hall Gallery, ANU Canberra. Photo ArtsHub.
On the opposite long wall, the works Double-Check 1-4 (2018-2021), sit alongside the earlier works Tolerance 1-3 (2014), all acrylic paint on fabric. Where the paint starts and the fabric ends is so subtle – but these works are anything but subtle as their strong colour keys jump off the wall in a melodic dance.
As one turns the corner to head to the rear galleries they discover a suite of Ephemera Works (2016-2019), tiny studies of found paper and material. These offer an anchor to Ellis' process. The other galleries offer more of the same, fleshing out her trajectory of material, surface and play across the decades. The only (and very slight) criticism is that perhaps that third gallery of work was not necessary – and to rather keep the viewer's attention tight and punchy.
Overall, this exhibition is a solid narrative of a dedicated practice and inquiry. It is everything a survey exhibition should be – and if you are a fan of abstraction, or contemporary textile art, then it's a total winner.
Rating: 4 stars out of 5 ★★★★

Nicole Ellis: Fabrications
19 February — 11 April 2021
ANU Drill Hall Gallery
Curator: Tony Oates