Ascribed the "one-name badge" of celebrity, Kandinsky is almost as colloquially recognised as Picasso, Monet and Warhol. There is a popularism around the work of this great Modern Master (Vasily, sometimes styled Wassily, Kandinsky 1866-1944), whose artworks have been seen on mouse pads, fridge magnets and scarves for decades – more perhaps than via visits to a gallery.
Not surprisingly, as not a single Kandinsky painting is held within the collections of the major public art museums in Australia. This was a fact delivered by Arts Gallery of NSW (AGNSW) Director Michael Brand at the Kandinsky exhibition's opening this week.
The exhibition, which is part of the Sydney International Art Series 2023–24, has travelled to Sydney from the Solomon R Guggenheim Museum in New York. The Guggenheim has one of the largest holdings of his artworks globally – over 150 pieces collected since 1928, of which 47 paintings have come to Sydney for this rare opportunity.
What makes this exhibition exceptional, is that all the artworks on display are oil paintings. Often with blockbuster exhibitions of this ilk, there will be a smattering of prints, some archival photographs, maybe an artist book and just a handful of hero paintings. An exhibition is then typically filled out with second tier paintings.
'These paintings form the core of the Guggenheim Museum's collection,' says Megan Fontanella, Curator of Modern Art and Provenance at the Guggenheim Museum, and co-Curator of the Sydney exhibition, alongside AGNSW's Jackie Dunn.
The Sydney exhibition follows the Guggenheim's hugely successful 2021 exhibition titled Vasily Kandinsky: Around the Circle, also curated by Fontanella.
At the exhibition's opening Michael Brand revealed, 'Recent research has shown that the most requested of all the preeminent figures of modernism is possibly Kandinsky.' Hence the updated AGNSW presentation of his work. 'It's been more than 40 years now since the last exhibition dedicated to Kandinsky was in Australia,' said Brand. Consequently, as the largest dedicated exhibition of Kandinsky's work ever to be seen in Australia, numbers are expected to be strong.
The whisper in the space is that this exhibition makes you fall in love with Kandinsky all over again, and while it has a quieter tone than some blockbuster spectaculars, it has a currency and a pulse that remains surprisingly fresh.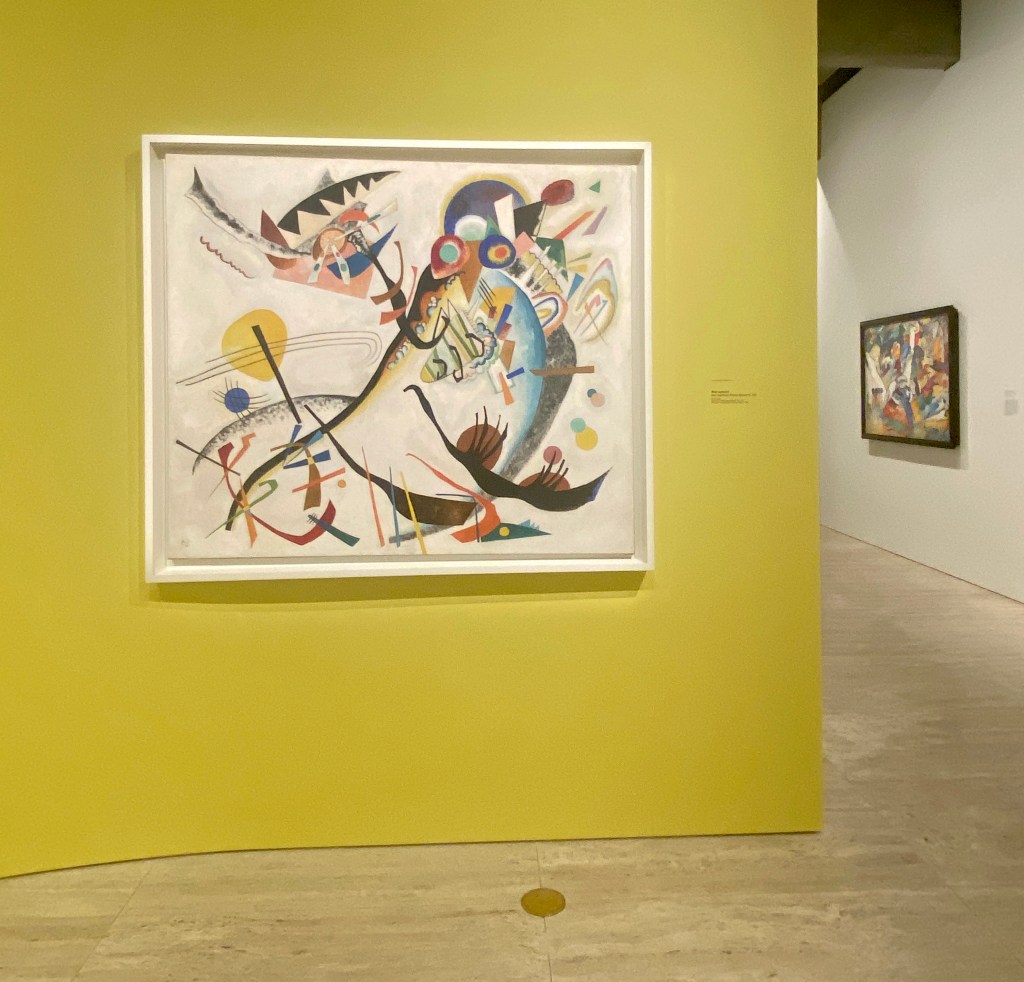 What's in the Kandinsky exhibition
Notable, moving through the exhibition, is its subtle design with curved walls in soft colours that seemingly scoop the viewer into an intimacy with Kandinsky's paintings. While there is a trend to punch up the wall colour for major exhibitions – AGNSW's 2020 Streeton exhibition was a good example – this modest palette allows key chapters in Kandinsky's life to be explored without being locked down into "rooms" that convey art history rigidly. Similarly, the exhibition is not formally chronological in its presentation.
Further, the exhibition is sparsely hung, which is extremely refreshing. There is no blurring of intentions, however, in the placement of Kandinsky's early career masterpiece, Blue Mountain (1908-09) – deliberately hung to start the exhibition with a bang. Off to a side are two equally cracker paintings: Landscape with Rolling Hills (1910) and Winter Landscape with Church (1910-11), which are modest in scale, but leap off the wall in an explosion of gesture, colour and brilliance.
This first section walks viewers through Kandinsky's earliest paintings, made while living in Munich and at the time of writing his ground-breaking treatise, On the Spiritual in Art (written in 1910) – essentially a companion piece to appreciating abstraction and demystifying his aesthetic theory on colour and form.
Moving deeper into the gallery, viewers will witness Kandinsky increasingly toppling over into abstraction, a shift that reflected a changing world. By 1914 Kandinsky was forced to move from Munich back to Russia when Germany declared war. But it was not an easy return, with the rise of the Russian Revolution waiting in the wings. In the world today – and a moment coinciding with this exhibition – conflict and war continue to be corrosive forces, and Kandinsky's art resonates for its resilience.
Fontanella explains, 'We often frame Kandinsky in terms of various chapters or periods, as his was a life that was uprooted time and again. His artistic style evolved with his every relocation, across Germany, back to his native Russia, and eventually to France, all against the backdrop of the sociopolitical upheavals occurring around him. But an unwavering thread that continues throughout his career is this fervent belief in art's ability to transform self and society. Kandinsky's story, ultimately, is one of adaptation and resilience, and it continues to resonate with audiences today.'
The next chapter of the exhibition explores the period he spent teaching at the Bauhaus, and a more rigorous emergence of his unique geometric language – in particular the circle and its symbolism. In this section of the exhibition visitors start to read in the paintings Kandinsky's interest in synesthesia, and the parallels between painting and music. The monumental painting Composition 8 (1923) (pictured top) is another hero painting that pulls viewers through the show.
Equally arresting – sitting on an avocado-coloured wall central to the exhibition – is Blue Segment (1921), another highlight with its sweeping arc of blue and familiar rhythms of form and colour floating on a white field. These paintings are a great opportunity for Australian audiences to see a moment in the history of abstraction, which is particularly welcome given the Gallery's 2021 exhibition of the Swedish painter Hilma af Klint was cut short by the pandemic.
Klint was a contemporary of Kandinsky's, and she was in fact making abstractions before him. They died the same year – 1944. I mention Klint in terms of this Kandinsky exhibition, to draw attention to a lineage of exhibitions at the AGNSW, which speak to scholarship rather than spectacle.
Of note, and continuing that, Kandinsky is fleshed out with two adjacent exhibitions that sit at the edges of the show: a site-responsive work by Desmond Lazaro, and an exhibition of spirit drawings by British medium Georgiana Houghton made in the 1860s and 70s.
Read: Exhibition review: David Serisier: Here and There, Orange Regional Gallery
Rethinking Kandinsky in our times
'People think they know Kandinsky because maybe they know Blue Mountain. But there's so much more to his life – he will surprise you,' Fontanella told The Guardian this week.
While Kandinsky is perhaps most broadly celebrated for his works from the early Blue Rider period and then his Bauhaus period, a fascinating chapter is the last one in this exhibition – his period known as the Great Synthesis (1934 – 1944), after his move to Paris.
Along a long wall in the gallery space, the paintings Various Actions (August to September 1941), Capricious Forms (July 1937) and the surprising Green Accent (November 1935) may alter viewers' ideas on what they thought they knew about Kandinsky.
In these paintings, Kandinsky's interest in everything – from the surrealist movement to the natural sciences, and Russian and Siberian cultural practices – come together, prompting themes of renewal, metamorphosis and spiritualism. They are anchored at the tail end of the exhibition by the expansive hero work, Dominant Curve (April 1936), a masterpiece from this period that seized on an interest in biomorphic forms.
So how do we rethink Kandinsky, and what does his work offer viewers today? 'His story, ultimately one of hope and resilience, continues to resonate a century later,' Fontanella writes of the exhibition in a statement.
'We see this as a huge opportunity for a whole new generation of visitors to experience Kandinsky in Australia,' added Brand, at the exhibition opening.
Kandinsky lived in incredible times – of conflict and change – and yet his art had an optimism and belief in a true spiritual revolution, where art was the protagonist. His message is just as current now as it was last century.
Read: Why do Australians love Egyptian blockbusters … still?
Furthermore, while the Gallery's last Kandinsky exhibition offered a similar number of works on view (largely pieces on paper), today many of Kandinsky's works have been withdrawn from travelling – such as his later works of sand and his glass paintings, which are deemed too fragile.
This exhibition, then, is all the more rare an opportunity for Australian audiences. Embrace its sparse beauty.
Kandinsky
Art Gallery of New South Wales (AGNSW)
Sydney International Art Series 2023–24
Curators: Megan Fontanella, Curator of Modern Art and Provenance at the Guggenheim Museum, and Jackie Dunn, Senior Curator of Exhibitions at the Art Gallery of New South Wales.
4 November 2023 until 10 March 2024
Ticketed.