Ernabella Arts: Ceramic Warka Wiru 20 Years-Kutu (20 Years of Creating Ceramics) is a celebration of two decades of ceramics practice at Ernabella Arts Centre. This art centre holds significant weight within the wider sector as Australia's oldest Aboriginal Art Centre, established in 1948 and located in the Aṉangu Pitjantjatjara Yankunytjatjara (APY) Lands in the Aboriginal community of Pukatja (just before the SA/NT border).
In marking 20 years in ceramics, this exhibition spotlights 19 Ernabella artists working in the medium that was introduced to its studios by JamFactory Ceramic Studio alumnus, ceramicist Robin Best, who visited the Pukatja community in the 1990s.
At that time, Ernabella Arts was best known for its batik textile works, but Best saw new potential for the artists to start working in ceramics and, shortly thereafter, in consultation with JamFactory, she developed a series of ceramics workshops that were delivered on-site at Ernabella Arts, and marked the beginning of what would become one of the art centre's most significant and enduring artistic pathways.
While this exhibition gives this history a fitting nod, its strongest energies actually revolve around the men and women artists who are currently working at the centre (around 30 artists, diverse in age), who routinely come together under its roof to create some fantastically vibrant contemporary ceramic art.
Co-curated by Carly Tarkari Dodd and Caitlin Eyre from JamFactory alongside Ernabella Arts artist Alison Milyika Carroll and Manager Rowena Withers, the show has been well-designed to spotlight the artists' work in close relation to their desert homes.
Drawing audiences close to Pukatja/Ernabella's rich red earth landscapes and its pitch black night skies, the gallery's central feature is a large, snake-like display case built from corrugated iron and packed with red dirt. Designed by Grieve Gillett Architects, this centrepiece is a nod to the artists' remote desert life, but is in fact also a useful modular form that will be packed up and sent to Ernabella art centre to use as plant beds after the exhibition's close.
Details like these point to the art centre's strong collective creative spirit that has been sustained through the artists' practical ingenuity as part of their many years of making art in the bush.
It's clear they share strong communal bonds. Yet their work is also diverse, in its spread of styles and techniques. The array of vessels, which are wonderfully down-lit and silhouetted against the gallery's darkened walls, are at times in dialogue with each other through their similarly organic shapes and intricate incised patterns. Yet others stand out with their perfectly rounded features and lightly glossed surfaces, which are covered in small shapes and repeated motifs.
Some pieces are abstract, but others, like the whimsical works by artist Carlene Thompson hint at narrative tales within their designs, with animals and spirit figures peeking out from their background patterns.
There's also an exquisitely detailed work by Anne Nginyangka Thompson titled Strong Family Connection (2023), which distinguishes itself from the others through its delicately incised designs of people, pathways and leafy trees. The work depicts a life lived on the land, but it also contains stylistic allusions to ancient Chinese blue and white pottery designs – or Delftware – as the style become known once it was adopted by the Dutch in the 17th century. It's a very beautiful piece.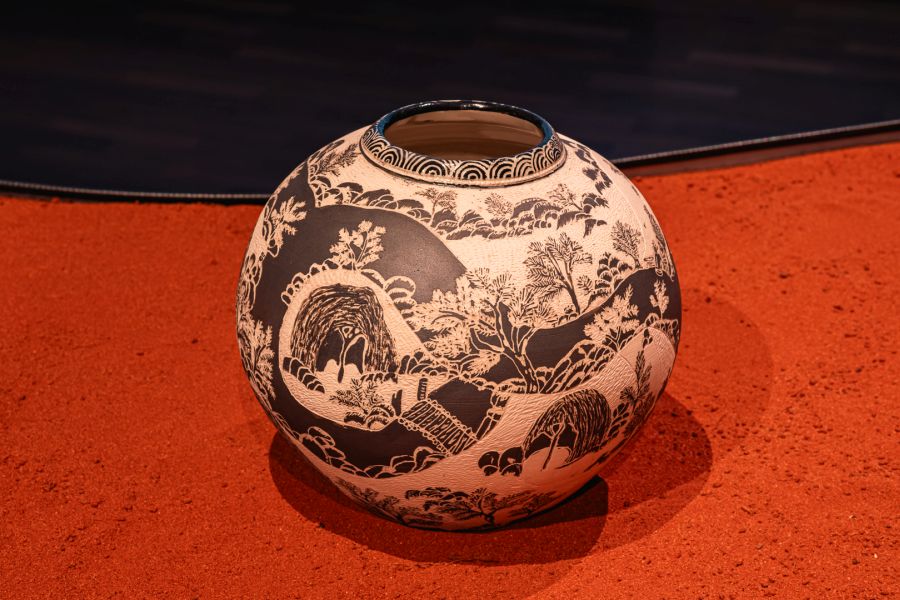 The title of Thompson's work also hints at the important role of family relationships and cross-generational connections at Ernabella Arts. Amusingly, one can see direct evidence of this in some baby footprints that have been planted in the red dirt surrounding the ceramic works in the exhibition's central display. As many of the artists and their families attended the show's opening night event, some took that opportunity to add new marks to the exhibition's soil bed, perhaps in a sign that the next generation of Ernabella artists will follow in their family's footsteps.
Read: Exhibition review: Vincent Namatjira: Australia in Colour, Art Gallery of South Australia
Overall, this exhibition has been built around Ernabella Arts' strong established foundations, but its curators also allow us to see how its present moment (and no doubt its future) is just as noteworthy as its past has proven to be.
Ernabella Arts: Ceramic Warka Wiru 20 Years-kutu (20 Years of Creating Ceramics) is presented at JamFactory, Adelaide as part of the Tarnanthi Festival of Contemporary Aboriginal and Torres Strait Islander Art. Exhibition runs until 3 December.
The writer travelled to Tarnanthi courtesy of the Art Gallery of South Australia.