This year marks the 150th birthday of the great composer Sergei Rachmaninov. To celebrate this sesquicentennial, the Adelaide Symphony Orchestra (ASO) is staging his complete works for piano and orchestra under the musical leadership of two internationally acclaimed superstars of the canon.
Each of the four sold-out concerts features British pianist Sir Stephen Hough alongside US conductor Andrew Litton, currently music director of the New York City Ballet. They are both much in-demand with endless engagements in concert halls across the world and extensive catalogues of recordings. Indeed, their joint recordings of the Rachmaninov works from 20 years ago are still considered the ultimate example of how to 'do' Rach.
Adelaide is lucky to have them together for this wonderful series of concerts, opening at the Town Hall with the famous Rachmaninov Piano Concerto No. 1 alongside Tchaikovsky's fiery Symphony No. 5.
The Piano Concerto began as it meant to go on, with dramatic horns and a rampaging piano. This was not pianism for the faint-hearted! Hough played with icy precision combined with a deceptively relaxed demeanour. Even in the most demanding passages he appeared calm and controlled, in complete synchronicity with the conductor and spurring the ASO on to greater heights.
Each of the three movements has its own unique character and Hough seemed to embody each one with ease. This was a masterclass in playing these works, demonstrating their full emotional intensity, but resisting the temptation of affectation and the grand gesture. It's amazing to think that Rachmaninov was still in his teens when he wrote this big, beautiful Concerto.
Hough rewarded the enthusiastic audience with an encore solo piano piece by Anton Rubinstein, a Russian pianist and teacher to Tchaikovsky. He also won the hearts of the audience by giving his beautiful bouquet to a woman seated in the front row.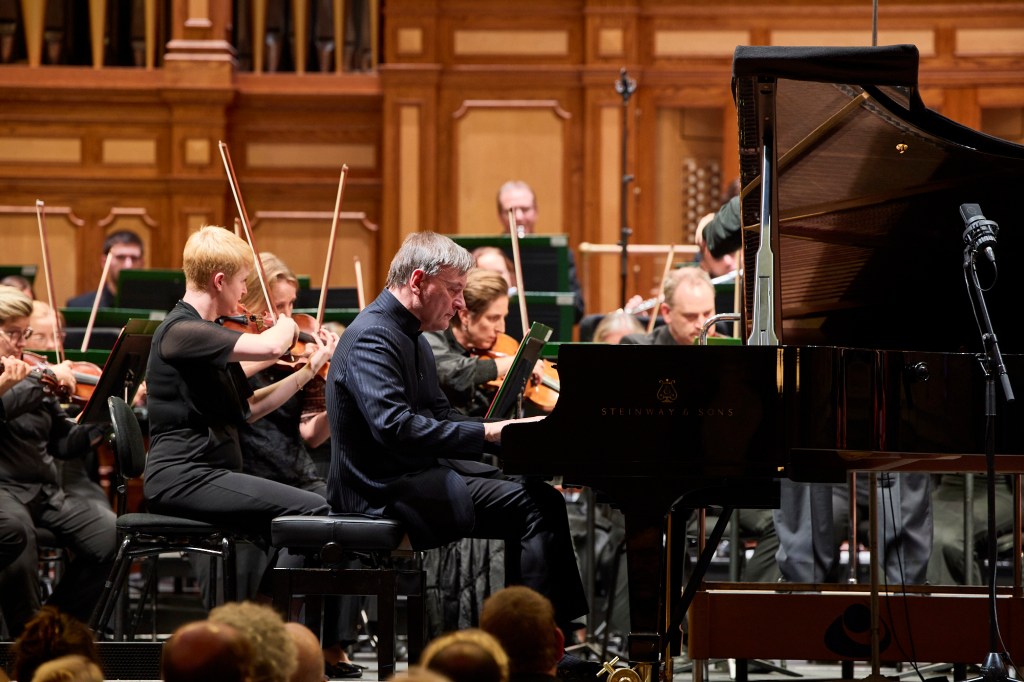 After the interval, and some rearrangement of the staging for the Steinway to exit stage right, it was back to business with the Symphony No. 5 in E minor by Peter Ilyich Tchaikovsky. The ASO worked seamlessly with Maestro Litton, responding to his every gesture and nuance. Sometimes restrained, sometimes effusive, Litton has a remarkable physical vocabulary. And it certainly seemed to bring out the best from the orchestra. Concertmaster Kate Suthers, still relatively new in the role, also seemed to bring a vibrancy to the players that was very engaging.
Read: Concert Review: Earth Fire Water, QPAC
The Fifth is a long and involved work, stretching to 50 minutes of intense musicianship and giving each section of the orchestra an opportunity to shine. The poignantly beautiful slow movement andante cantabile, to be played 'with desire and passion', is surely one of the most divine passages you'll ever hear.
This was a truly remarkable performance from the conductor, soloist and the ASO. And with four concerts all sold-out well ahead of time, a clear indication of what the Adelaide audience wants to hear. Just superb!
Rachmaninov: The Piano Concertos series
Adelaide Symphony Orchestra
Pianist: Sir Stephen Hough
Conductor Andrew Litton
Until 3 June at the Adelaide Town Hall
Concert 1, 24 May reviewed