A small child emerges from behind a red curtain, followed by another, and another, and another. A steady stream, first of children, then teenagers, jogs onto the stage; initially a trickle, then a flood. They run in circles around the canvas-roofed stage, slowly closing ranks until their momentum carries them upwards instead of forward, creating a four-high topped by one of the company's smallest performers. At its base, the remaining performers lean in collectively, bracing their peers in a beautiful display of connection; an embodiment of community and mutual support. 
Back in the Big Top celebrates 40 years of the Flying Fruit Fly Circus, Australia's national youth circus company. 
Born in 1979 from a school holiday program run by the Murray River Performing Group and named after an insect pest, the Fruities (as the company is affectionately known) have become one of the cornerstones of the modern circus industry. Graduates perform in companies nationally and internationally, including Canadian companies Cirque Du Soleil and The 7 Fingers as well as Australian companies such as Circus Oz, Casus, and Gravity and Other Myths.
Back in the Big Top sees the Flying Fruit Fly Circus recreate their original performance environment, a traditional circus tent erected temporarily in Albury's Hovell Tree Park. In another nod to the past, this 40th anniversary show features almost 80 performers – the same number of kids who took part in the very first Fruit Flies production – while earlier shows from previous decades are referenced through repurposed costumes, motifs, and sequences such as a massed unicycle routine.
Anni Davey, the company's Artistic Director and director of Back in the Big Top, clearly faced multiple challenges in crafting this show: it needs to showcase the diverse skills of the current crop of Fruit Flies, whose ages range from nine to 19, but it also has to be a coherent work of contemporary circus art rather than just a loosely assembled series of acts. 
Then there's the challenge of melding past and present; honouring the Fruities legacy without feeling bogged down by tradition. In all such aspects, the production excels.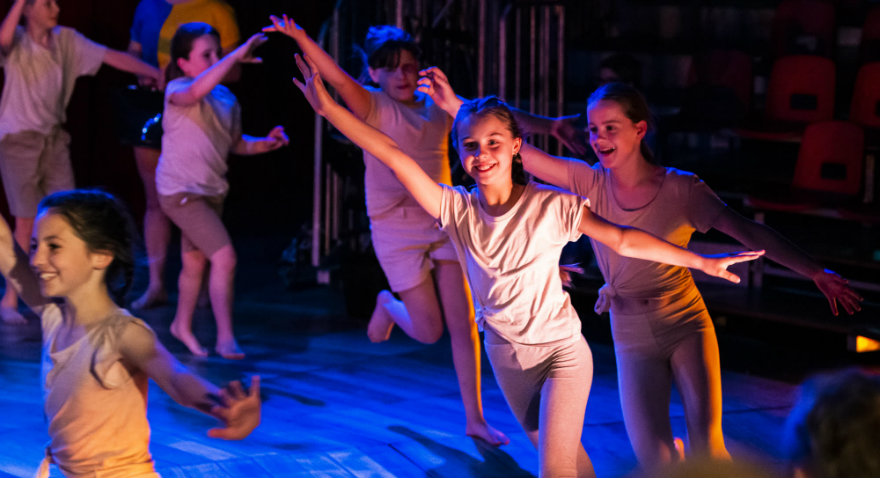 The current crop of Fruities. Photo credit: Ian Sutherland.
Save for the odd technical glitch, momentum rarely flags, and Davey's keen eye – aided by Associate Director Natano Fa'anana – crafts compelling tableau and visually attractive compositions. Acts flow smoothly into one another, aided by engaging interstitial routines which help mask necessary but awkward scene changes. Live music is judiciously matched to the action and the use of humour – whether deadpan or deliciously over the top – further enriches proceedings. 
In another plus the production is keenly aware of its audience, who are seated on three sides of the circular stage; the work is evenly directed out and to the sides, not just towards the central seating bank. If only all directors were so aware of the challenges of working in the almost-round!
Staging the production in front of a home-town audience adds another level of appreciation to proceedings – never have I felt so much love for a show and its performers radiating out from around me. Hearing former participants from the Fruities' school holiday and after-school programs reminiscing at interval, recalling their pride in mastering this skill or that trick which they've just seen re-created on stage, further reveals the remarkable cultural impact the Fruities have had on Albury and its inhabitants over four decades, and reinforces the palpable sense of community and connection which underscores the entire production.
The performers themselves are confident and exuberant, demonstrating precision, strength and skill at every turn, though a tendency towards gendering the older artists is occasionally noticeable: the young men are bold and intensely physical, the young women poised and performing traditional aerial acts while dressed in glittering outfits. Thankfully, such stereotypes are also occasionally subverted by young women utilising aerial straps and by young men curtseying in a satire of gendered norms. 
Individual acts – such as a technically proficient and polished aerial straps performance by Bailey Cooke; Lucy Tan's kinetic juggling routine synched to a clever soundtrack; and an accomplished and thrilling Korean cradle act by Kai Murphy and Lilly Holmes – suggest a great future for the graduate students.
Elsewhere in the production, a table act featuring the junior members of the company delights with tumbling slapstick comedy; a high octane teeterboard routine spoofing old-fashioned values provokes awed gasps, and standard circus tricks are given a refreshing spin thanks to the diverse ages and sizes of the company. The production ends on a high note with an exhilarating tramp wall sequence, featuring a prop displaying posters for Fruities' shows from years past. 
Adroitly referencing the passage of time musically (via artists ranging from Pink Floyd to Massive Attack) and visually (suitcases sprouting legs recall the Fruities' 2017 production Junk, while a thrilling Chinese pole routine set to a rousing percussive score evokes 1983's landmark Nanjing Circus Project) Back in the Big Top is a truly joyous circus experience and a fitting celebration of the company's four decades to date. Long live the Flying Fruit Fly Circus!
4 stars out of 5 ★★★★
Back in the Big Top
The Flying Fruit Fly Circus
Director: Anni Davey
Associate Director: Natano Fa'anana
Musical Director & Composer: Bec Matthews
Lighting Designer: Rob Scott
Training Director: Loic Marques
Costume Designer: Lyn Shields
Rigging Designer & Rigger: Simon Yates
Executive Producer: Tahni Froudist
Hovell Tree Park, Albury NSW
4-7 December 2019
Disclaimer: the writer's Albury accommodation was provided by the Flying Fruit Fly Circus.