1. Amy Perejuan-Capone
Selected by: Amy Barrett-Lennard – Director, Perth Institute of Contemporary Arts (WA)

Why: Amy Perejuan-Capone's practice is definitely one to watch, and has been rapidly growing in strength and complexity in recent years. It is unlike anything I have seen before – conceptual yet poetic, always engaging and has the extraordinary ability to elicit empathic responses to the universal experiences and anxieties that lie at the heart of them.
Her work at once exploits and playfully combines a suite of skills she has successfully mastered in silversmithing, ceramics, watercolour, installation, photography, video and even the construction of light aircraft. Drawing on a range of personal fascinations (shipping harbours, extreme cold, snow and the lack thereof, her father's hand-built flight craft), Amy creates exquisitely constructed bodies of work, ranging from small-scale objects to large-scale installations.
Based in the port town of Fremantle (WA), she also spends quite a bit of her time in remote international locations undertaking artistic residencies.
Follow her on Instagram: @wilhelm_wandering 
2.Saskia Haalebos (FKA Shagsy Shags)
Selected by Alexander Boynes – Curator, Canberra Contemporary Art Space (ACT)
Why: Saskia Haalebos (FKA Shagsy Shags) is a recent graduate from the ANU School of Art + Design who works across printmaking, video installation, performance and sound art.
She draws on personal experiences of dyslexia and synaesthesia to produce highly original work concerned with communication, empathy and the environment. In parallel to her solo practice, Haalebos works in collaboration with artists such as Nicci Haynes, Ampersand Duck, Lucas Ihlein and Rizzeria Print Collective.
In 2018 Haalebos founded ITA (Image. Text. Audio.), a cross-disciplinary collaborative team alongside author Jane Rawson, and sound artist Fever Dream Archive.
Instagram: @sasss_bos
Giselle Stanborough. Image supplied.
3. Giselle Stanborough
Selected by: Daniel Mudie Cunningham – Director of Programs, Carriageworks (NSW)
Why: Giselle Stanborough is going places. Her work is whip smart, innovative and often achingly personal. Of the moment, her practice unpacks technology and identity in an age of relentless surveillance, image saturation and algorithmic manipulation.
In 2020 she will present Cinopticon, her first institutional solo presentation and most ambitious project to date – a biased choice, as I am curating Cinopticon for Carriageworks as part of the Katthy Cavaliere Fellowship.
Instagram: @gisellestanborough
Fabian Brown, Mystical Animals, 2019, enamel and oil on hessian. Courtesy Araluen Arts Centre and Nyinkka Nyunyu Art and Culture Centre.
4. Fabian Brown
Selected by: Luke Scholes – Curator, Museum & Gallery Northern Territory (NT)
Why: Fabian Brown is part of a collective known as The Tennant Creek Brio. In 2016 this group sprung out of an Art therapy/outreach program set up by Anyinginyi Aboriginal Health Organisation. Brown immediately announced himself as an instinctive artist, fuelled by fantasy and spontaneity.
Melding characters from the Old Testament, the Dreaming and Greek mythology, Brown joins an emerging number of Aboriginal artists willing to draw upon a broad range of Indigenous and non-Indigenous influences.
His unique practice is a result of a highly active imagination and undoubtedly plays a role in his navigation of the complexities of life in Tennant Creek. His work is so unexpected, so unprescribed that Tennant Creek can simply not contain a talent is great as his.
Brown, alongside other members of the Tennant Creek Brio, will exhibit at Nirin, Biennale of Sydney at both the Cockatoo Island and Artspace venues. This will provide an opportunity for Brown to build upon the momentum and buzz surrounding his work present during last year's Desert Mob exhibition at the Araluen Art Centre in Alice Springs.
Dean Cross, This Placed, 2018. Image courtesy the artist.
5. Dean Cross
Selected by: Sebastian Goldspink – Curator, National Art School (NSW)
Why: So I love Dean Cross' work. For me, Dean works effortlessly across disciplines from painting, photography and performance. His background as a choreographer and dancer is evident in his composition. He approaches an investigation of colonisation with pathos but also humour. His work is at the forefront of examining where we are as a nation. A nation divided.
Dean's next major show, A Sullen Perfume, opens in February with Yavuz Gallery, Sydney.
Instagram: @deean.cross
6. Athena Thebus
Selected by: Talia Linz – Curator Artspace Sydney (NSW)
Why: Athena Thebus has been showing consistently across the emerging scene over the last few years and her work is always intriguing – with a strong materiality (leather, metal, neon, resin) and a talent for writing, she creates this deliciously elliptical eroticism and a kind of personal mythology rooted in notions of power, pleasure, shame and desire.
She often works in collaboration with friends and lovers, drawing on affects of queerness, her relationship to her maternal Filipino heritage and what she terms 'celestial Catholicism'. Athena talks about operating from the sacral chakra (sensuality, creativity), which I see translated into a confident but generous aesthetic with material choices that deliberately evoke feelings of excess – capitalistic, sexual, emotional, somehow aching.
Her latest work (with Chloe Corkran) has just opened at Verge Gallery in Sydney and I'm looking forward to seeing what else she has in store this year.
@smoochy_piranha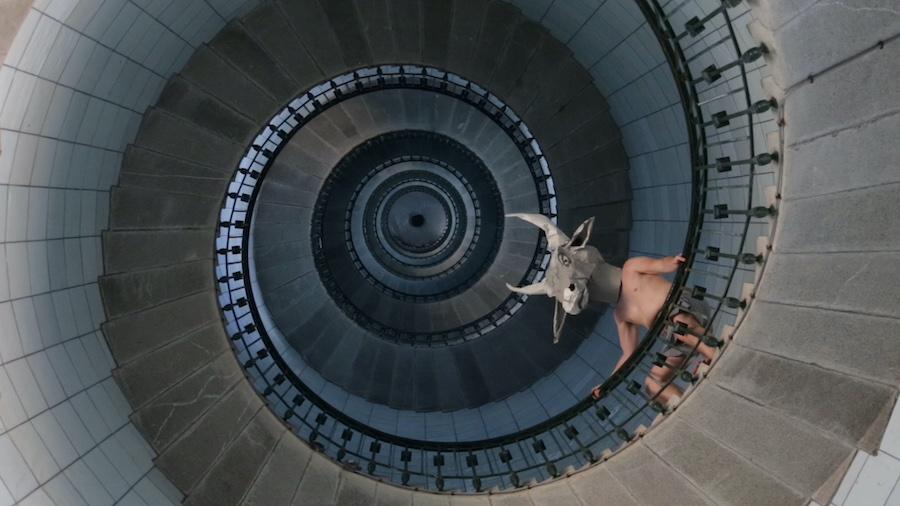 Madison Bycroft, ˈʤɒli ˈrəʊʤər ænd frɛndz (Jolly Roger and Friends) 2019, Single channel digital video. Image courtesy the artist.
7. Madison Bycroft
Selected by: Gillian Brown – Curator, Samstag Museum of Art (SA)
Why: Early career artist Madison Bycroft, working between Marseille and Adelaide, has been steadily developing a confounding and compelling practice; fantastical, fully realised experiences of sculpture, film and performance.
Expanding the act of translation to consider interpretation and representation, Bycroft's practice in its essence is one concerned with empathy – how can we convey the plurality of existences in a system fixated on definition? Dense with references to the mythological, the philosophical and the late 1990s, this is art that is unafraid of funny and its politics are all the more powerful for it.
Having recently exhibited in Europe (significantly in the Future Generation Art Prize, a collateral event to the 58th Venice Biennale, and at the Palais de Tokyo), Bycroft's recent inclusion in Feedback Loops at ACCA was a chance to commune with a singular imagination. I'm waiting for what comes next with anticipation.
Instagram: @madisonbycroft
8. Sancintya Mohini Simpson
Selected by: Liz Nowell – Director, Institute of Modern Art (QLD)
Why: Sancintya Mohini Simpson is an artist I have been watching closely since first encountering her work at Blak Dot Gallery in mid 2018. Her poetic and intimate practice, which incorporates video, installation, painting and performance, speaks to incredibly pertinent issues, including colonisation, labour, memory and migration.
Her solo show at the IMA Belltower in February of this year is really going to demonstrate her talent, ambition and vision, and I'm looking forward to following her trajectory.
Instagram: @sancintya