While in many ways Ted Snell could be considered Western Australia's greatest Ambassador for the Visual Arts, his impact has been felt nationally this week, with the surprise announcement of his death. In recent days, some have even called for him to be honoured with state funeral.
As Perth Institute of Contemporary Art (PICA) described on social media this week: 'Ted Snell was a force for the West. A leader, a curator, a writer, educator and artist – he was tireless in his ambition for the arts in Western Australia and beyond.'
The tribute continued: 'Ted was a connector; he liked introducing people with shared interests and attitudes towards making things happen in Perth. He was also a great advocate and supporter of artists, across generations. Ted's legacy is an important one and his passing is dearly felt.'
For those who didn't know Snell, he was simply luminous in his joy for his work and passion for art. Words like "kind", "warm" and "champion" flooded social media. I knew him to always be generous with his time, erudite as a thinker and advocate for the visual arts, and a man of great style and verve. It was simply a pleasure to be in his company.
'Australia has lost a wonderful mind this week,' posted Sculpture by the Sea, acknowledging his long contribution to the Cottesloe event.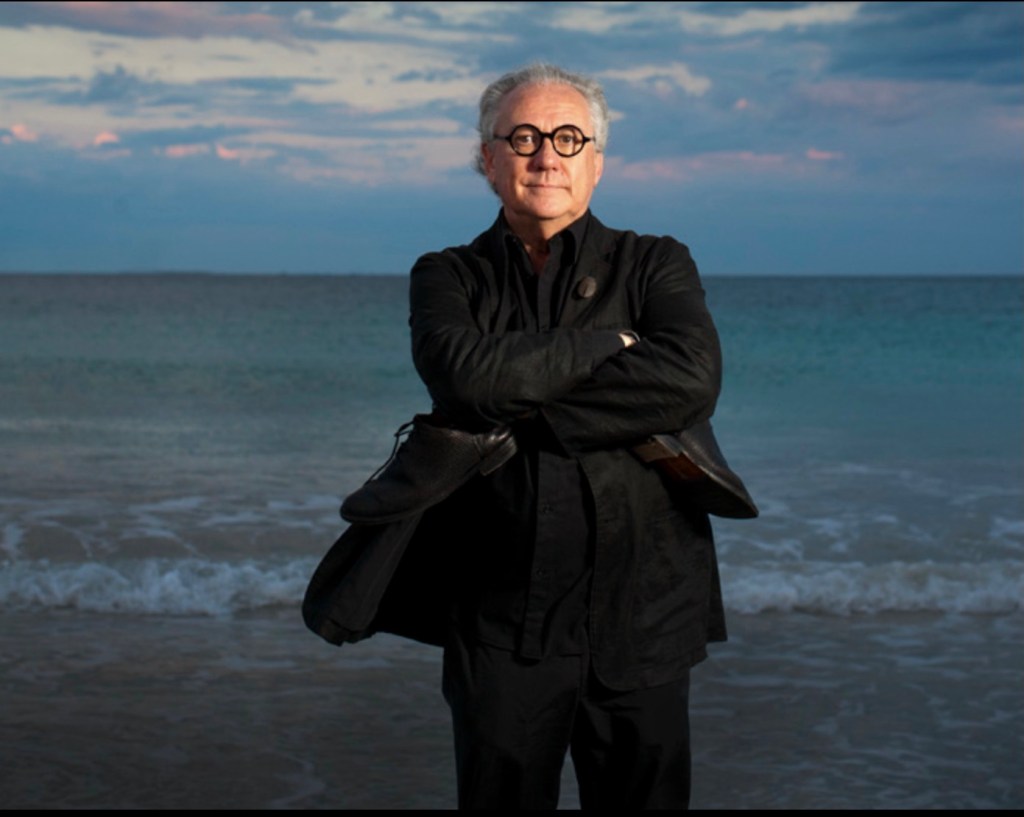 Who was Ted Snell?
Edgar William (Ted) Snell AM, CitWA (1949 – 2023) was born in Geraldton, Western Australia. While he went to England as a young man to complete an Associateship in Art Teaching, he always made WA his home.
His postgraduate study was undertaken in Birmingham (UK), which set him up to teach at WAIT (Western Australian Institute of Technology, now Curtin University) when he returned, eventually becoming Dean of Art at the school. It was at Curtin, also, that he was conferred his Doctor of Philosophy, Visual and Performing Arts.
Snell was one of those people who could elegantly – and eloquently – sashay between the worlds of academia and artists, an avid curator with a keen eye for pulling together exhibitions. That connection with people is perhaps best illustrated in his passion to give visibility to Perth outsider artist Ross Seaton, known by locals as "The Walking Man" for his wheelbarrow journey up and down Stirling Highway. Snell told ABC Radio in an interview: 'He was so interested in the world and making sense of things around him.'
I fondly remember sitting with Snell, as he told me the story of Seaton's brilliance as an artist and the plan to exhibit his work. It is this passion to share that many of his past students have honoured in social media tributes this week. 'A man who made our uni life better. Genuine and interested in you. Listened. Cared. And just a lovely person,' wrote artist Sharon Peterkin on PICA's Instagram post.
It was a sentiment echoed by fellow student Carla Adams, 'Ted was such a champion. He was a cheerful and classy character – inspiring, intelligent, passionate, insightful and down to earth. He's a local legend who taught us so much, opened our eyes, minds and hearts,' and Tim Jones, who said: 'The most inspiring art history lecturer I've ever heard, the best insights and enthusiasm.'
It surprised few, then, when in 2009 Snell was appointed Winthrop Professor and Director of the Cultural Precinct at the University of Western Australia, a position he held for many years alongside his role as Director, Lawrence Wilson Art Gallery (LWAG) at the University of Western Australia (UWA).
The Gallery posted this week: 'Ted's profound influence on the arts industry in Western Australia and across the nation has left an enduring legacy… He championed the Here & Now series of exhibitions, which profiled local arts practice and emerging curators, he published and spoke on art prolifically, and presented an annual series of symposia, which considered the national context for Western Australian art. His unwavering commitment to advocating for emerging local artists, his dedication to scholarly research and arts journalism, and his significant contribution to various publications have all contributed to a lasting impact on arts and culture throughout the nation.
'His legacy will continue to resonate, inspiring future generations,' UWA added.
In Australia there are few positions that compare with the one Snell held as Cultural Precinct Director at UWA, offering a kind of cross arts helicopter perspective, while acting as the binding glue for all things to champion arts and education in the West, ensuring that emerging artists were celebrated equally. It also managed the Berndt Museum, the Cruthers Collection of Women's Art and the University of WA Art Collection alongside LWAG.
Unfortunately, the UWA Cultural Precinct was disbanded in January 2021, due to 'its grim financial situation,' announced Snell on the occasion of his retirement in December 2020. He also announced that the University had decided to 'dispense with a director of the gallery'.
As he reflected to Artist's Chronicle at the time: 'We have, I believe, worked really hard to represent Western Australian artists, and create different exhibitions, which wouldn't be held in other places. University galleries make an incredibly important contribution to the life of a community, and the University of WA has been a hub for cultural activities since it was established over 100 years ago. That does now seem to be at risk, which is distressing, and should be to the wider community.'
Stepping away from UWA, Snell was give the post of Honorary Professor at Edith Cowan University in December 2020, and moved to work in a freelance capacity as a writer and curator up until his death.
Over the years, Snell published several books, including monographs on Pippin Drysdale, Howard Taylor and Salvatore Zofrea, as well as writing Nikulinsky Naturally: an Artist's Life. He was also the Perth art reviewer for The Australian, as well as a regular contributor to local and national journals, including ArtsHub.
Read Snell's ArtsHub piece: The illuminating 'Dark Side' of mental health, as artists see it (2021)
While many will remember Snell for his wisdom and inspiration as a teacher, writer and curator, what few may know is that he was also a painter and printmaker, and had practised since 1968. His artworks are held within the collections of the National Gallery of Australia, the Art Gallery of Western Australia and Artbank.
Shaping a national landscape
Over the past three decades, Snell contributed greatly in his roles on several boards, including as Chair of the Visual Arts Board of the Australia Council, Chair of the Australian Council of University Art and Design Schools, Chair of Artbank, Chair of the Asialink Visual Arts Advisory Committee and as a Board member of the National Association for the Visual Arts (NAVA).
Current Chair, University Art Museums Australia (UAMA) and Director, Griffith University Art Museum, Angela Goddard, told ArtsHub: 'Ted was pivotal to the conception and formation of UAMA – he worked tirelessly on benchmarking, writing and agitating for the community of university art museums in Australia, highlighting their significant contributions to our intellectual and cultural life.'
Snell was also Chair of the Fremantle Biennale and on the Boards of the UQ Art Museum, ANAT (Australian Network for Art and Technology) and Balcatta Independent Public School.
In 2008, he was conferred AM (Order of Australia) for his contribution to the arts and education.
Snell kept his private live just that – private – despite his high profile. Few knew that he had been ill, and his death came as a shock. It is understood that he died on Tuesday 26 September surrounded by his family.