ArtsHub recognises the language groups of the Ever Present artists and curators at the end of this story.
Centred on a white television screen, one face morphs into another, then another … and another. Each looks out directly to the viewer. Do we see our likeness in them? Who are they, and what place do they have in Aotearoa/New Zealand?
Visitors are encountering Raymond Zada's single-channel video At Face Value (2013), which is both the starting and end points of the exhibition Ever Present: First Peoples Art of Australia. The exhibition formally opened this past weekend at Toi o Tāmaki Auckland Art Gallery, and has been drawn from the Wesfarmers Collection of Australian Art and the National Gallery of Australia (NGA)'s holdings.
Zada offers Tāngata Whenua and Pākehā audiences a moment to connect with the First Peoples of Australia. It is a statement of proud identity and self-determination, a current that runs across this exhibition. It is also a reminder that, before the 1967 Referendum, First Nations Australians were categorised as part of the Flora and Fauna Act, denied the status of human beings. It's a wild concept for Māori, considering they have been acknowledged through Treaty since 1840 – indeed 50 years before the earliest artwork in this exhibition.
It is a timely message upfront, as Australians face another Referendum this year, to change the Constitution to recognise the Voice of our First Peoples in Parliament. 'We're certainly dismayed – kind of shocked – that the occupation is indeed still on unceded land. That's a concept difficult to fathom, from Aotearoa, where there's language and culture all around,' Nathan Pōhio, Senior Curator Māori Art at Toi o Tāmaki, tells ArtsHub of the learnings shared through this exhibition.
Curator of this NGA touring exhibition, Tina Baum continues: 'For me, it was important to start with resistance, to show that there was that fight from the very beginning, and not to start from a deficit. Yes, there was colonisation, but there was always resistance – art is a form of resistance.'
The tour started at the Art Gallery of Western Australia (AGWA) with a smaller version, then toured to Singapore, another nation that weathers colonial legacies. Indeed, it was presented in the former Supreme Court, now the National Gallery of Singapore. Where this exhibition becomes truly interesting, is in the subtle shifts and nuances with its re-presentation for a New Zealand audience.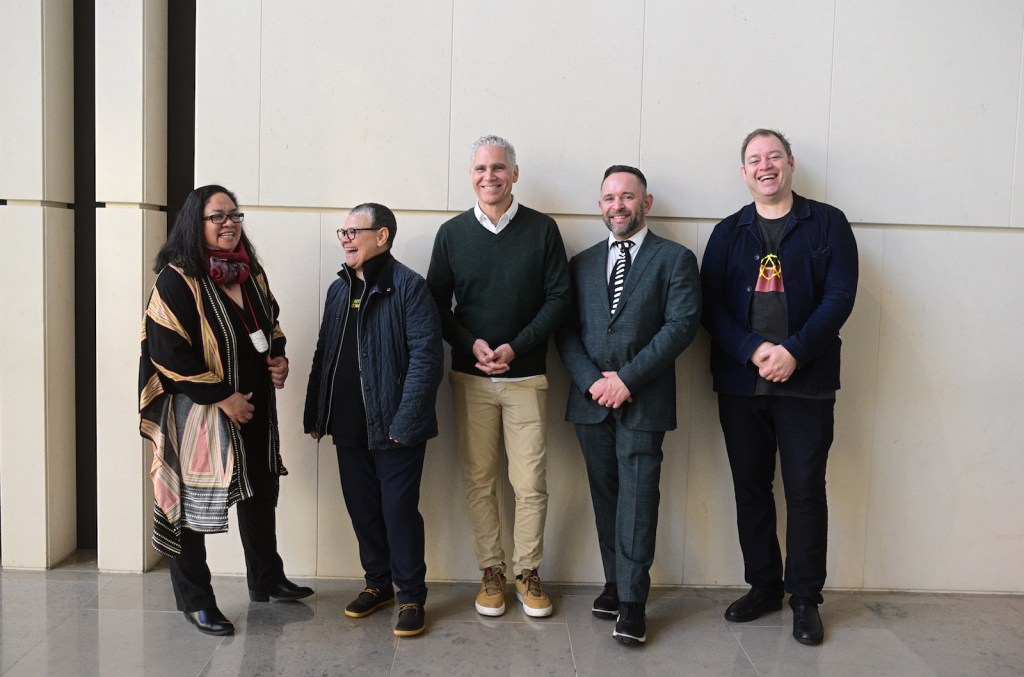 Why Ever Present connects with Māori
It is worth mentioning that the Ever Present exhibition is the third major First Peoples survey at the Gallery, and follows the 2020 exhibition Toi Tū Toi Ora: Contemporary Māori Art, which recorded a significant increase in Māori visitation for its whole-of-gallery takeover.
In the short three weeks that Ever Present has been open, 21,000 people have been through the exhibition. That visitation reiterates a growing public interest – and to some level demand – for First Peoples-led programming on both sides of the ditch.
During a panel talk over the Ever Present opening weekend programs, Clothilde Bullen, Head of Indigenous Programs at AGWA, explained: 'The "why" is really important, because what we're trying to get people to understand is that we have a shared humanity across all First Nations people, but also across all people.'
Bullen continued that while First Nations people act as global ambassadors for Australia, and this exhibition is a case in point, 'Australia is a hugely racist country'. How then, do exhibitions like Ever Present remain genuine within that gallery vernacular of blockbuster hits, but also advance tolerance and understanding?
Baum says: 'It takes many generations to get a deeper understanding of Aboriginal and Torres Strait Islander art and culture, but it only takes a moment to appreciate it. Because when you see these works, they are absolutely beautiful. I hope this exhibition challenges the idea of what Australian history is,' adding that the audience will 'learn as they go'.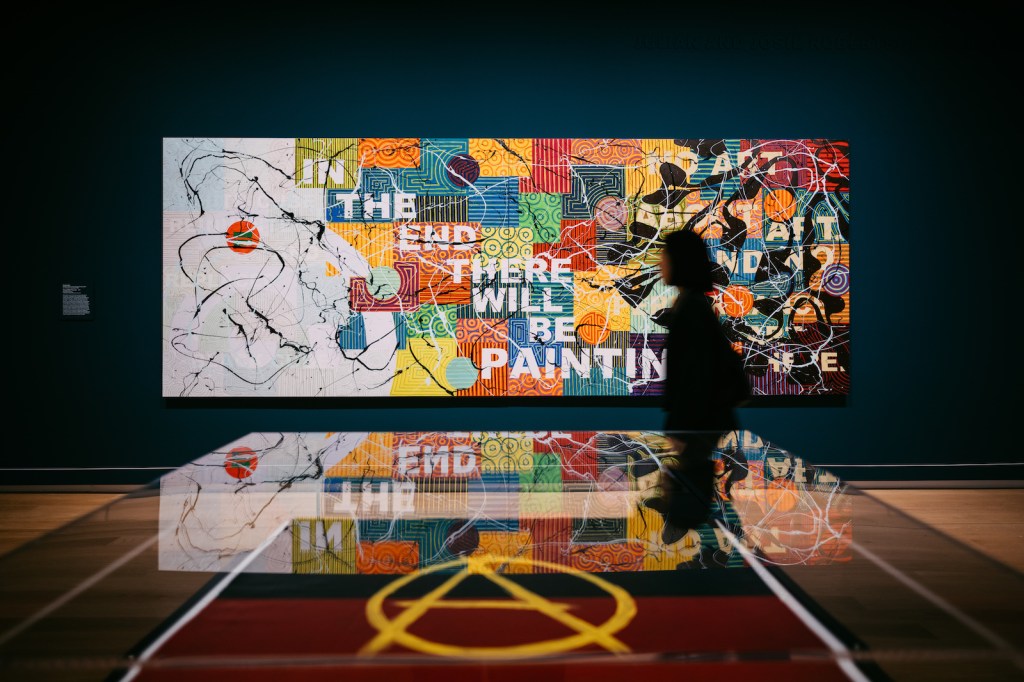 What's in the show?
The primary thread running across this exhibition's six themes is the cultural premise that First Peoples Ancestors (tūpuna for Māori) are always with them. This doesn't adhere to Western notions of chronology, but rather collapses time. A great example is that entry point, where Zada's video leads to two Wandjina paintings by Alec Mingelmanganu (1980), images that have appeared in Kimberley rock art since time immemorial. They sit opposite a small sweep of Papunya men's paintings from the early 1970s – a highlight of which is a surprisingly large painting from the Wesfarmers Collection, Untitled (Kalipinya) (1972) by Long Jack Phillipus Tjakamarra.
These works are anchored by a Dorothy Napangardi painting on the end wall – Baum admitting that she deliberately placed a major work by a female artist in that first gallery. These kinds of push and pulls, and subtle rewritings, are peppered across this exhibition, with many of the hero moments handed over to women artists.
This is picked up in the next gallery, juxtaposing a whopping-scaled painting by a group of Warlpiri artists, Yanjilypiri Jukurrpa (Star Dreaming), 1985, with a shimmering, seemingly three-dimensional painting displayed flat on a knee-high plinth by Doreen Reid Nakamarra. While we may be blasé regarding such exhibition design in Australia, in this context it offers a fresh gateway to understanding.
Pōhio offers his view, as Māori: 'You're actually taken on the perspective that the artist is thinking about when creating the painting, that is looking down on Country… We've learned a lot about one another, I think, through this exhibition.'
Notably, of the 161 artists shown, 81 are women. Some of those hero moments are offered by Emily Kame Kngwarreye's five-metre painting Yam Awelye (1995), Yvonne Koolmatrie's woven pieces and early career-defining works by Fiona Foley, Destiny Deacon, r e a and Karla Dickens.
The gallery spaces start small, each with just a handful of works that invite an intimacy and engagement, spiralling to a central heart where the exhibition begins to open up. This central zone is interesting as it acts as a kind of axis point, both physically and metaphorically, speaking to the impacts of trade and innovation (not lost on some, given the exhibition itself is a packaged export).
This could almost be described as the tipping point for the exhibition, moving into the more political or activist tail of the show. In many ways it is dominated – both visually and aurally – by Vernon Ah Kee's multi-channel video, tall man (2010), which exposes Aboriginal deaths in custody.
Pōhio says of this work's impact on local audiences: 'It's been confronting and challenging for a lot of our visitors. They just want to get clarity … there's a lot of learning going on.'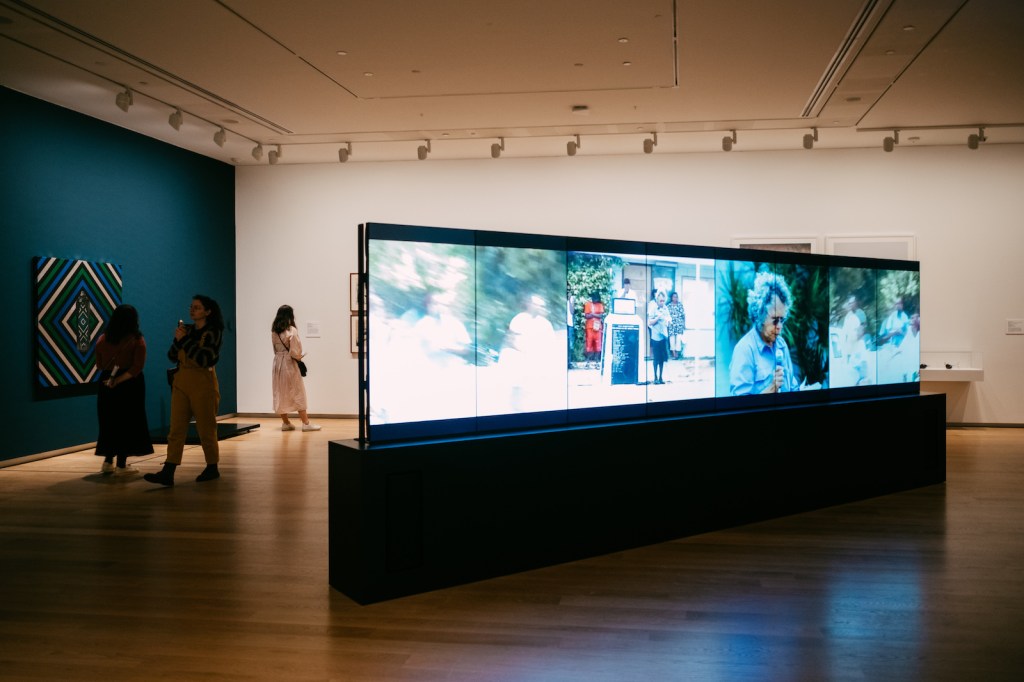 The circularity of connection
For this writer, however, it is not the slam dunk that such politically-charged works offer, but the threads of connection, which Baum describes as a circularity. For example, within sight of the oldest work in the exhibition, an 1890 drawing by Tommy McRae capturing the encroachment of colonialism (which is a contemporary expression of modern coexistence if ever there was one!), is a museum case holding maireener shell necklaces from 2020 by Lola Greeno, alongside those made by Ancestors from c. 1920, 100 years earlier.
They are instructive not just for that sense of evenwhere (all time) that Baum talks to, but also the impact of climate change as an end result of colonialism, picked up again later in the exhibition by Jonathan Jones. Similarly, Robert Fielding's cast bronze replicas of food vessels, Piti, Munu, Wana (2020) – their physical weight echoing their cultural weight – offer a through line to Danie Mellor's found object shields, which march along the wall in a tone of resilience and protest.
Another is Prince of Wales' abstract painting Body Marks (2018) connecting with Damien Shen's photograph Ventral aspect of two males (2014), which takes its cue from ethnographic documentation to consider the maintenance and relearning of culture.
'This idea of legacy-making, of handing down knowledge through whakapapa, and to maintain the integrity of one's culture, is again a fine example of self-determination in contemporary art-making by First Peoples of Australia,' Pōhio says. These ideas build across the exhibition, so that visitors start to perhaps recognise these moments as they progress on their own journey.
The flip side of preserving culture and continuity, however, is truth telling, and the exhibition does this in doses with major works by Yhonnie Scarce, Tony Albert, Richard Bell and Judy Watson – each revealing truth around cultural injustice.
There is a genuine sense of trying to arrest a slippage of culture lost in Ever Present, and especially with works like Shen's, Kunmanara (Ray) Ken's ongoing project to hand down kulata (spear) carving and Christian Thompson's three-channel video Berceuse (2017), which gives life to his mother's "extinct" language. Notably, at the opening of the exhibition, the entire gathering sang in language, in celebration – Tāngata Whenua alongside Pākehā. This is where we have a lot to learn about cultural exchange.
Thompson's belief is if he speaks those words – sings them – it's a living language, and so his video is a self-determined act of preservation. His video offers a connection shared with Māori – emphasising the important role that language plays in the identification of self culturally. For this writer, it is especially interesting as the last work that viewers encounter, and consider, before leaving the exhibition, and are again faced with Zada's work of many faces, one identity.
Reflecting on the exhibition she has curated, Baum says that 50 years ago, 'There's no way shows like this would have been done.' That shift has come about, 'because First Nations artists have been in these spaces pushing, and pushing through their work, to create a groundswell of support and engagement'.
She continues: 'And it's because of the vision of First Nations curators saying, "No, no, no, we need to do it this way, not Western ways," that we're getting there.' Alongside the exhibition's opening program, early career Māori and Aboriginal curators came together – a number of them being alumni of Wesfarmers' Indigenous Arts Leadership Program.
Baum says: 'We are looking towards giving that space over to the next generation of curators. It's getting really, really exciting.'
Read: Exhibition review: Connection, THE LUME
The energy around this exhibition, and the conversations it is raising, is electric. While on the surface it may be read as a snapshot – an all-inclusive roll-out of hits – I'd prefer to think of it as a kind of gratin stack of many layers, each delicately building on the next. Together their sum is something wonderful – keeping you hungry for more.
Ever Present: First Peoples Art of Australia is showing at Auckland Art Gallery Toi o Tāmaki until 29 October 2023. It is a National Gallery of Australia touring exhibition, in collaboration with Wesfarmers Collection of Art.
Ever Present is the 10th National Gallery Touring Exhibition to travel to Aotearoa since 1993.
Language groups of artists:
Vernon Ah Kee (Kuku Yalanji/Waanyi/Gugu Yiruirthirr/Koko Berrin)
Tony Albert (Girramay/Yidinji/Kuku Yalanji)
Tina Baum (Gulumirrgin [Larrakia]/Wardaman/Karajarri)
Clothilde Bullen (Wardandi [Nyoongar] and Badimaya [Yamatji])
Karla Dickens (Wiradjuri)
Destiny Deacon (G'ua G'ua/Erub/Mer)
Robert Fielding(Western Arranda/Yankunytjatjara/Pitjantjatjara)
Fiona Foley (Badtjala)
Lola Greeno (Pakana)
Kunmanara (Ray) Ken (Pitjantjatjara/Yankunytjatjara)
Emily Kam Kngwarrey (Anmatyerre)
Tommy McRae (Kwatkwat)
Danie Mellor (Ngadjon/Mamo)
Alec Mingelmanganu (Wunambal)
Doreen Reid Nakamarra
Dorothy Napangardi (Pintupi/Walpiri)
Nathan Pōhio (Waitaha, Kāti Mamoe, Kāi Tahu, Ngāti Kahungunu, Kāti Pakeha)
Prince of Wales (Larrakia)
Yhonnie Scarce (Kokatha/Nukunu/Mirning)
Damien Shen (Ngarrindjeri)
Christian Thompson (Bidjara)
Long Jack Phillipus Tjakamarra (Luritja/Warlpiri)
Judy Watson (Waanyi)
Warlpiri artists Paddy Jupurrurla Nelson, Paddy Japaljarri Sims, Kwentwentjay Jungurrayi Spencer,
Raymond Zada (Barkindji)
The writer travelled to Aotearoa as a guest of the National Gallery of Australia.
This article has been amended after publication to acknowledge that Dorothy Napangardi was part of both the Pintupi and Walpiri language groups.