It's not often that you come across an exhibition that has taken its cue from the creation of a publication – usually, it's the other way around. But Photography: Real and Imagined, currently showing at The Ian Potter Centre: NGV Australia, is rooted in the exercise of taking a new look at the NGV Photography collection with a major publication. It is coincidently apt, considering the important role photography has played in print and how it has altered the way information is communicated and consumed.
Founded in 1967 (a year prior to the opening of NGV International), the NGV Photography collection spans the 19th to 21st centuries and now holds more than 13,000 works. Photography: Real and Imagined captures 259 pieces of this significant collection, presented through 21 thematic sections in the exhibition and publication. 'Light', 'Death', 'Consumption', 'Conflict', 'Place' and 'Environment' are just some of the topics encapsulated by the show.
NGV Senior Curator of Photography Susan van Wyk has worked on the NGV Photography collection for nearly 35 years. She tells ArtsHub that when putting together the exhibition, she thought about 'the works that you couldn't put on a show or write a book about the collection without including them'. These include Amelia Falling (2014) by Hank Willis Thomas, Man Ray's Kiki with an African mask (1926) and Mervyn Bishop's Prime Minister Gough Whitlam pours soil into the hand of Traditional Owner [Gurindji] Vincent Lingiari, Northern Territory (Wattie Creek) in 1975.
Van Wyk continues: 'We looked at the themes that emerged from these works in the collection and then it was a matter of refining and homing in, thinking about what images might be placed side by side and how do they inform each other?
'One of the key things with the project was not to try and present a history of photography, because it's not that. Though it's informed by history, from 1844 to the present (1844 is the date of the earliest work we have).'
In terms of the geographical spread, around a third of the works are by Australian artists, and the rest international. How the Photography collection has grown also indicates the NGV's commitment towards diversity, adds van Wyk. 'Historically, the collection [of international works] was really dominated by European and US artists, but over the last 20 or 30 years that commitment to a much broader reach has been held to underpin changes in the collection. That's where we start to see works by artists from Africa, works by contemporary Chinese photographers… If we're positioning ourselves as having an international collection, then it can't just be Eurocentric.
'Another really important shift is in the last five or six years – that movement to include more women in the collection. If you look at it before 1970, photography was really dominated by men. These shifts are really changing the profile of our collection, with a very clear recognition that we have failed to do so historically. In overlooking the work, the artists and the histories of photography in those places, it's an omission, and we lose by omitting that.'
The exhibition also marks shifts in the development of photography, from analogue to digital, from documentary and journalistic photography to the commercial and artistic. But, simultaneously, it considers the messiness of these distinctions, where often artists and photographers are working in the grey zones and challenging what it can be. What has definitely changed, however, is the perception that photography is only the means to an end.
In van Wyk's view, our familiarity with photography is not detrimental to its appreciation, but actually allows many to understand the intricacies of a good, thought-provoking photograph. One example is Dorothea Lange's Towards Los Angeles, California (1937). It may be considered simplistic, with two men walking on the road with a billboard off in the distance, but the image embodies strong cinematic qualities and speaks to the background of the Depression era.
The exhibition aims to highlight how in the realm of photography, "real" and "imagined" are not binary oppositions. They can simultaneously exist in the same threshold, underscoring the ability of the medium to create and alter perceptions. An example is Rosemary Laing's welcome to Australia (2004), an image of the Woomera Immigration Detention and Processing Centre in South Australia. 'It could have been a photograph of an architectural study that gave us nothing about the human experience of such a place, but that's not what it is because of the way Laing photographed it – we're under no doubt about what a harsh and terrible environment this is, and what a terrible moment in our history it represents,' says van Wyk.
Looking into the future, she acknowledges that there will be many more changes in photography. 'Right from the beginning, photography has never been clear cut. Now there is another huge shift as we're in the early years of AI-generated imagery.
'I don't know where that leads, but it does bring me back to the 19th century comment when [French painter Paul Delaroche] announced, "From today, painting is dead!" We all know that's not true now and I'm assuming AI is not what will end photography – artists will always choose the medium that they want to make an image.'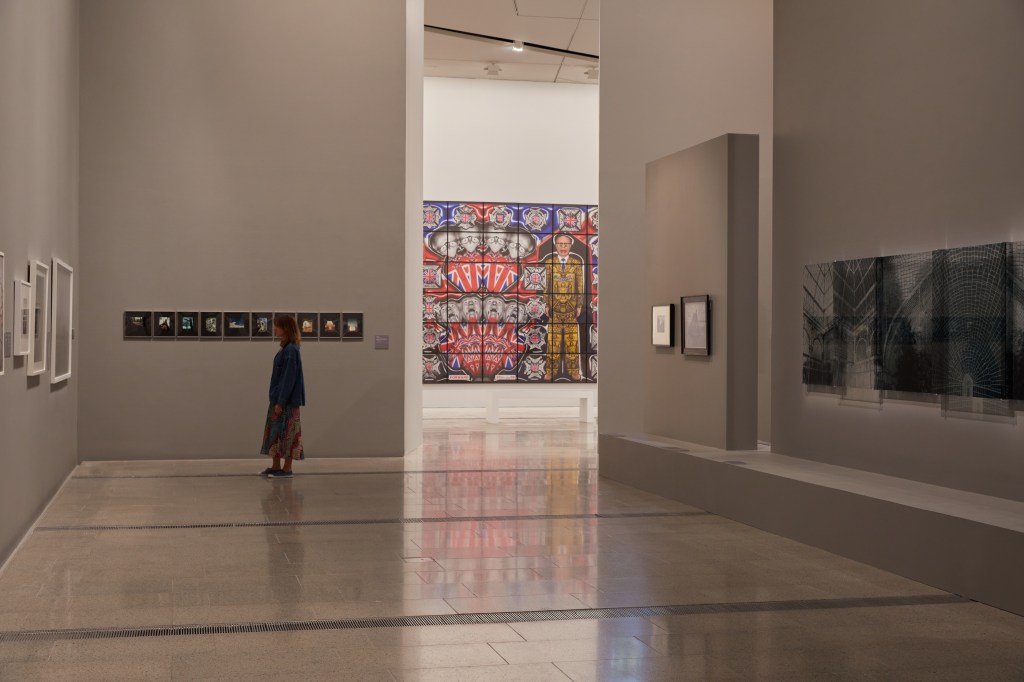 While there is no right way to experience the show, the interlinking galleries are bookended by the themes, 'Light', 'Conflict' and 'Death'. 'Light' presents interesting similarities and juxtapositions between the works of Hiroshi Sugimoto, David Thomas, David Noonan and Katrin Koenning. Each photo depicts a white rectangular plane in some manner, with starkly different settings and concepts. While in 'Conflict' and 'Death', Thomas' Amelia Falling can stop viewers dead in their tracks with its mirrored surface and transportive qualities, and Patrick Pound's People who look dead but (probably) aren't (2011-14) is an installation filled with dark humour by an artist who doesn't create, but collects (mostly via eBay) photographic images.
A special place in the exhibition has been carved out for a series of rare, one of a kind 19th century photographs. 'These are some of the earliest photographs where there aren't multiples,' van Wyk explains.
Read: First Nations display renews in vision and scope
In many ways, photography is an inherently multidisciplinary and manifold medium. There is the visual aspect, but it also incorporates the sciences, technology, performance, humanities and more. When you look at a photograph, there is always more than one person looking – the viewer, the photographer and the subject(s).
When viewers go through Photography: Real and Imagined, they are not looking at the works of Man Ray, Tracey Emin, Wolfgang Tillmans, Olive Cotton, Polly Borland, Mervyn Bishop, Richard Mosse, Sarah Waiswa, Destiny Deacon and Tyler Mitchell – just to name a few – they are looking with them. This is perhaps one of the reasons why photography can be so powerful.
Photography: Real and Imagined is on view until 28 January 2024 at The Ian Potter Centre: NGV Australia; free.