The World of WearableArt (WOW for short) is the brainchild of sculptor Dame Suzie Moncrieff. In 1987, she conceived the idea of WOW when she challenged designers to 'take art off the wall and adorn the body' instead. The inaugural WOW show had its humble beginnings in Nelson, Aotearoa New Zealand where it captivated an audience of 200 visitors with its visionary display.
In 2005 and due to its creative and commercial growth, WOW relocated from its rural setting in Nelson to the TSB Arena in Wellington. This move resulted in a surge of 60% in the audience size, reaching 28,000 attendees.
Over the ensuing years, WOW's highlights have included Moncrieff receiving her damehood for her service to the arts, a national exhibition that toured to six cities in Aotearoa, an international exhibition that toured Australia, parts of the US and Russia, and an exhibition at Te Papa Tongarewa, Museum of New Zealand in Wellington.
In 2022, 35 years after its inaugural show, over 63,000 attendees experienced the mesmerising magic of WOW across its three-week show season.
How WOW works
Each year there are six section themes or "worlds" for designers to be inspired by if they wish to enter the WOW competition. This includes three recurring sections: Aotearoa, Avant-Garde and Open, plus three additional themes unique to each annual competition.
Each year the WOW Awards offers over NZ$185,000 (AU$173,800) in total prizes. Thirty-three awards, including the coveted Supreme WOW Award, are given to the finalist designers at the WOW Awards Ceremony. There are also residency and internship opportunities for the winner of the Weta Workshop Emerging Designer Award, which allow quality opportunities for professional development and high-profile exposure. There are 12 awards in total, each offering substantial prize money and opportunities for further development.
The most prestigious award of all is the Supreme WOW Award for the entry that the judges consider to be the most exceptional overall. The winner receives NZ$30,000 (AU$28,180), while the second prize is worth NZ$15,000 (AU$14,090).
The competition is open to anyone over the age of 18 and attracts entries from all over the world. Designers from the areas of fashion, industrial design, architecture, art and many more, including experienced designers, first-time entrants and students, are encouraged to apply. Anything that is considered to be wearable art is acceptable, provided that it is innovative, original and well-executed.
The judging panel comprises WOW Founder and Resident Judge, Moncrieff, with several guest judges spanning the worlds of art and fashion invited to join the panel each year. Three closed rounds of judging decide the finalist garments. The competition has clear guidelines for all entries, including criteria for judging, creating and freighting of garments.
A first-timer's experience of 2023 World of WearableArt: BEYOND
This writer has been an admirer of WOW for several years and watched from afar (Meanjin/Brisbane) as the show continued to grow in size and spectacle. So a decision was made to appease curiosity and attend this year's show in person. From the moment of reaching Wellington, signs for WOW welcomed visitors from far and wide. All along the wall leading from the aircraft and located at strategic locations within the airport terminal, designs from prior years' shows were on display. The waterfront boasted a huge sculpture emblazoned in red with the letters "WOW". Cafés, restaurants and shopping outlets were all participants in the hype of WOW, offering incentives to commemorate this special annual event.
On the night of the show, Wellington lived up to its name – the wind was bitingly cold, but this did not deter the enthusiastic crowd, which dressed to impress and descended on the venue in droves. The merchandise shop was overflowing with visitors, while designs from the previous year's winners were on display inside large, protective, clear cabinets.
Roving performers dressed in Elizabethan era-inspired designs (one of the themes for WOW 2022) mingled with the crowd, eager to accommodate the numerous requests to be photographed and offering a sweet curtsy in return. Once inside the TSB Arena, there were even more costumes from earlier shows on display.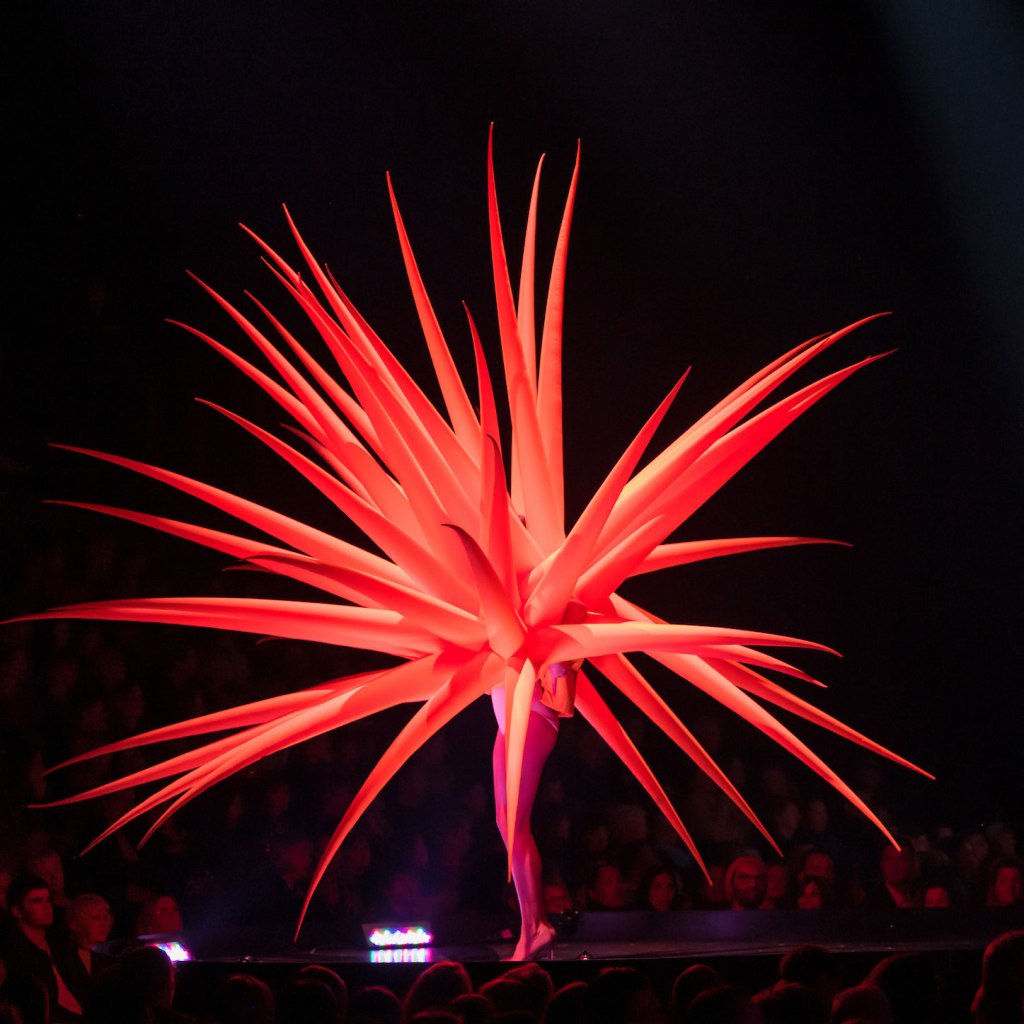 Situated right beside the T-shaped stage, ArtsHub had an uninterrupted view of the show. Even before the official start, the audience was treated to several designs paraded across the stage, two of which stood out – Quantum conceived by designer Annabelle Widmann from Spain and Sea Urchin Explosion, designed by Jack Irving from the UK. Both of these jaw-dropping designs received loud applause and were befitting precursors for what was about to follow.
It felt surreal to be in the audience seat as an electronic-sounding voice introduced this year's concept. Digital images and writing were displayed on an enormous screen, which doubled as a grand entrance for each innovative section.
This year's section themes were Aotearoa, Mars and Beyond, Avant-Garde, Open, Gold and Bizarre Bras. Each section was headlined by a renowned performer – Hawaii/Aotearoa Indie R&B artist Deva Mahal and her sister, folk R&B artist Zoe Moon; Aotearoa choreographer and dancer Taiaroa Royal; Wellington-based actor, singer and performing artist Jaxson Cook; and Melbourne-based Aotearoa DJ, AROHA (Aroha Harawira). These accomplished feature performers took centre stage throughout the presentation of the six WOW 2023 sections and were accompanied by a cast of over 100 dancers, aerialists and costume models.
Read: Fashion – the quirky and unexpected
A highlight for this writer on the night was the Aotearoa section. Resplendent in a bold, red flowing robe, Taiaroa Royal made a magnificent entrance while standing on board a "floating" Māori canoe or waka that was attached to a movable aerial apparatus. The waka bore an array of traditional, intricate motifs. Red and black paint completed the outstanding design. Royal was joined on stage by an ensemble of dancers similarly clad and wearing body stockings that reflected the art of the traditional Māori tattoo or tā moko. The choreography was outstanding and representative of the haka, complete with rhythmic body slapping, stomping of the feet and the much recognised protrusion of the tongue.
Another favourite, judging by the thunderous applause, was the Bizarre Bra section. What fun the designers had responding to this theme, offering all manner of quirky and innovative ways to interpret a regular bra. Each costume model was adorned with a different interpretation with Groundbreaking being the winner. Eyes up Here and In Case of Emergency won second and third prizes respectively. Glittery, flowing bell bottoms and wigs completed the overall look. Cheeky grins and facial expressions were in abundance as the Bizarre Bra section wowed the audience with its light-hearted, sassy, titivating and creative approach to the regular bra.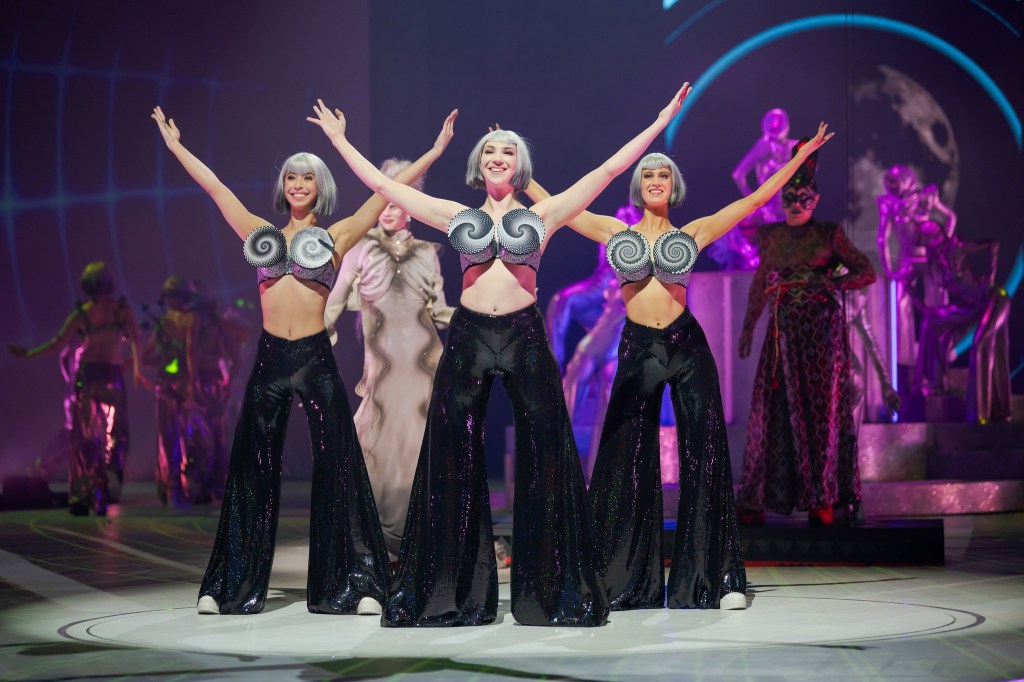 The acrobatic component of the show was nothing short of spectacular. Aerialists used different sized lyra or aerial hoops to execute complex moves while being suspended in mid-air. Their flexibility and contorted movements were utterly mind-blowing, while being choreographed to an evocative soundscape composed by Music Director, Eden Mulholland. The impressive and soaring vocals of each of the four headlining performers added to this sensory experience.
Praise, praise and more praise for the creative team behind the WOW show. Their input on direction, lighting, sound, make-up, costuming and the audiovisual content was beyond impressive.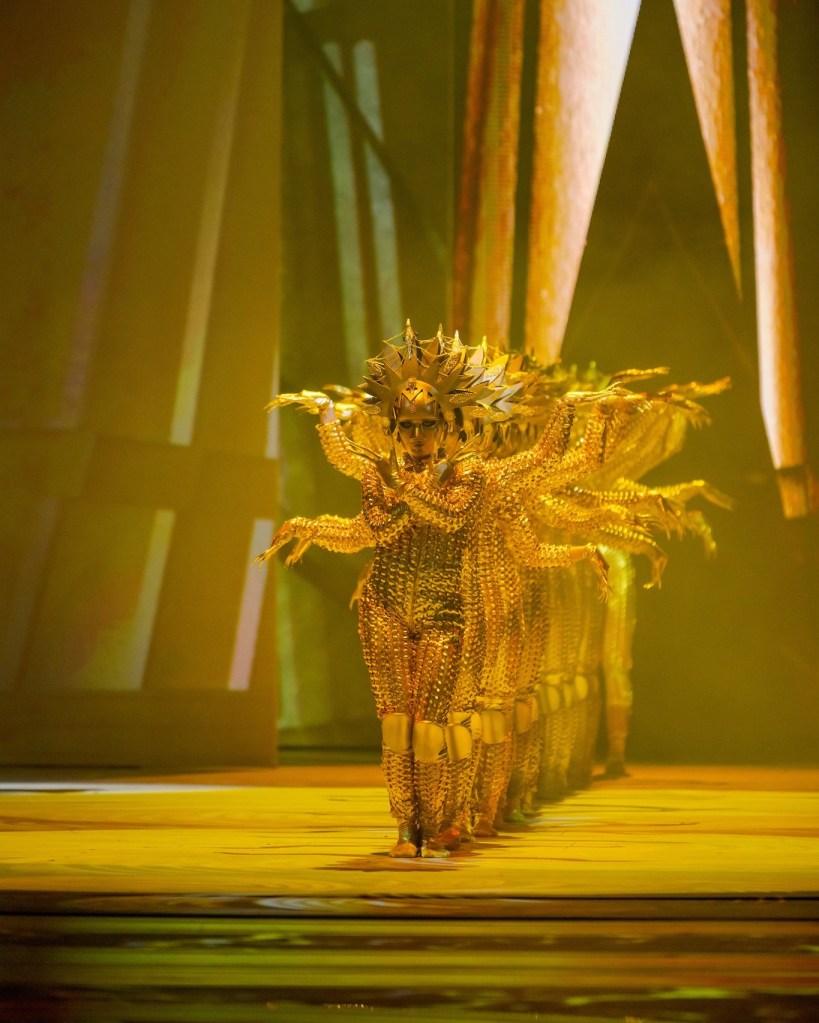 Let's not forget the mind-boggling costume creations for each section. As the costume models paraded these awe-inspiring garments that are no doubt the very spirit of WOW, their choreographed movements helped to elevate the designs to another level by imbuing each costume with a life of its own. Versatility and skill took pride of place onstage.
To adequately describe and pay homage to each section in its entirety would require much more than this feature, as the scale on which WOW is built is nothing short of astonishing, staggering, bewildering and overall awe-inspiring.
Entries for 2024 have already opened and next year WOW will yet again enthral. With the event's novel approach to adorning the body with innovative wearable art, audiences will see makers combine such materials as plastic, feathers, paper, wood, acrylic, wool… the list is endless, just like the imagination of these gifted garment creators.
This writer came for the show, and left with an experience BEYOND her wildest expectations.
WOW's creative team comprises:
Executive Creative Director: Brian Burke
Show Director: Malia Johnston
Composer/Music Director: Eden Mulholland
Production Designer: Robin Rawstorne
Audio-Visual Content Designers: Jean-Luc Gason and Patrick Neys of Drop the Spoon
Costume Designer: Gabrielle Stevenson
Lighting Designer: Trudy Dalgleish
Sound Designer: Bart Barkman
Aerial Choreographer and Apparatus Designer: Jenny Richie
Choreographers: Andrew Cesan and Kayla Paige
Music Producer: Paul McLaney
Character Hair and Make-up Artist: Hil Cook2023 World of WearableArt: BEYOND ran from 20 September to 8 October 2023 at TSB Arena, Wellington, New Zealand.
This article is published under the Amplify Collective, an initiative supported by The Walkley Foundation and made possible through funding from the Meta Australian News Fund.