In an upside-down year, three Australian creatives – each with a very different artistic practice – found themselves in a COVID-ravaged UK. While each arrived at different times and under different circumstances, they have all had to adapt to living and working in a new city during lockdown.
By re-imagining their artistic practices, whether opera, puppetry or writing and broadcasting, each is carving out a new creative space in the pandemic's shadow and demonstrating firsthand what adaptability, resilience and recovery can look like.
Caitlin Strongarm arrived in London from Shanghai in March 2020 on a six-month tourist visa. Thirteen months on, she's still here. This wasn't planned.
Strongarm has a socially engaged practice specialising in puppetry, interactive theatre and now, digital arts. She met her English partner in China while working for a children's theatre company. 
After locking down in Shanghai in early 2020 they retreated to the UK, planning a return to China within six months: they kept paying rent on their Shanghai flat and Strongarm developed a future show with a small network of London-based artists she knew. When all that fell through, she tried returning to Australia. On the two occasions Strongarm secured a seat, she was bumped off the flight – once she was turned away at the boarding gate. Adding insult to injury she had to fight with the airline for some months for refunds.
Luckily, she's obtained another visa that allows her to work in the UK, but her situation is still difficult because she's ineligible for any government support.
'When you're a freelancer and move to a new city it's hard enough, but when there are no events [because of COVID], building [new] networks and finding work is near impossible,' she said. 'I've been doing whatever work I can get – happy if anything's coming through the door. I even withdrew money from my super back home, when that became available. I was so worried about not having any money at all.'
Caitlin Strongarm is a performer, artist, and facilitator working with puppets, clowns, and community-led projects. Image supplied.
Strongarm signed up to every free seminar, conference or workshop she could find. 'Basically, I "worked" full time for months, meeting people and learning my way around different arts networks,' she explained. 
She also applied for every job she could, even after repeated knock backs. With so many UK artists unemployed because of the pandemic, literally hundreds of people are applying for every advertised position.
FROM MELBOURNE TO BELFAST
The situation was somewhat different for Cameron Menzies, the new Artistic Director of Northern Ireland Opera (NIO).
Previously based in Melbourne, Menzies arrived in Belfast in March 2021 with work secured but facing a city in lockdown and a company that could not stage its productions in the usual way. Nonetheless, his first few weeks in Northern Ireland were a whirlwind of activity.
'I arrived, did ten days of quarantine and the moment I got out we shot a film, then I did three days of auditions, and then I audited our warehouses,' Menzies explained.
He applied for the position at NIO during Melbourne's 112-day lockdown (June–August 2020). 'I honestly never thought I'd hear back,' he said candidly.
A director who works in opera, cabaret and theatre, festivals, and with large orchestras like the Melbourne Symphony Orchestra, or the London Philharmonic, Menzies is more than qualified to hold the position. He was supposed to arrive in Belfast in January 2021. That was pushed out because of the UK's own three-month lockdown (January–March 2021).
To leave Australia, Menzies needed government approval, but his first application was denied. 'My second application included all my original documents: my letter of offer, my contract and a pay slip, and additionally I provided a letter of recommendation from the Lord Lieutenant of Belfast [The Queen's representative in Belfast] and a reference from the NIO Chair,' he said.
ADAPTING NEW STRATEGIES
Even as Belfast's lockdown began to ease, Menzies faced significant challenges in his new role. 'It's difficult to lock in a year's programming at the moment. Venues, understandably, are concerned about committing to dates long term,' he said.
In terms of his artistic vision for the company, Menzies is looking at how to do things differently and asking some tough questions. 'Is that kind of year-long seasonal look at an arts program now outdated? Are we looking at it the wrong way? There's a lot to consider,' he said.
'Artistically NIO's mission is to provide the highest-quality opera to the widest possible audience. So we may have to look at smaller and more intimate or modular works that can be moved around. We are funded to do a large mainstage piece, so for us, being an opera company, it's going to be a combination of events.'
This is where projects like NIO's new opera film fit in. Menzies still hasn't settled on a title yet. 'It's a 45-minute piece that is solely based around Irish song from the Victorian era and features new arrangements we've done to pull it into the 21st century,' he explained. 'Ireland has such a long history of storytelling through song. That opened me up to looking at song cycles. All the melodies are intact, but we've worked on arrangements and ways of making them more contemporary. Still classical and still operatic, but not huge productions. This could be a really nice way to move into smaller productions,' he said.
'I arrived, did ten days of quarantine and the moment I got out we shot a film, then I did three days of auditions.'
– Cameron Menzies
'We shot it in an old church in Belfast, a beautiful old relic at the Carlisle Circus, and created an amazing lost world [for the film]. We employed artists, dancers, singers, choreographers, designers, lighting technicians and two camera crews. For me, it's already a success. Before COVID I wouldn't necessarily think this way … but right now, the film's outcome is almost irrelevant. Obviously, everyone strives for excellence, but I'm proud we were able to employ an ensemble of artists who've virtually had no work for 12 months,' he said.
Initially NIO were thinking about online distribution, but as the concept grew, the company started talking to broadcasters and arts channels.
'It was never designed to be on a stage, it was filmed as a film; it's cinematic, which is different for us. Projects like that will probably become part of opera companies or live performance companies' [repertoire]. We've also discovered that a number of people who don't or can't come to theatres are watching our online content. So these types of works could become a larger part of what we do,' Menzies explained.
Strongarm also sees her 'digital pivot' making up a larger part of her future practice. She's even embraced Zoom for workshops, collaborations and community consultations. 'It's a new string to my bow. There's still no cure for "Zoom Fatigue", but I know Zoom well enough now to make it a more engaging place to collaborate. In saying that, I can't wait to be in drama circles again and not Zoom squares; I don't think anything can replace being in a room together,' she confessed.
'Understanding digital art is useful, and these skills will lead to new opportunities. But for a while I was investing in new equipment just so I could pitch for work. Outlaying money with no income was stressful. It meant spending a lot before recovering anything,' she told ArtsHub.
BACK TO WHAT WE KNOW
Strongarm's China show was eventually re-purposed into a 'portable indoor/outdoor shadow puppet show – the screen makes it somewhat COVID-safe.' It went to Brighton Fringe, Tottenham and Waterloo last year and is touring north and south England in 2021. 'This was us going back to what we know. Artists making a piece of art and making some money from a show.'
She also completed an online puppetry residency last year. 'I devised a project that uses a streaming device inside a puppet. It's been commissioned by Brixton's Bureau of Silly Ideas; received seed and development funding from the London Community Response Fund; and I've developed a really wonderful new participatory digital work with Collective Encounters. I'm also performing at the Wandsworth Arts Fringe; Anywhere Theatre Festival (Australia); and Bradford Fringe,' Strongarm explained.
'When you're a freelancer and move to a new city it's hard enough, but when there are no events, building [new] networks and finding work is near impossible.'
– Caitlin Strongarm
My own story is not dissimilar, with the pandemic shutdown of the UK arts sector forcing me to adapt my existing skills to strange new circumstances.
I arrived in London in February 2020, excited and keen to explore. My partner moved to the UK for work reasons in late 2019. I'm a writer, editor and broadcaster, so even though I arrived with few professional networks I was confident my skills and experience would lead to a job sooner rather than later. But when the UK shut down a month after I arrived, any potential jobs evaporated, and like Caitlin, I'm ineligible for government assistance. About 100,000 Australians currently live in the UK, with about 35,000 stranded here (visa-less, jobless and in some cases homeless) who want to return home, but can't.
Luckily my partner didn't lose her job, so early on we decided to stay, but a year later I still don't have a regular income, so it's been financially stressful. 
Initially my instinct was to use lockdown to write novels and short stories, but I hesitated. Writing's naturally insular, and with no networks, an open-ended lockdown, and no in-person events in the foreseeable future (the switch to online events hadn't then happened), I thought writing might create more isolation. To counter this, I started London by Lockdown: a travel podcast, an experimental monthly podcast about two Australians falling in love with a new city in the middle of a pandemic; remaining curious and open; and making it work.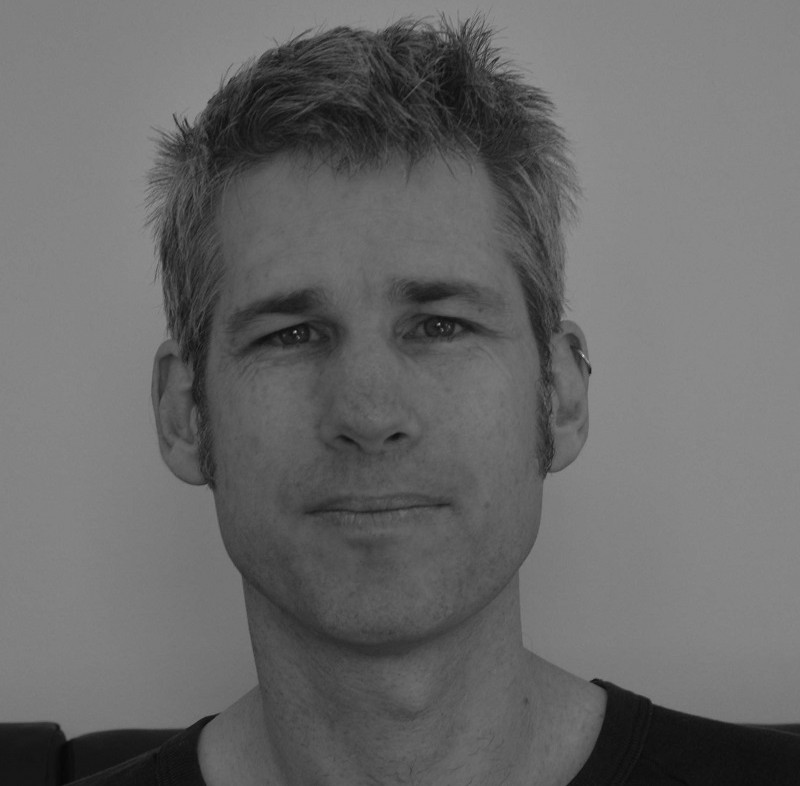 The pandemic shutdown of the UK arts sector forced writer/broadcaster Craig Garrett to adapt his existing skills to strange new circumstances. Image supplied.
By shifting from text to audio I've integrated my narrative skills and storytelling abilities into audio production. Each episode is a different genre, which allows us to play with form, styles and themes. The show notes are vignettes that blend memoir and fiction. As recent arrivals, we highlight compelling local stories and challenge the histories of London that centre on 'elite individuals' or 'grand events'. By honestly describing our personal struggles as we muddle through, we hope, in a small way, to help listeners to remain whole, so they can manage mental health and build personal resilience.
Episodes always end on a hopeful note. We put a lot of time and research into maintaining an informative voice that is humorous, warm and friendly, and we try to tell stories that haven't been told before, or alternatively tell old stories in a new way.
London by Lockdown has grown an international audience from zero (we're downloaded in over 50 countries); we were a finalist in the 2020 US Podcast Awards; we received two paid commissions in 2020; and we have an eight-episode commission with Speaking Volumes Live Literature Productions in 2021. Through the podcast I'm building a professional London network of artists, writers, editors and podcasters.
It's not quite the life I envisioned when I moved to the UK, but it's heartening that even in the middle of a pandemic I've found a new network of generous artists, writers, editors and podcasters. I'm not saying I want the pandemic to have happened, but without the lockdowns I wouldn't have stopped and reflected, I would never have had the time or need to hone my audio skills in quite the same way, and I wouldn't have found all the wonderful and empowering local histories and stories surrounding me. I'm exploring a different London to the city I may have found otherwise, which is in its own way precious.
FUTURE FOCUSED
For Strongarm, the future is about reaching out: 'Digital art is broadening the types of people I can work with and  the types of projects I can run. I recently collaborated with a school back in Australia. I wouldn't have thought about doing that before. We can take the skills we've learned during COVID and make them affirming.'
For Menzies it's about being realistic and concentrating energy and resources. 'You just have to be positive,' he said. 'This isn't normal. It's not like it was before but leading a company through something like this means focussing on what we can do, not what we can't.'
The arts have been decimated in so many ways this past year; the only thing any of us has an obligation to do is take care of ourselves so that we can emerge from the pandemic intact.