There aren't many Australian theatre companies that can claim they were born in the back of a ute.
Established in 1989, Outback Theatre for Young People started life as a full-time project of South West Arts.
'Peter Callinan would literally throw circus gear in the back of the ute and just drive all over southwest New South Wales delivering projects in schools with young people,' said Sarah Parsons, Outback's Creative Producer.
The ute becomes even more pertinent to Outback Theatre's origin story when one considers that the company now operates out of the regional town of Deniliquin (population 7,862) in the Riverina region of New South Wales.
Home to the annual Deni Ute Muster, Deniliquin is 'the ute capital of the world,' Parsons said.
'We still have a ute now, but obviously, it's a little bit flasher than what Peter would have had.'
WORKING ACROSS 30,000 SQUARE KILOMETERS
A driver's licence and a company vehicle are clearly valuable assets for Outback Theatre, which became a stand-alone arts organisation in 2006 and today works with young people and their communities across a large stretch of regional NSW.
'Yeah, my day to day jurisdiction is 30,000 square kilometers. But we also have done projects well outside of that. Basically, any young people in regional and remote and rural communities that we can get funding to visit, we'll go and visit. We take the Outback part of our name very seriously,' Parsons said.
The company celebrates its 30th anniversary this Saturday 23 November with a party in Deniliquin; an opportunity to reflect on three decades of significant engagement with young people across a range of artforms.
'I always look at the "theatre" in our name and think, "Ooh, I don't know if that fits," because literally, anything artistic that the community is interested in and that we're able to present, we will do it. So the variety of things that we've done in the past is huge. There is circus, there are audio performances, there are photography exhibitions and gallery spaces. It's actually dependent on what the community seeks for their artistic need, rather than what we put onto them … We want our communities to know that our work has kind of never been defined by our name, it's really built on what their interests are.'
'We take the Outback part of our name very seriously.'
Nor is the company focused solely on the Riverina region, having previously worked with young people in the likes of Bourke, Walgett, Wilcannia, Lake Adelago, Gunnedah and even the Riverland region of South Australia.
Partnerships with other arts organisations and presenting projects in districts outside the Riverina are a valuable way of showing young people living in regional and remote areas that they're not alone, Parsons explained.
'It's a way of uniting remote kids and kind of introducing them to the fact that they might feel isolated out here and have no connections to the outside world, but they actually do. And there are other kids that are living your experience that we want you to meet.
'And I think for us, and for the young people we work with in our home communities, it's so important to be able to give them the opportunity to go and speak to kids from other areas as well. For example, I took some kids up to Griffith, which is two hours from Deni; I took them to see a show and half of them had never even been to Griffith before. So to be able to broaden their horizons and connect them with other kids who are having similar experiences to them, but live somewhere else, I think is so valuable,' she said.
YOUNG PEOPLE AS A CONDUIT TO COMMUNITY
Regardless of where the company is working or what artform they are exploring in a given project, a key aspect of Outback Theatre's work is a focus on the agency of young people and an emphasis on their place in the community.
'For us, young people are the conduit of these projects, and then we end up working with the entire community that those young people live in. We don't want to ever work in isolation and not have the communities be able to see those young people as of creative agents in their own hometowns. So for us, it's really about working with the young people, but through them the rest of the community that they are a part of, so that they can be seen in a in a new light most of the time.'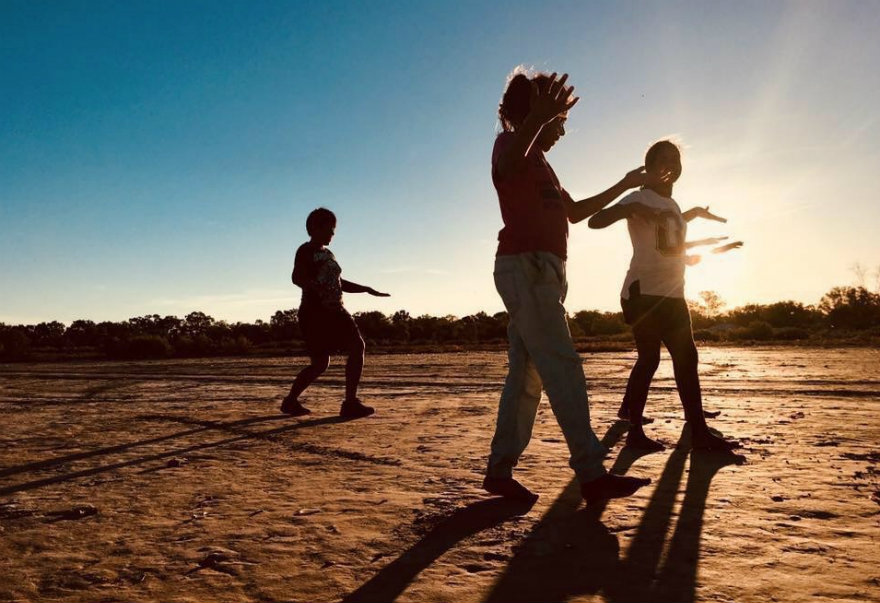 Choreographer Jade Dewi Tyas Tunggal dances with local young artists on the Clay Pans in Wilcannia. Image taken during Regional Arts Connect project Dancing in the Dust, 2018. Photograph by Alyson Evans. 
Given the impact of the current drought across many regional NSW communities, art can play a valuable role in fostering communication and lifting spirits in afflicted communities.
'There's been a lot of research done into how involvement with art can impact a young person's wellbeing. And I come at it from that perspective. Times are really tough out here and there isn't much reason to celebrate and that's understandable, but when we're working with young people in their communities, we just want to make sure that they're given the opportunity to express their feelings and to talk about the processes they've been going through as part of the drought or whatever's going on in the community. And we want to remind them that being involved with the arts and having an outlet for some of those conversations is a really valuable way to spend their time.'
AWARD WINNING ART
The positive impact of Outback Theatre for Young People's work was recently recognised at awards ceremonies in Sydney and in Leura, in the Blue Mountains.
'We won the NSW Youth Work Award 2019 for Outstanding Work with Regional Young People, and also the NSW/ACT Regional Achievement and Community Award 2019 for Connecting Communities,' Parsons said.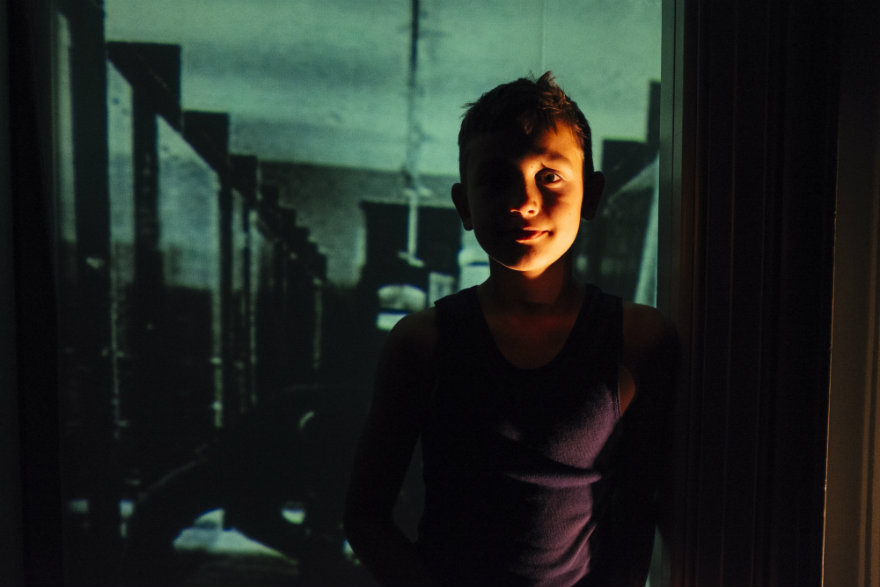 Young performer, Austin, awaits his audience during Outback Theatre's The Echo in Our Walls at Bishops Lodge, Hay, 2016. Photograph by Victoria Anderson. 
'I was so proud of those acknowledgments because both of them came from outside of the arts sector,' she added.
'For me, it just speaks to us making art the vehicle for the bigger social changes that are happening within our small communities … It's about communities being given something to celebrate rather than constantly being barraged with this news of drought and death and decay. So it's bigger than the art, for us. And it's always been bigger than the art … For us the process that goes into a project over two or three years is about uniting those communities and making sure those young people are given opportunities they otherwise wouldn't get.'  
LOOKING TO THE FUTURE
A 30th anniversary is a major landmark for any small to medium arts organisation – especially one like Outback Theatre, which was one of 10 youth arts companies to lose their Australia Council funding in December 2015 following the Brandis cuts.
'I think for anything out here, surviving for 30 years is a miracle, least of all an arts organisation. It's been amazing looking back at our archives from the beginning and seeing the sort of ground we cover and seeing the people we work with. Some of them are still engaged with the company – and so are their children. And that, I think, just speaks to the really in depth community engagement we have and have had for the whole 30 years.'
So what does the future look like for Outback Theatre?
'I think for us, the future looks like staying really true to our communities. That's a really important way of operating and that's how we've survived these last 30 years. We're marching to the beat of a different drum out here, based on where we are geographically, and also what's being asked of us by our communities.
'And as I said before, I think the reason we've survived for 30 years is because we are really good at listening to what our communities want and what they need from us, and we're a responsive, adaptive organisation because of that. I think that's what our strength is built on, and I don't see that changing for the next 30 years.'
Learn more about Outback Theatre for Young People.