You've no doubt heard a story of someone's school art excursion that brought them a lightning bolt of inspiration, or helped them to see the world anew.
We tend to hold these stories close as reminders of art's abiding relevance for anyone and everyone, not just the passionate aficionados.
But for those who actually work in the arts education space, the idea that the arts has intrinsic educational value is the easiest part of the story, by far.
Ask anyone involved in arts education and they'll tell you about the complex mix of variables involved in providing consistently great experiences to schools in ways that not only allow teachers to make necessary links to curriculums, but also help them keep principals and parents happy about the extra efforts involved in making these programs happen at all.
So, how does an arts company build a quality education program that ticks all of these boxes? ArtsHub spoke to arts leaders who say that, while it's not easy, it is possible to build quality resources to engage schools over the long term.
Here are their top tips.
Tip 1. Build programs that meet schools where they are
Edwina Hill is Acting Education Manager at ACCA (Australian Centre for Contemporary Art), and says one of her best tips is ensuring education programs serve a range of school demographics, including those who can't necessarily visit you in person.
One way ACCA achieves this is by allowing its staff to visit schools to deliver innovative cross-curriculum incursions that connect with themes in ACCA's exhibitions.
'We also have a specially funded GO Program, which targets schools experiencing disadvantage,' Hill says. 'We cover the bus costs for those schools to allow them to come to the gallery, which is vital to them not missing out on quality contemporary arts experiences.'
Read: Introducing ArtsHub's Education and Career Portal
Tip 2. Think about what you can do that no one else can
As well as designing for wide access, education programs that fill certain niches or stand apart from the crowd are also likely to gain good traction.
Dr Lisa Bailey is Manager, Exhibitions and Experience Design at MOD. – an art, science and innovation museum located at and funded by the University of South Australia, and aimed specifically at 15- to 25-year-old audiences.
Every year, MOD. invites students to be part of its Schools Design Challenge – a bespoke educational program that poses a creative question for student groups to respond to with a design-based solution.
Read: What every museum reveals about past, present and future
The program aligns nicely with MOD.'s art/science outlook while allowing teachers to tailor the program to their curriculums as they wish.
'Schools may choose to run the project as part of their science or arts curriculum – it's ultimately up to them,' Bailey says.
'What we provide are a series of 'design thinking' workshops for teachers, and Zoom sessions for their classes where we link students up with academics and researchers within our university. This means students can get feedback and advice from the experts in those fields on their ideas and designs.
'That aspect of the program sets us apart from anyone else, while also playing to our strengths as a museum,' Bailey says.
Tip 3. Make strong curriculum connections
MOD.'s Design Challenge is a prime example of quality arts content that has strong relevance to schools' curriculum objectives.
ACCA's program takes a similar approach in that it follows contemporary pedagogy with direct ties to areas of the curriculum.
As Hill explains: 'Our programs integrate things like student agency and interdisciplinary learning through tasks designed around experimentation and inquiry.
'A recent example is where we incorporated one of our exhibition artworks by Esther Stewart,' she continues.
'It features a lot of bold colours, so it was a great way to design art-making activities that explore how colour and light works. We had students view the work through different coloured filters, and we had tasks that investigated how light is refracted and the eye perceives colour.
'This way the content linked to both art and science subject areas and helped schools achieve cross-disciplinary outcomes,' she says.
Tip 4. Ask not just what artists can do for schools, but what schools can do for your artists
According to Perth Festival's Creative Learning team, when you put your artists' needs and interests right up there with the needs of students, this can also be a winning formula.
Jessica Darlow is Perth Festival's Senior Program Manager, and says her team are consistently benchmarking their school offerings against their artistic vision and strategic plan.
'We need to remind ourselves that we are not a service organisation for schools, and keep our core values, like creating opportunities for artists, at the centre of what we do,' she tells ArtsHub.
'So, when we're designing our schools program we always ask: "What's going to excite the artists about engaging with schools?" And when we've put the artists' interests up front, the student interactions and overall outcomes have been hugely successful and very rewarding for both schools and artists,' she says.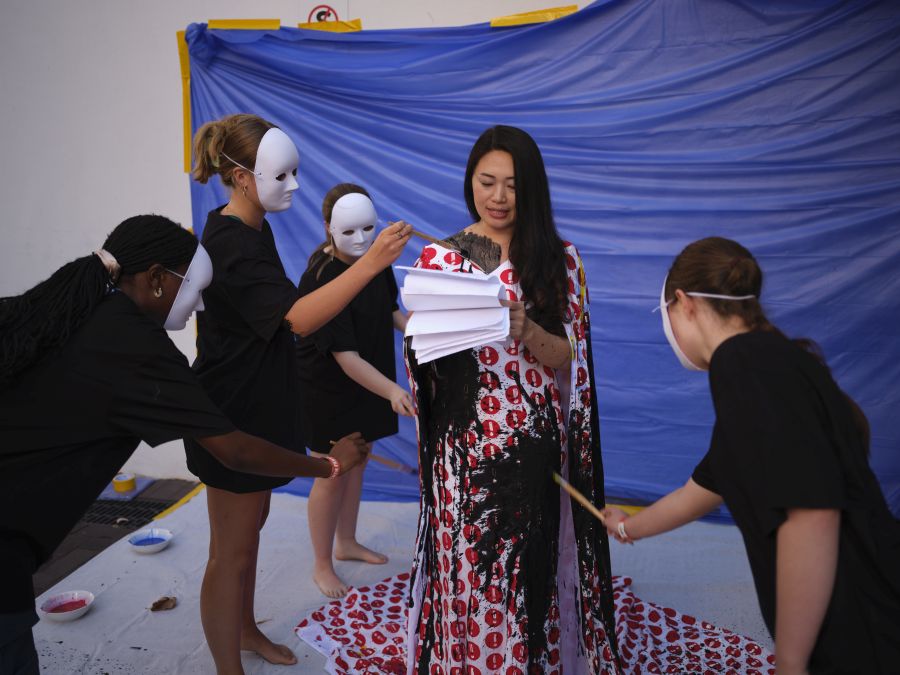 Tip 5. Provide admin support for permissions and paperwork
Edwina Hill advises arts organisations to allocate staffing resources specifically to assist in supporting schools with this administrative work to overcome these barriers.
'We have an Education and Access Coordinator position, whose job it is to take care of logistical things like booking the buses for schools visits,' she explains. 'But that job goes far beyond simply making the bookings. That staff member helps schools fill out necessary paperwork and ensures the approval process gets done well ahead of time.
'It's vital your staff can be hands-on with those practicalities, and know exactly how that administrative side of things works,' she adds.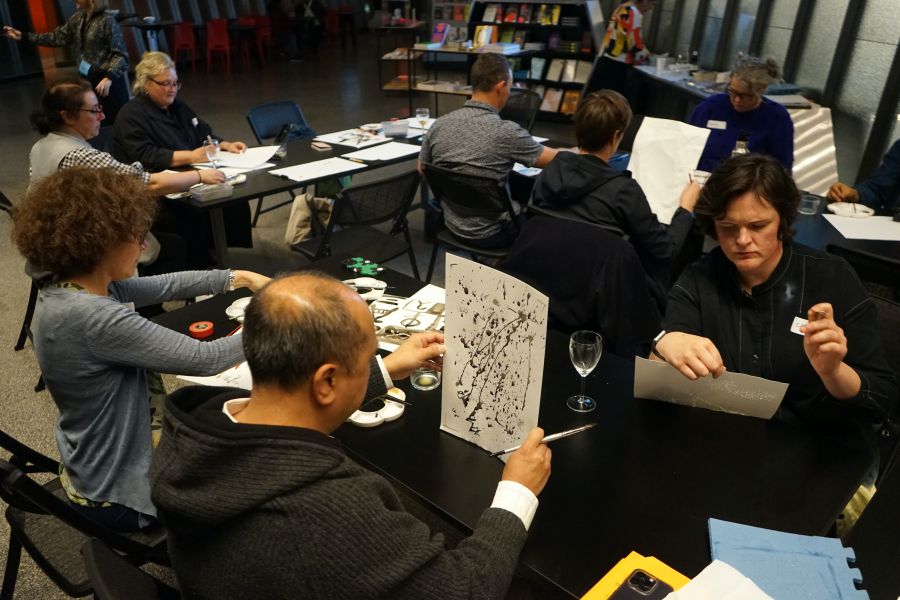 Tip 6. Nourish your teachers
Another thing you can do to make teachers' work more pleasant is to provide them with some inspiring teachers-only art events where they can gather to build skills and have time to do what they love – make some art!
Hill says at ACCA, the gallery offers between one and three professional learning nights for teachers during every exhibition period, which are hugely popular events for a broad cross-section of teachers.
Read: Language, hospitality and discomfort in the work of Mithu Sen
'Remember that many art teachers are artists themselves,' Hill remarks. 'So they relish the opportunity to come together for art-making activities.
'The exchanges that happen between teachers at those sessions are really important, but it's also a vital way for us at ACCA to strengthen our own relationships with teachers.'
Tip 7. Quality, not quantity in the online space
Educational arts content can really come alive in the digital sphere.
A prime example is the runaway success of Perth Festival's 2020 online project Noongar Storytellers which it co-produced with WA artist Kylie Bracknell, and her company Boomerang and Spear. Created largely out of necessity during the early days of the pandemic, the content quickly became a viral sensation with schools, and the Festival has offered it twice more since then, engaging 836 schools and achieving over 140,000 hits from students and teachers overall.
'The content is essentially a series of short films featuring Noongar stories about Country told to camera,' Darlow describes.
'It had obvious resonance during lockdowns when educators were desperate for online content,' she continues. 'But the success of that gave us the confidence to invest more in digital resources and expand that aspect of our Creative Learning Program.'
Read: Art for kids shouldn't shy from difficult topics
This year, the Festival is taking a new approach to digital arts content, investing heavily in one specific work – Stephanie Lake's contemporary dance piece Manifesto, and offering it to schools online for the entire year.
'We've co-produced a professional film standard recording of Manifesto and we're offering it to schools that register as part of a special suite of digital resources,' Darlow explains.
'It's the first time we've approached it this way, but we see a lot of potential in going deeper with one particular work and allowing it to have a high-impact digital presence,' she says.
Evidently, quality schools programs are about far more than add-on resources and one-off excursions. They require sustained effort, smart logistics and innovative creative strategy to make them a reality over the long term.
And with this insider advice, you've got a great head-start!