Pari is an artist-run initiative (ARI) in Parramatta, in Sydney's West. Pari's directors boldly state on the ARI's website: 'We are for bringing art and ideas to Western Sydney audiences, and bringing audiences from elsewhere to experience art in the crane-hogging, uber-developing, beautifully contradictory and diverse place we call Parramatta, in the geographical centre of Sydney's urban sprawl, in the heart of unceded Darug territory.'
Like many ARIs, these spaces are founded on passion and run by a dedicated group of artists who volunteer their time, expertise and networks. We caught up with Rebecca Gallo, one of the founding members of Pari, on what it is like to be an ARI director. Visit the Pari site for the full list of directors responsible for making this fantastic project happen.
How would you describe what you do?
I work with an amazing group of humans to run a space for exhibitions, events and workshops. The actual work ranges from coordinating and hanging exhibitions, writing about artworks, social media, cleaning and maintenance, organising insurance and other admin, attending meetings…we all do a lot. We also hang out and have fun together.
What do you need to start up an ARI? 
A lot of time, energy, patience, a close-knit team, community support and financial backing of some kind.
How did you get your start with Pari – did you have prior gallery experience?
I was a co-director of Archive_ ARI in Newtown in 2014-15, and have worked in a range of different roles in the arts industry since 2009. The idea to start Pari grew between a small group of us – all artists, curators and arts workers with connections to western Sydney.
How collaborative is this job?
It's extremely collaborative. Our group of 11 directors makes decisions by consensus, and we work together in smaller groups on exhibitions, programs and all elements of running the space. The constant collaboration is one of my favourite things about Pari.
What's an average week like?
If we're in between shows, it's intense – there is deinstall and install, preparing text and artwork information, doing all of the promo to mailing lists and socials, cleaning the space, and now, making sure everything we do is COVID-safe. There are weeks that are a bit more relaxed, but there is always a lot to do behind the scenes. It ranges from planning upcoming shows and programs and building relationships with partners, to cleaning the windows, paying invoices and contacting real estate about gas smells/keys/access/air conditioning.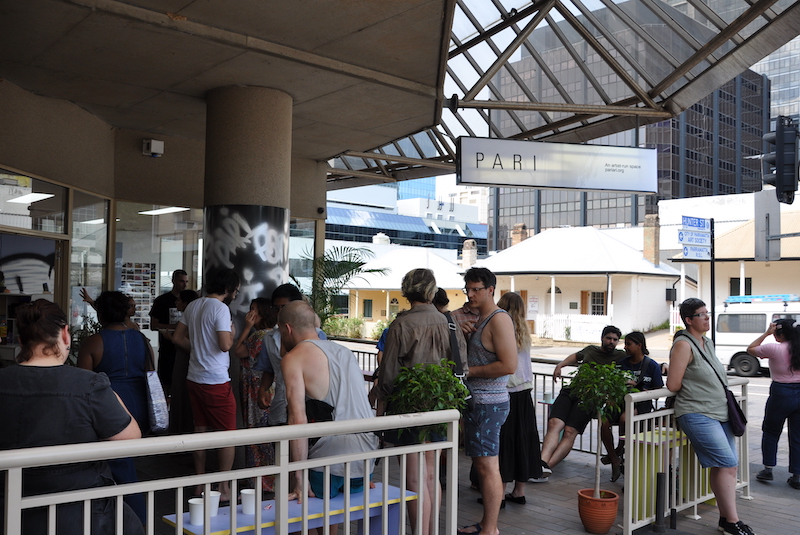 Opening of Mixed Business at Pari, February 2020. Image courtesy of Pari.
What are the challenges you face?
Pari has been really fortunate to receive government funding to support our programming, however we still run almost entirely on volunteer labour. All our directors have jobs outside of Pari, and many are artists, creative workers or freelancers. I don't think it's a coincidence that many of our team live either at home with parents or in subsidised accommodation.
We love what we do, and we work hard to support each other to take time out, but it does take a toll. Another challenge is not being able to support as many artists as we would like. Turning down proposals is by far the worst part of the job.
What's the most common misconception about being the director of an ARI?
Hmmm I don't know, does anyone actually think that it's glamorous? If so, we can dispel that pretty quickly. Also, we know we're in a role of some responsibility, and take that seriously. We try to be collaborators and facilitators, not gatekeepers.
What skills or qualities would you be looking for in a solid board of directors?
It's been important for us to have a group with a range of skills and experience. We all need to be flexible, self-motivated, patient and willing to try new things. Some take on more of a mentor or mentee role, some work on particular jobs more independently, and others collaborate across a number of projects. Finding folks with skills and interest in administration and finance has been a challenge, but extremely important!
We also all get along really well, and enjoy hanging out – I think this is hugely important, particularly when you're volunteering. If we didn't enjoy spending time together, there wouldn't be much joy in it.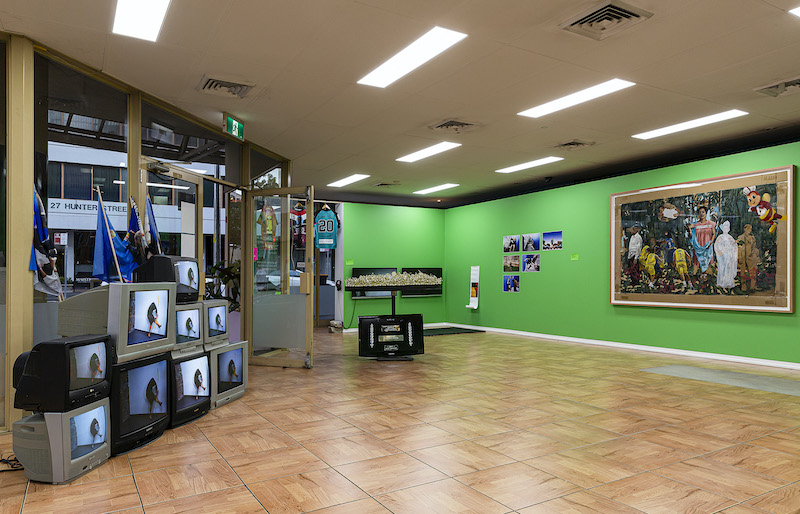 Installation view of Sports Show at Pari, September-October 2020. Photo by Document Photography. 
What's changing in the ARI landscape today? 
I think ARIs are increasingly moving away from a pay-to-play model, where artists pay fees to exhibit (on top of the expense and time of creating their work). That model is skewed towards artists with a certain level of privilege, at the exclusion of others.
More and more, artists are creating our own spaces not so much as a springboard to an arts career, but because we want to create alternatives to major institutions. Spaces without the same traditions and hierarchies. Spaces where we can come together, and are accountable primarily to our communities and to each other.
How competitive is it, getting your program out there and supporting your artists?
I don't think of it as competitive. The more ARIs doing good things, the better. Our focus is internal first – putting the shows together, and supporting artists to make that happen. Of course we want to get the word out, for people to come through and visit, and for artists who show at Pari to get their work seen. But our first priority is putting in the work on the ground, and building up from there.
And so far, we've had really wonderful support and interest in what we do. It helps to have been working with such excellent artists in our program so far!