Shivanjani Lal, Suruu [to begin] (2018). Installation image courtesy of the artist.
Located on the south-eastern edge of New South Wales, Bega Valley Regional Gallery (BVRG) is attentive to its geographic position – but the gallery's current exhibition speaks to a more expansive understanding of what constitutes the southeast.
Titled Like This Incense Your Spirit Must Burn, the exhibition showcases the practice of Shivanjani Lal, a multidisciplinary Australian artist with Indo-Fijian ancestry. Lal works across video, installation, archival images, found materials, performance and ritual to create multisensory explorations of intergenerational trauma, grief and healing.
'Bodies are landscapes,' Lal told ArtsHub. Her exhibition draws on her family's history as indentured labourers, and her own body – what it remembers, the marks it bears, how it has learned to move – is part of grounding that work. Her tattoos, which were inked by Melanesian artist Julia Mage'au Gray in memory of Lal's grandmothers who both had tattoos, are not visible in the work itself, but Lal explained that they help form the connection between India, Fiji and Australia.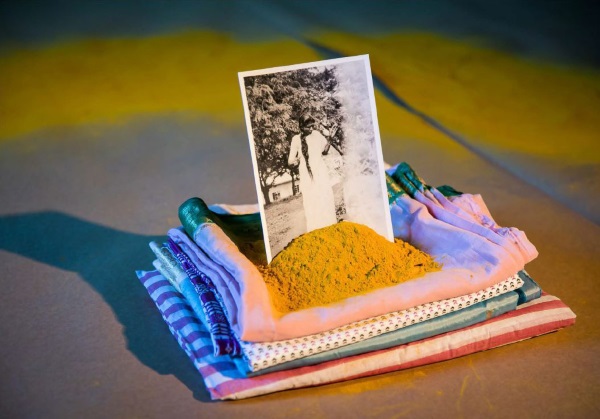 Shivanjani Lal, Palwaar (2019). Folded Sari, Haldi and archival photograph. Installation image courtesy of the artist.
Lal also activates space through ritual use of materials. Lal uses saris, brown paper, and even turmeric to mark space within gallery walls – and to engage the audience as participants. 'I grew up in a Hindu family; all of our rituals involve covering the ground,' she said. 'By covering the floor, you lower your gaze to the floor. It's a sort of invocation or bowing that I could never do but it asks people to try.'
The exhibition asks audiences to take part in remaking the archive. 'Can you remember, or can you help me remember? There's work that needs to be done in terms of acknowledgement and accountability, especially in Australia,' Lal said. 'Australia's role in the Pacific during this period of time is not a joyous one, and enabled a lot of structural violence that's still embedded in Fiji toward Indo-Fijian communities.'
However, Lal is also anxious to define her work away from the current political climate in both Fiji and India – especially after spending the last couple of years researching in India, in which time Lal became more conscious of caste stratification and the growing power of the Hindu right. Lal renamed one work, initially called Pranam, to disrupt possible links to the Hindu right, and has been increasingly attentive to political complexities and power relations in India.
'Because I'm culturally South Asian, I felt a responsibility to not be taking something. I think it's easy to go somewhere and use people and not pay them correctly or ignore the sociopolitical situation … If I'm coming in from a position of privilege, how do I make work that either accounts for that or is able to navigate that in a way that reflects who I am?' Lal asked herself.
Shivanjani Lal. Haldi stained archival photograph. Installation image courtesy of the artist.
Lal's show, which includes work she has produced over the last three years, forms the third volume in the gallery's South/East Interference series which seeks to reframe what it means for BVRG to be a 'regional' gallery.
'I want to reframe the notion of "southeast" in terms of Australasia and introduce the idea of being part of Southeast Asia to our audience,' said exhibition curator and gallery director Iain Dawson. 'South/East Interference is about emphasising that the Bega Valley Regional Gallery program is not restricted, simplified or changed down a gear because of our physical location.'
'Whether it's through technology or cheap travel, we are all global citizens now; the regions aren't backwaters – we are able to influence the agenda.'
South/East Interference Vol. III – Like This Incense Your Spirit Must Burn is open at Bega Valley Regional Gallery from 14 September to 9 November 2019.