Richard Larter, Triple nude (Three Pats, Standing, Back View), currently on show at the Immigration Museum, Melbourne.
From the story of a mother from South Sudan who risked everything to give her son a future, to the unlikely 19th century friendship between a Wurundjeri Elder and a white Scottish woman, LOVE – a collaboration between the Immigration Museum and the Heide Museum of Modern Art – uses cultural artefacts, letters, images and artworks to tell intimate stories that traverse landscapes of time, gender, orientation, ethnicity and age.
'We've been looking for objects and works that really touch on very personal love stories that aren't abstract or generic representations of love – but that deal with very personal intimate stories between two people,' said Isabel Smith, Exhibition Curator, Museums Victoria.
'We've tried really hard to cover diverse voices and people from different backgrounds and we're also really interested in covering diverse forms of love, so it's not romantic love only; it's family and friendship too,' Smith told ArtsHub.
Visitors will be guided through the space by first-person love-storytelling delivered via a tailored digital guide, and carried along by an all-Australian musical soundtrack.
The exhibition includes work from celebrated Australian artists Sidney Nolan, Joy Hester, Charles Blackman, Mirka Mora and Richard Larter, on loan from Heide, which has provided the backdrop for some fascinating and compelling love stories.
'There was this amazing community of art and culture and alternative thinking at Heide and there were a lot of entangled romantic relationships amongst all of these people as well,' Smith said of the artists and their work.
'We've got these incredible paintings by Sidney Nolan that are these very moving and sometimes almost devastating illustrations of his love affair with Sunday Reed [Heide founder].'
Another work that struck Smith was Richard Larter's Three Nudes, a painting of his late wife Pat, which Smith said took on a different meaning after she discovered a collection of Larter's poetry that further contextualised the work.
'It's surprising because when you look at this painting straightaway it is quite sensual and exciting – almost fun – but when you learn about their relationship, there was so much depth and he totally adored her and it feels like this sort of ode to her, it's really lovely.'
Love without boundaries
Patricia Piccinini & Joy Hester: Through Love… an exhibition showing at TarraWarra Museum of Art, also examines the depth of relationships, but also looks at the connections formed between humans and animals, and animate and inanimate objects through the work of Hester Patricia Piccinini.
'In this exhibition in particular, I've chosen works that express some kind of intimacy or connection; a blending or intermingling or love,' said exhibition curator and Director of TarraWarra, Victoria Lynn.
'For Patricia and Joy Hester, it's both the serendipities and anxieties of love that are expressed in the works. In Hester's work there is a lot of foreboding and some of the figures almost seem to be absorbing each other, it's almost like a claustrophobia,' she said. 'In other images it's more about ecstasy and enjoyment. So I think both artists are using art to try and reach a point of emotional connection with the viewer.'
The exhibition includes a new Piccinini work entitled Sanctuary, which asks viewers to consider relationships among the ageing population.
'Patricia always wanted to make something about bonobos and in discussing this exhibition and the themes of intimacy and relationships and also the complexities around love -– it's not all harmonious -– she decided to create a couple of part human part bonobos,' Lynn said. 'But they're very old, so she's sort of really challenging us to think about intimacy and bonding in both very aged people and bonobos.'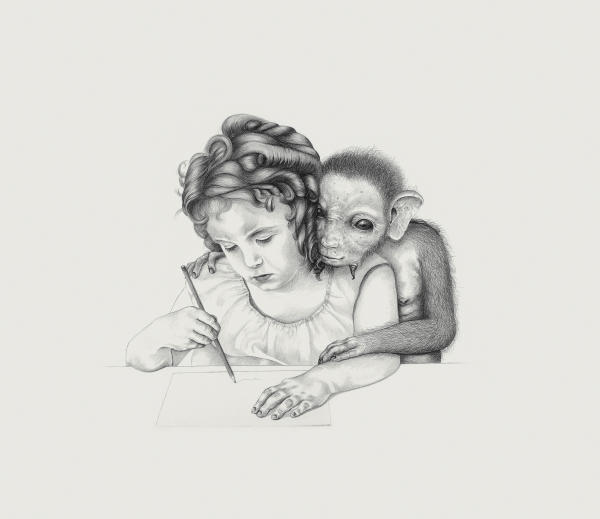 Patricia Piccinini's Alice, currently on show at TarraWarra Museum of Art.
Smith said a central part of LOVE is encouraging the audience to contribute to the exhibition by considering their own relationships and taking inspiration from the stories on display.
'We have a central space called the Heart Garden and it's a sort of nod to the heart garden that Sunday Reed created at Heide,' Smith said. 'It's a space where visitors will be able to gather, sit down and literally write out their own love stories and attach them within this space. We hope that the garden will grow and evolve over the course of the exhibition as more people contribute their stories.'
Lynn said the ability to experience deep emotions has been one of the joys of curating Through Love.
'I think exhibitions like this in general can reach out to audiences and their own sense of creativity and well-being,' she said.
'And even in setting up the show, to watch people's reactions to the work – it's emotional; it's felt – and I think this is something that both artists would have wanted.'
LOVE opens at the Immigration Museum from 1 December 2018.
Patricia Piccinini & Joy Hester: Through Love… runs from 24 November 2018 – 11 March 2019 at TarraWarra Museum of Art.