Bron Batten's Onstage Dating. Photo credit: John Leonard.
Officially called the Edinburgh Festival Fringe, and known colloquially among the world's artists as Edinburgh (as in, "Are you doing Edinburgh this year?") the Scottish capital's Fringe Festival is the largest arts festival in the world.
This year's Edinburgh Fringe – the 71st – features some 3,548 shows across every imaginable art form, including theatre, dance, circus, comedy, cabaret, children's shows, exhibitions and spoken word.
It also features a hell of a lot of Australians – some 132 Australian productions, at last count, including 18 productions presented as part of Arts South Australia's 2018 Made in Adelaide program.
But given that a season at Edinburgh is often described as exhausting, gruelling and akin to running a marathon, why go?
'Marathons are also regularly described as marathons, but nobody ever asks marathon runners why they bother running marathons. They just clap and give them little cups of Powerade. That's all I want as well, really. I like the purple one,' said comedian Laura Davis.
Performance maker and producer Bron Batten, who is taking her acclaimed one-woman show Onstage Dating to Edinburgh this year, describes the Fringe as 'a festival which challenges and confronts performers in a myriad of professional, emotional and psychological ways.'
'Artists go to the Fringe for a variety of reasons – to present new work, to meet collaborators and peers and to network with people and producers from all over the world. There really is no other festival quite like it in terms of scale and intensity and if you can conquer it then the benefits and ongoing career impact can be massive. I think that's what keeps sucking people back in – that concentrated headiness can be quite addictive,' Batten said.
Adelaide cabaret artist Matt Gilbertson, who is performing in Edinburgh as his accordion-wielding alter-ego Hans, said Edinburgh Fringe 'really is non-stop'.
'There's shows 24/7 and that can often mean early mornings and late nights. Then there's the flyering, doing promo spots to get your show out there as well as actually doing your show,' he said.
But given Gilbertson has returned for more, it's clearly not all bad. 'It can be an exhausting month, but also very rewarding. Not only do you get to show off your work to a whole new audience, you get the opportunity to get industry to your show who wouldn't see it in Australia. There's really many opportunities to be taken advantage of in Edinburgh if you're willing to really put the work in,' he explained.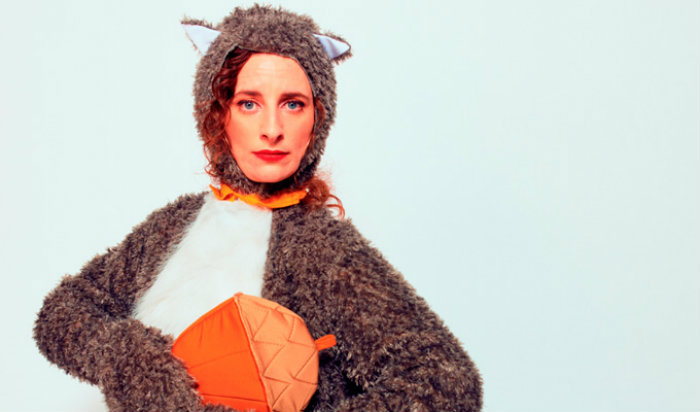 Publicity image for Felicity Ward's Busting a Nut.
Comedian Felicity Ward compares performing for the duration of Edinburgh Fringe to childbirth, calling it 'the hardest but most rewarding thing I've ever done. A daily rollercoaster ranging from deep artistic satisfaction, to shallow, lonely comparisons of your work to other people,' she told ArtsHub.
As to why performers put themselves through the gruelling Fringe experience year after year, Ward said: 'Good question. Erm, Stockholm Syndrome?'
Davis describes the experience of performing at Edinburgh as a real-life Groundhog Day. 'It's at least a year's worth of social contact compressed into a month, which is really just the same day lived over and over and over again. You're just like Bill Murray. Every day you're onstage at the exact same time saying the exact same words you say every day for a month. Afterwards, it depends. Sometimes you get a curry. Some nights you walk home. Go dance in a cave. Eat a sausage in the rain. Kiss a clown in a van. Wrestle a drag queen for twenty quid. It's all up to you. This time is yours. You choose your path.'
Read: Who needs a Fringe Festival anyway?
Circus performer Tom Flanagan, who is returning to Edinburgh this year with his acclaimed children's show Kaput, said the Fringe is 'a crazy, wondrous playground for artists and show-goers alike. It is a heaving mess of excitement, exhaustion, art, drinking, debauchery and all the other things that are often synonymous with creativity.'
It's also a great place to do business, as well as catch up with industry friends, Flanagan added. 'Edinburgh Festival Fringe is the biggest and best showcase event for the European and UK markets. If you want to connect with those presenters and get them to your show, you had better be willing to lose money (and a bit of sanity/sleep) in Scotland. It's also where all my arts mates will be for a month, so if you're like me and live for your friends, then it's the only place to be.'
So it's your first Edinburgh Fringe?
Every year sees a new horde of artists making the pilgrimage to Edinburgh for the first time. It's a festival that can quite literally make or break people – and it often breaks them.
Thankfully, artists are quick to share advice with their colleagues in order to help ensure they have the best time possible.
'Felicity Ward offered a piece of advice back during my first time [at Edinburgh] in 2016 which has always stuck with me and that is "Do an online supermarket shop before the festival starts so there's food in the house". It's those practical things that can feel hard to manage come August – laundry, dishes, food and trying to eat enough vegetables in Scotland! Also in all the social frenzy and festival madness, make sure you carve out quiet time to relax – my preferred method is wine and Grand Designs in the bath. Never fails,' said Batten.
Davis said, 'Ignore the first week when everyone is a stressed out (or even worse, optimistic and excited) sociopath. Enjoy the second week as everyone settles in and starts to adjust their expectations of the month. Ignore the third week when everyone is staring to get tired and sick of it. Then come out and celebrate the last week once everyone has given up their final fucks and pretend you were there the whole time. Tell people you're really tired, when really you've had three naps and a bubble bath.'
Read: How not to lose money on your first Fringe show
Flanagan's advice is succinct. 'Buckle up, stock up on sleep credits and get it done,' he said.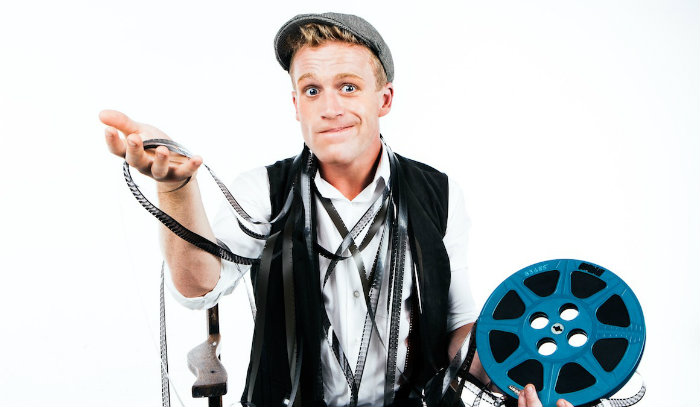 Promo image for Tom Flanagan's Kaput. Photo credit: Sean Young.
Ward's advice is pragmatic. 'You will cry at one point. Don't worry; we all do.' She adds: 'Do other things apart from your show – the festival is great, but the city is amazing.'
Gilbertson advises artists to be realistic about their expectations of the festival and be prepared to put the work in required to achieve the results they're hoping for.
'Last year, I flyered every single day of the festival and I probably will again this year, but I found getting out there and talking directly to the audiences really worked for our show,' he said. 'I would also say: don't go wild on the partying. Save it for the final night. Basically, during the festival, be Kate Middleton. At the end, be Kate Moss.'
Who to see at Edinburgh Fringe?
We can't recommend every single Australian show at this year's Edinburgh Festival Fringe, simply because we haven't seen all of them. But we can recommend quite a few.
THE ASPIRATIONS OF DAISE MORROW
Brink Productions' The Aspirations of Daise Morrow is the creative and original adaptation of a short story by Patrick White, Australia's only Nobel laureate. In addition to the cast, four musicians from the Zephyr Quartet perform live throughout the production, further enriching proceedings in this original and well-crafted production. Read our review here.
Themes of gender fluidity and the radical right to be different underpin this new show from Queensland's queens of boylesque, Briefs. This emphasis on tolerance and inclusivity make this show a vital voice; a progressive circus which opens a door to optimism and faith in the future. Read our 5 star review of Briefs: Close Encounters here.
Knit is 29, Pearl is 40 and Slip is over 50 (but under 60). Biologically, socially and psychologically they differ markedly, but they share a love for circus. They find joy in each individual's strengths; they challenge weaknesses while supporting new possibilities. They disagree, but they seek understanding. These factors create the dynamic circus work, Casting Off. Read an interview with Casting Off performer and all round circus legend Debra Batton at Carnival Cinema.
Love has inspired poets, playwrights, songwriters – and now circus. In You & I, co-founders of Brisbane contemporary circus company Casus, Jesse Scott and Lachlan McAulay, explore a loving relationship between men using high-level acrobatics, trapeze, magic and dance. Previous Casus productions have been intimate and powerful: this extended duo work should be no exception.
Contemporary circus company Circa are no stranger to blending classical music with circus arts, as exemplified by such outstanding productions as Opus and Il Ritorno. For their return to Edinburgh, Circa bring a new production, Wolfgang, a reinvention of the life of Wolfgang Amadeus Mozart. Having previously branched out into family shows with 2014's Carnival of the Animals, Circa now add narrative to their familiar acrobatic excellence, resulting in a work that's both playful and theatical, and 'a very different kind of show from our usual work,' to quote Artistic Director Yaron Lifschitz.
Djuki Mala first came to the attention of the world with their spirited take on 'Zorba the Greek' in 2007, fast becoming YouTube sensations. Eleven years later, the evolution of their artistry, their skill as dancers, and the sheer joy they take in performing, is clearly displayed in this production: a life-affirming fusion of Yolngu dance and contemporary pop culture that takes in everything from Bollywood and Broadway to hip-hop and timeless pop music.
The wonderful Felicity Ward has been based in the UK of late, which means ArtsHub has missed out on some of her recent performances, but we have no hesitation recommending her return to the Fringe after a two-year absence. Put simply: Ward is superb. Her insights, comedic timing and acting chops are of the highest calibre. Busting a Nut is sure to have you shrieking with mirth.
FRINGE WIVES CLUB: GLITTERY CLITTERY
Sex positive feminist cabaret! Are you sold yet? How about incisive political comedy and beautiful harmonies? Still need more incentive? Try your hand at 'Lagoon of Mystery,' the game show in which audiences members try to correctly name parts of the female genitalia. Strap yourself in – it's going to be a fierce, funny ride.
Everyone's favourite Australian, I mean Austrian, I mean German blitzkrieg of cabaret returns to Edinburgh. Take it from us: being serenaded by Hans will give you goosebumps. To quote Broadway Baby's five star review, 'No one is safe from the uprising, and no one can hide from the sequined bulge of revolution.' Prepare yourselves, darlings.
This glorious celebration of intersectional feminism and decolonisation stars six First Nations women, and combines beatboxing, rap, burlesque, soul, circus, and dance to superb effect. Fighting the patriarchy has never been so much fun. Read our five star review of Hot Brown Honey.
An unholy and hilarious fusion of gaming and improv, The Dark Room has been a hit at festivals around the world. If you've not experienced it before, don't delay. Robertson, the show's creator, is also performing The Dark Room (For Kids!), a family friendly, less sweary version of the show featuring challenges, danger and jokes about Minecraft (unless they threaten to sue).
JOSH GLANC: KARMA KARMA KARMA KARMA KARMA CHAMEDIAN
Invisible instruments, anxious mime, slapstick and surreal sketch comedy – this whirlwind of a one-man show utilises a range of comedic skills and styles to delightful effect. Definitely a comedian who should be on your radar.
As a hapless projectionist preparing for a film screening that goes horribly wrong, Tom Flanagan is both endearing and hilarious. Kaput has been around for a couple of years, but it still feels utterly fresh; it's also road-tested and as tight as a drum. A glorious tribute to the golden age of slapstick and guaranteed fun for the whole family.
Caustic, clever and provocative, Laura Davis is familiar enough with comedy's more painful tropes ("women aren't funny") that she makes herself and her body invisible in this show – by dressing as a ghost. This is an hour of dark and incisive comedy, 'entertaining and affecting,' and highly recommended. In the words of Chortle's Steve Bennett, 'Ghost Machine [is] one of the more fascinating shows at the festival.'
NEAL PORTENZA'S FINAL EDINBURGH SHOW WILL BE A BAD MAGIC SHOW ON A BUS. BBC, ITV, CHANNEL 4, NETFLIX AND AMAZON PRIME ARE ALL WELCOME
Neal Portenza is walking away from comedy. He's asked people not to promote his farewell show (which this writer saw at the Melbourne International Comedy Festival this year, and adored), on the basis that 'There are 62,000 Fringe shows and I'm not at all fussed if you don't see it because it means you'll likely be seeing something else which will make that person happy, which is at least as valid a thing to aim for relative to my own personal fulfilment.' So we're not mentioning his show at all. And you haven't read this. Okay?
NOTORIOUS STRUMPET & DANGEROUS GIRL
A battle with the bottle and genetics; a celebration of convict ancestry and a striking blend of circus, cabaret and confession – Jess Love's autobiographical powerhouse of a show is 'savagely funny, fearless and genuinely uplifting'. The best thing about hitting rock bottom is climbing back up, and in Notorious Strumpet and Dangerous Girl, Love is at the top of her game.
Who needs Grindr or Tinder when you have Bron Batten? A provocative blend of comedy and live art, with a hefty splash of chemistry and courtship mixed in for good measure, Batten's Onstage Dating does exactly what it says on the label. Each night, Batten goes on a date with a willing audience member, complete with getting to know you questions, wine and awkward silences. The results are never predictable, but always entertaining, with a spark that swiping right can never match.
One of the fascinating things about the emergence of punk rock in the 1970s is that it effectively sprang up simultaneously and independently in three cities. New York City gave us The Ramones, London spawned The Sex Pistols, and Brisbane, The Saints. Of all three bands, the Queenslanders undoubtedly had the most to rebel against: Brisbane was a sweltering sub-tropical backwater at the time, where a corrupt government and violent police force had apparently taken George Orwell's famous quote, 'If you want a vision of the future, imagine a boot stamping on a human face – forever' as a dictum. Elbow Room's electrifying play is set against this backdrop, and tells the story of a young punk band kicking against the pricks and making a glorious racket in the process. It's by turns exhilarating, gut-wrenching, and evocative; a powerhouse of a production that leaves you giddy with excitement and feeling utterly alive. Read our 5 star review of Prehistoric here.
The winner of this year's Barry Award for the most outstanding show at Melbourne International Comedy Festival, Sam Campbell's The Trough had this writer bent double and shrieking with uncontrollable mirth at one particularly absurd point of his show. Unpredictable and weirdly hilarious, Campbell has 'a serious case of the whackadoos,' as he memorably puts it. He's not kidding. If you like your comedy so far left of centre that it throws the world off-balance, Campbell is the comedian for you.
A new show from the whimsical, wonderful Stuart Bowden, a low-fi theatrical storyteller of infinite charm. Our Molecules promises to be 'a strangely chaotic, bewilderingly uplifting experience. With dancing, little keyboards and singalongs.'
YANA ALANA – BETWEEN THE CRACKS
Helpmann Award-winning cabaret artist Yana Alana is a take-no-prisoners queer diva: a marvellously monstrous, larger than life, powerfully voiced entertainer of the highest calibre. To quote the Adelaide Advertiser, 'It's a shame we can only give Yana Alana five stars, she deserves so much more.' Don't miss her.
Winner of Best Production and Best Ensemble (Cabaret) at the 2018 Green Room Awards, Yummy is a gloriously costumed, boldly progressive celebration of feminism and femininity. Performed by drag queens and bio queens, dancers and performance artists, it's a tightly directly but gloriously louche production. Recommended without hesitation.
AND ALSO…
You might also like to keep an eye out for these other Australians:
Ali McGregor: Decadence
Anya Anastasia: The Executioners
Cazeleon: The Movies in My Mind
Claire Sullivan: I Wish I Owned a Hotel for Dogs
Comfort Food Cabaret
Demi Lardner: I Love Skeleton
Grace
How to Drink Wine Like a Wanker
Ivan Aristeguieta: Juithy
Kokoda
Little Death Club
Scientology the Musical
Seen and Heard
Splash Test Dummies
That Bastard Brecht
That Daring Australian Girl
The Girls from Oz – Because, Because, Because, Because, Because…
The Girl Who Jumped Off the Hollywood Sign
Sediment
Steen Raskopoulos: Stay
The Spinners
The Importance of Being Earnest as Performed by Three F*cking Queens and a Duck
The Travelling Sisters: Toupé
Two Little Dickheads
Victoria Falconer: Oxymoron
The Edinburgh Festival Fringe
3-27 August 2018