Robert Lepage in his one-man show about memory, 887. Photo credit: Érick Labbé.
Professional theatre has lost its sense of play and needs to escape the strictures of the subscription season according to Québécois director, playwright, film-maker and theatre-maker Robert Lepage. Speaking at the Wheeler Centre during a recent Melbourne Festival appearance, the multidisciplinary director of such works as The Seven Streams of the River Ota (1994), The Far Side of The Moon (2000) and 887 (2015) told ArtsHub's Richard Watts that too much modern theatre spoon-fed the audience rather than challenging them.
'The thing to blame is this subscriber system that we've created for practical, technical and economical reasons. We want to guarantee people that they will not think, you know? "You do a lot of thinking at your job but come here and we will guarantee that you will not be thinking. You will be entertained,"' Lepage said.
He believes the opposite is actually true – that people want to be challenged, to offset the mundanities of daily life.
'People have jobs where they don't think and they want to think and they want to come to the theatre because it's a mental workout, because it's a game and they want to feel intelligent. It's the same reason people go to gyms, you know? They have a job on a computer nine to five and then they say, "I have all this energy and this body," so they need to go to a gym. So it's the same kind of thing. That's what the living arts are for, so people can come into a room and feel involved, playful – they don't want the actors or whoever is telling the story to masticate the food for them; they want to taste it.'
According to Lepage good theatre should not spell out the story; it should lay out just enough so that audiences can connect the dots themselves.
'So you have to give just enough so that they go, "Oh wait a minute I'm connecting the dots here, oh cool, cool." And the greatest spectacle is always the spectacle of intelligence. So when people feel intelligent and they have the impression that they are looking at something that's intelligent, that's always the best spectacle.'
Read: Disturbing, not pleasing, should be art's role
Lepage said he wants theatre to be bolder, to break away from the notion that audiences are scared off by difficult and challenging work. Art needs to be eventful, not viewed merely as entertainment.
'We've accustomed people to think that things will not be longer than two hours so you'll have the time to catch the last bus or subway. It's all organised around reservations in a restaurant, at the pub, and it's just absurd,' he said.
'Theatre's got to be, if it wants to survive, it has to be an event. And an event means that it's not necessarily taking place when you want it to take place; an event is something that shakes your schedule, shakes your habits, and that's the only way theatre can survive – if it's eventful.'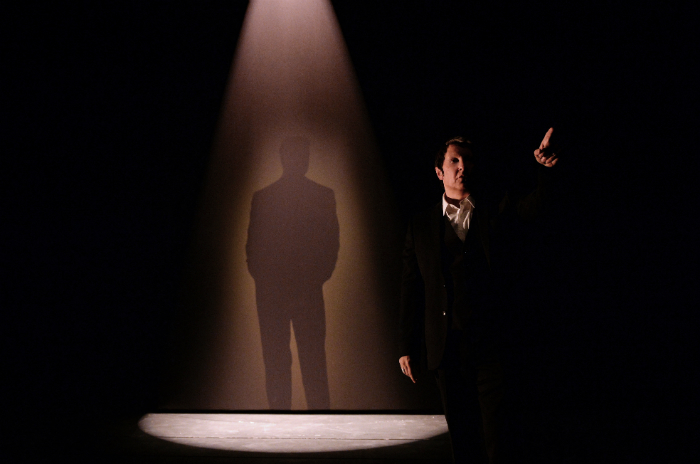 The Western Canadian Premiere of Robert Lepage's 887. Photo courtesy of Ex Machina via Wikimedia.​
Lepage also criticised the tone of much contemporary theatre, saying it had lost the sense of playfulness it once had.
'People are interested in acting and I don't like "acting". Well, not on the stage. And the playfulness that I'm talking about is not just playfulness amongst actors, it's also between the audience and the actor … the player. And I think that's kind of been evacuated from the stages in the 20th century, I don't know for what reason – maybe because we're trying to emulate film, we're trying to emulate television, I don't know what it is,' he said.
'It's a completely different approach, and that's how it used to be, and now that's been evacuated because we're sitting in dark rooms looking at close-ups of Tom Cruise pretending to be sad and we're going, "Oh my god this was probably so difficult for him to do."
'I have no pleasure in seeing that or doing that. So [theatre] has to be a collective, playful process and we forget that. A play is probably called "a play" for a reason. And in every culture it's like that … in every culture there's the word "playing" and now we're dealing with a bunch of actors, so I think there's a reflection to be had on why that is and how theatre has evolved into this odd, caged experience – amongst "actors".'
Lepage, one of the world's leading theatre-makers and as familiar with one-man shows as he is directing operatic epics, also spoke about arts' role in cultural diplomacy.
Read: Soft power: the arts of diplomacy
'We're a touring a company and we perform 10 times more outside of the country than inside our country. So we're pretty much ambassadors of our country, and you have to constantly convince politicians, radio announcers, anybody who promotes or discusses or questions what it is that you do, that what you do is essential and that your presence in another country breaks deals for your country,' he explained.
'There's engineers or investors who will invest in Australia if they see a circus company from Australia and they love circus, and they look at this and they go "Oh this is so Australian" – whatever that is. So then they're interested in Australia, and not just for their culture … So you have to convince the people of your own country that you are essential to the promotion of that and you are a good investment – you're a very good investment.
'And I am constantly trying to convince back home, we're not just travelling around and having fun – we're actually representing the social values of Canada, representing our technological knowledge, our scientific knowledge, our literacy, representing stuff that people need to know about you if they want to invest in your country; if they want to exchange with your country; if they want to do deals.'
The future of theatre
Among a broad-ranging conversation which ranged from his earliest theatrical memories to the way he works in the rehearsal room, Lepage also found time to ponder the perennial question of whether theatre was a dying art.
Quoting Frank Zappa, he said, 'Theatre is not dead, it just smells funny,' before adding: 'Theatre is not dead, it's just that the incarnation, the manifestations of theatre – the way we know it classically – are probably kind of probably fading away and they're probably less popular.
'But as I was saying earlier, the only way theatre can survive is if it's eventful. If it's an event. People nowadays can sit in front of their home videos and they have these amazing home cinemas, high definition and you go on Netflix and download very cheaply these masterpieces … and they don't need you. They don't need theatre. They need it if it's essential – if it's an event. But they won't drive out to the town, park the car, pay for a parking spot, pay for a babysitter. All of that is cumbersome. So how do we attract people to the theatre? You can only attract them if it's an event and if they need it. So it makes it tougher, but I think people will always need the ceremony of theatre,' he said.
Lepage also stressed that theatre-makers should never forget the role of the audience when they were making work.
'[Cinema] does not need you to exist. It needs your money but it doesn't need your presence. Even if the whole room laughs or claps or hates it or boos, they will continue to do what they are doing unmoved. But in the theatre it changes everything. Absolutely everything. If the room is half full, if people are screaming at you, if people are laughing, if people don't get it, whatever their reaction, it changes everything. So people in the room are useful – they play a part in that event, right? So people need that, they want that – so that I think will always exist. And that is why I say theatre will always exist, it just won't probably have the shape and form that we're used to – it just has to evolve and find its way in the new decorums that we will find for it,' Lepage concluded.
Listen to the conversation in full via The Wheeler Centre's podcast.